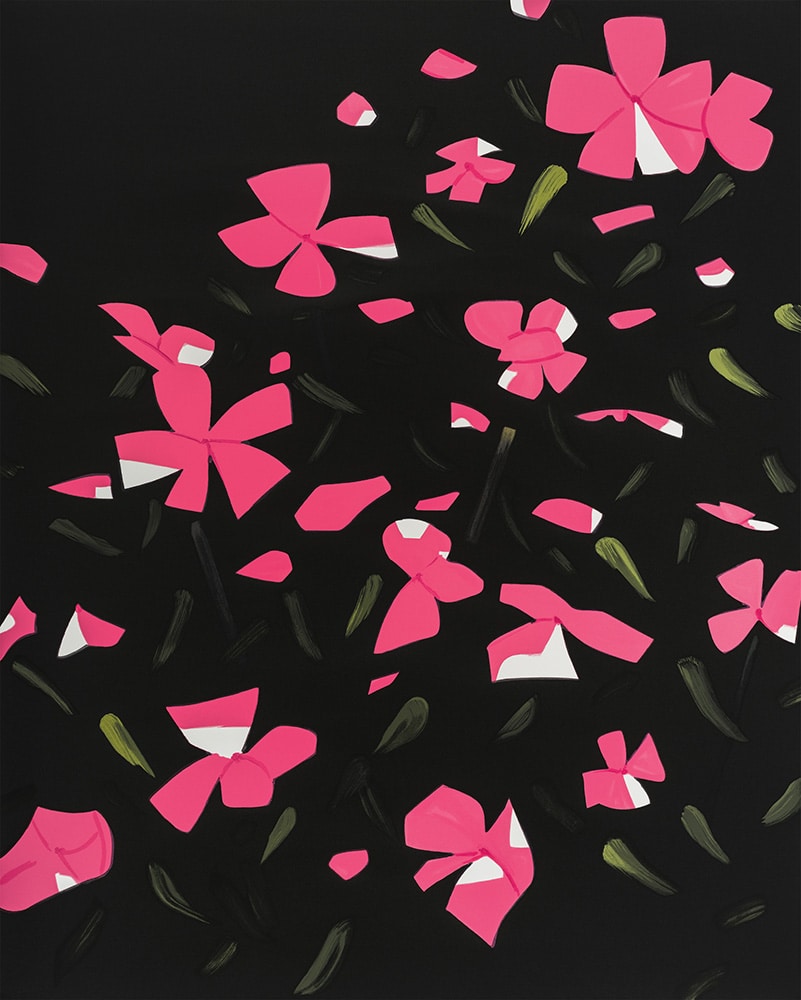 Alex Katz
White Impatiens
2016
26-color silkscreen print on 425 gsm paper
70″ x 56″ (177.8 x 152.4 cm)
Edition of 70 + 15 AP
Alex Katz (born 1927) is an American painter, sculptor, and printmaker. Katz was one of the earliest artists in the New York School to react against the hegemony of Abstract Expressionism through an insistence on figurative representation. Although this has frequently placed Katz's style in anticipation of Pop Art, his careful composition and emphasis on surface are closely related to the formal concerns of Color Field Painting. Katz's images masterfully combine the objective nature of geometric abstraction with subjective portraiture. These intimate portraits—whether paintings, sculptures, or prints—represent the essential visual elements of their subjects in vibrant color.
Alex Katz was born in Brooklyn, New York in 1927. He first studied at the Cooper Union Art School in New York and then, from 1949–50, at the Skowhegan School of Painting and Sculpture in Maine.
Katz's first solo exhibition was held in 1954 at Roko Gallery in New York. During his twenties, Katz befriended other influential New York artists including Larry Rivers and Fairfield Porter. In the early 1960s, Katz began painting on a larger scale, often focusing on closely cropped faces drawn from his social milieu of creative figures: artists, poets, and personal acquaintances.
By the end of the 1980s and into the 1990s, Katz turned his attention to landscapes, drawing inspiration from the effects of light in an array of contexts, from the organized, artificial light of an urban environment to the filtered sunlight of nature. At the turn of the twenty first century, Katz began incorporating the color relationships and formal qualities of flowers into his work.
For over 60 years, Katz has created complex and challenging work, which has been exhibited internationally and featured in multiple retrospectives. His works are part of major collections including the Museum of Modern Art, New York; the Whitney Museum of American Art, New York; the Art Institute of Chicago; the Smithsonian Museum of Art, Washington, D.C.; and the Carnegie Museum of Art, Pittsburg. In addition to international acclaim, Katz has received many honors including the Lifetime Achievement Award from the National Academy Museum in New York and an Honorary Doctorate of Fine Arts from Colgate University in New York.
Katz lives and works in New York City.
2013 – "Katz x Katz," Yale School of Art, New Haven, Connecticut
2012 – "Alex Katz: Maine/New York," Colby College Museum of Art, Maine
2012 – "Alex Katz," Museum Ostwall, Dortmund, Germany
2011 – "Alex Katz," Philadelphia Museum of Art, Philadelphia, Pennsylvania
2010 – "Alex Katz: New York," Farnsworth Art Museum, Rockland, Maine
2010 – "Alex Katz Prints," Albertina, Vienna, Austria
2009 – "Alex Katz: Fifteen Minutes," PaceWildenstein, New York, New York
2009 – "Alex Katz: Reflections," Museo delle Arti di Catanzaro (MARCA), Calabria, Italy
2008 – "Alex Katz," Galleria Monica de Cardenas, Milan, Italy
2007 – "Alex Katz Paints Ada, 1957-2005," The Jewish Museum
, New York, New York
2007 – "Alex Katz," Irish Museum of Modern Art, 
Dublin, Ireland
2006 – "Alex Katz," Texas Gallery, Houston, Texas
2006 – "Alex Katz: The Sixties," PaceWildenstein Gallery, New York, New York
2005 – "Alex Katz," The University of South of Florida at Tampa, 
Tampa, Florida
2005 – "Neue Editionen," Sabine Maximilian Verlag
, Munich, Germany
2004 – "Alex Katz," Stella Gallery, 
Moscow, Russia
2003 – "Alex Katz: Portraits," Fondazione Bevilacqua La Masa, 
Venice, Italy
2003 – "Alex Katz," Galerie Thaddaeus Ropac, 
Paris, France
2002 – "Alex Katz: Small Paintings," Addison Gallery of American Art, 
Phillips Academy, Andover, Massachusetts; Traveled to: Whitney Museum of American Art
, New York, New York; Whitney Museum of American Art at Philip Morris, New York, New York; Kemper Museum of Contemporary Art, Kansas City, Missouri; Oklahoma City Museum, Oklahoma City, Oklahoma; The Austin Museum of Art, Austin, Texas
2001 – "Alex Katz: The Complete Woodcuts," Peter Blum Gallery, New York, New York
2000 – "Regarding Alex Katz," Carnegie Museum of Art, Pittsburgh, Pennsylvania
2000 – "Paintings of the 60's," Jablonka Galerie, Cologne, Germany
2000 – "Change of Scene," Museum fur Moderne Kunst, Frankfurt am Main, Germany
1999 – "Alex Katz," Marlborough Gallery, New York, New York
1998 – "Alex Katz: 25 Years of Painting," The Saatchi Collection, London, United Kingdom
1998 – "Alex Katz," Centro Cultural Recoleta, Buenos Aires, Argentina
1997 – "Alex Katz," I.V.A.M. Centre Julio Gonzalez, Valencia, Spain
1996 – "Alex Katz Under the Stars: Landscapes 1951-1995," Baltimore Museum of Art, Baltimore, Maryland; Traveled to: Norton Museum of Art, West Palm Beach, Florida; Portland Musuem of Art, Portland, Maine; Institute for Contemporary Art/P.S. 1 Museum, Long Island City, New York
1996 – "Alex Katz: Recent Paintings," Marlborough Gallery, New York, New York
1995 – "Alex Katz: American Landscape," Staatliche Kunsthalle, Baden-Baden, Germany
1994 – "Alex Katz," Suzanne Hillberry Gallery, Birmingham, Michigan
1994 – "Alex Katz," Galería Marlborough, Madrid, Spain
1993 – "Alex Katz," Allene Lapides Gallery, Sante Fe, New Mexico
1992 – "Alex Katz at Colby College," Colby College Museum of Art, Waterville, Maine
1992 – "Alex Katz: A Drawing Retrospective," Museum of Art, Munson-Williams-Proctor Institute, Utica, New York; Colby College Museum of Art, Waterville, Maine; The Arkansas Arts Center, Little Rock, Arkansas
1991 – "Alex Katz," Marlborough Fine Art, Tokyo, Japan
1991 – "Alex Katz: Small Paintings," Michael Kohn Gallery, Santa Monica, California
1990 – "Making Faces: Self-Portraits by Alex Katz," North Carolina Museum of Art, Raleigh, North Carolina; Traveled to: The Newark Museum of Art, New Jersey; J.B. Speed Art Museum, Louisville, Kentucky
1990 – "Alex Katz: Recent Paintings," Institute of Contemporary Arts, London, United Kingdom
1990 – "Alex Katz: Paintings, Drawings and Cutouts," Orlando Museum of Art, Orlando, Florida
1989 – "Alex Katz: Print Retrospective 1951 – 1988," Susanne Hilberry Gallery, Birmingham, Michigan
1988 – "Alex Katz," The Seibu Museum of Art, The Seed Hall, Tokyo, Japan; Traveled to:  Parco Studio, Osaka, Japan
1988 – "Alex Katz: A Print Retrospective," The Brooklyn Museum, New York, New York
1988 – "Alex Katz," Galerie Daniel Templon, Paris, France
1987 – "Alex Katz," Galerie Inge Baecker, Cologne, Germany
1986 – "Retrospective Exhibition," Whitney Museum of American Art, New York, New York; Traveled to: Center for the Fine Arts, Miami, Florida
1985 – "Alex Katz: An Exhibition Featuring Works from the Collection of Paul J. Schupf," Colby College Museum of Art, Waterville, Maine and Bowdoin College Museum of Art, Brunswick, Maine
1985 – "Alex Katz Paints a Picture," Houghton Gallery, Cooper Union for the Advancement of Science and Art, New York, New York
1984 – "Alex Katz: Process and Development: Small Paintings from the Collection of Paul J. Schupf '58," The Picker Art Gallery, Charles A. Dana Creative Arts Center, Colgate University, Hamilton, New York, New York
1984 – "Alex Katz: Small Paintings from the 1950's to the Present," Robert Miller Gallery, New York, New York; Michael H. Lord Gallery, Milwaukee, Wisconsin
1982 – "Alex Katz: Recent Paintings," Marlborough Fine Art, London, United Kingdom
1982 – "Alex Katz: Drawings," Mira Godard Gallery, Toronto, Canada
1981 – "Alex Katz," Contemporary Arts Center, Cincinnati, Ohio
1980 – "Alex Katz: Scale and Gesture," The Queens Museum, Flushing, New York, New York
1980 – "Alex Katz: Prints," Centro Colombo-Americano, Bogota, Colombia
1979 – "Alex Katz: Cutouts and Drawings," Susanne Hilberry Gallery, Birmingham, Michigan
1979 – "Alex Katz: Prints," Weatherspoon Art Gallery, University of North Carolina, Greensboro, North Carolina
1978 – "Alex Katz in the Seventies," Rose Art Museum, Brandeis University, Waltham, Massachusetts
1978 – "Alex Katz and His Beautiful People," Benjamin Mangel Gallery, Philadelphia, Pennsylvania
1978 – "Alex Katz," Marlborough Galerie AG, Zurich, Switzerland
1977 – "Alex Katz: Recent Paintings," Fresno Arts Center and Museum, California; Traveled to: Art Galleries, California State University, Long Beach; Seattle Art Museum, Seattle, Washington; Vancouver Art Gallery, British Columbia, Canada
1976 – "Alex Katz: Exhibition of Graphics 1972-75," Benjamin Mangel Gallery, Bala Cynwyd, Pennsylvania
1976 – "Alex Katz: Recent Works," Marlborough Godard Gallery, Toronto, Canada
1975 – "Alex Katz," Galerie Marguérite Lamy, Paris, France
1974 – "Alex Katz Prints," Whitney Museum of American Art, New York, New York; Traveled to: Virginia Museum of Fine Arts, Richmond, Virginia; Utah Museum of Fine Arts, Salt Lake City, Utah; The Santa Barbara Museum of Art, California; University Gallery, University of Minnesota, Minneapolis, Minnesota; Indianapolis Museum of Art, Indianapolis, Minnesota
1973 – "The American Neo-Realist: Alex Katz," Assa Galleria, Helsinki, Finland
1972 – "Alex Katz," Reed College Art Gallery, Portland, Oregon
1971 – "Alex Katz," Utah Museum of Fine Arts, University of Utah, Salt Lake City; Traveled to: The Art Gallery, University of California, San Diego, California; Minnesota Museum of Art, St. Paul, Minnesota; Wadsworth Atheneum, Hartford, Connecticut
1970 – "Alex Katz: New Paintings," Fischbach Gallery, New York, New York
1969 – "Alex Katz at Cheat Lake," Mont Chateau Lodge, West Virginia University, Morgantown, West Virginia
1968 – "Alex Katz," Fischbach Gallery, New York, New York
1967 – "Alex Katz: Cut-Outs," Fischbach Gallery, New York, New York
1966 – "Alex Katz," David Stuart Gallery, Los Angeles, California
1965 – "Alex Katz: Cut-Outs," Fischbach Gallery, New York, New York
1964 – "Alex Katz," Fischbach Gallery, New York, New York
1963 – "Alex Katz," Thibaut Gallery, New York, New York
1962 – "Alex Katz: Flat Statues," Tanager Gallery, New York, New York
1961 – "Alex Katz," Stable Gallery, New York, New York
1960 – "Alex Katz," Stable Gallery, New York, New York
1959 – "Alex Katz," Tanager Gallery, New York, New York
1958 – "Alex Katz," The Sun Gallery, Provincetown, Massachusetts
1957 – "Alex Katz: Paintings," Roko Gallery, New York, New York
1956 – "Alex Katz: Paintings," Roko Gallery, New York, New York
INQUIRE ABOUT WORKS AVAILABLE BY ALEX KATZ: