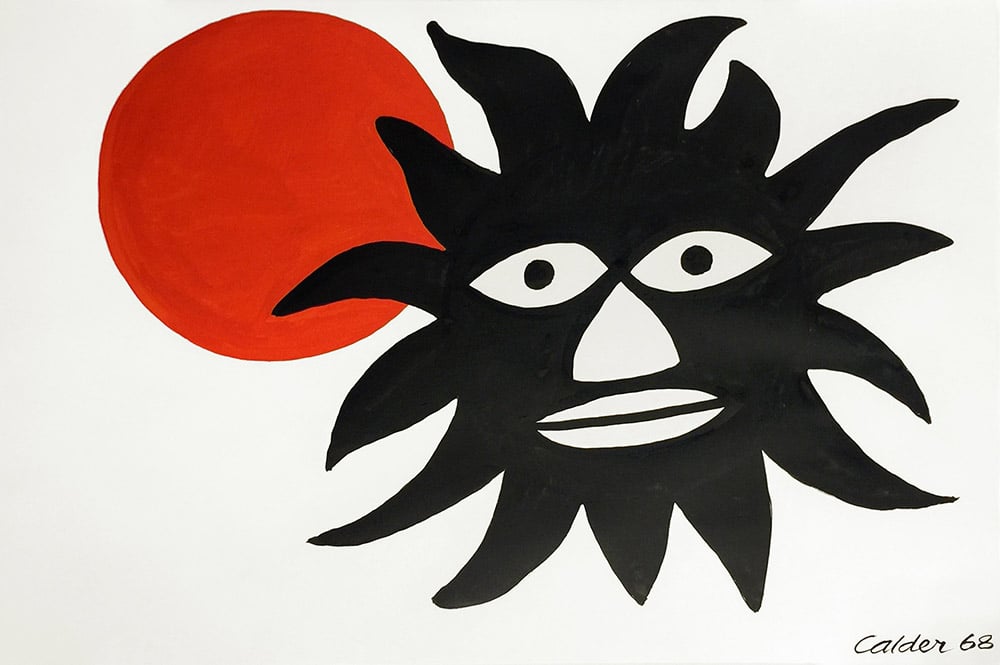 Alexander Calder
Large Black Face with Sun
1968
Gouache, ink, and graphite on paper
29″ x 43″ (74.6 x 109.2 cm)
SOLD
Alexander Calder (1898–1976) is a central figure in twentieth-century American art. He worked as a painter, illustrator, printmaker, and designer but is best known for his lyrically abstracted sculptures. Calder's innovative use of wire introduced the elegance of line work to metal sculpture and paved the way for his playfully balanced three-dimensional mobiles, often suspended in space. Calder spent much of his career in Paris, France, where he interacted with figures of the European avant-garde including Joan Miró and Piet Mondrian. Calder's mature work was characterized by the extroverted energy displayed in his mobiles, stabiles, and standing mobiles. Along with an impressive oeuvre of smaller, delicate works, his monumental stabiles solidified Calder's legacy within twentieth-century art.
Alexander Calder was born in Pennsylvania in 1898. His mother was a portrait painter and his father a Beaux-Arts sculptor. From an early age, Calder's artistic abilities shone through. By age four, he had sculpted a clay elephant and, by age eight, his vision had translated scraps of metal into jewelry for his sister's dolls. Recognizing his potential, Calder's parents provided him with a basement workshop outfitted with tools. Calder's juvenilia demonstrate much of the whimsical, yet calculated nature of his mature works, which transform mundane supplies into abstractions with cosmic connotations.
The Calder family moved many times during Alexander's youth to cities including Pasadena, New York, San Francisco, and Berkeley for his father's health and employment. Though artistically inclined, Calder earned his degree in mechanical engineering from the Stevens Institute of Technology in Hoboken, New Jersey.  Shortly after, he worked as an engineer at a Washington logging camp. Although a series of jobs in this field were ultimately unsatisfying, the influence of engineering can be seen in Calder's mature works.
In 1923, Calder attended the Art Students League in New York City. There he worked with Ashcan painters John Sloan and George Luks. During this time, he also worked as an illustrator for publications including the National Police Gazette. In 1925, Calder produced an artists' manual entitled Animal Sketching based on his observation of animals in the Bronx and Central Park zoos. Calder was also fascinated by the space created within the circus, which he attended at Madison Square Garden in New York and even followed to Sarasota, Florida.
Drawn to the artistic atmosphere of Paris, Calder moved to France to attend the Académie de la Grande Chaumiére in 1926. Although he intended to continue his career as a painter, Calder developed a series of toys that ultimately led to one of his best-known works, the Cirque Calder or Calder's Circus. His performances of the toy circus, viewed by Jean Cocteau, Joan Miró, Fernand Léger, Piet Mondrian, Le Corbusier, Theo van Doesburg, and others, introduced him to the Parisian avant-garde. After receiving encouragement from American artist Clay Spohn, Calder continued to make a series of animals and portraits in his wire sculpture style.
In the early 1930s, Calder began experimenting with new types of kinetic sculptures that were either motorized or moved by touch. Marcel Duchamp used the term "mobile" to describe these new works, for which Calder would become well known. Eventually, Calder moved away from the motorized sculptures to works that relied on extremely precise balance and resulted in random movement.
Although Calder had spent much of his career between the United States and France, he returned to the U.S. during World War II and did not return to France until 1946. Calder was well received at home; before the end of the war he had been given a retrospective exhibition at the Museum of Modern Art. He was also commissioned to create a sculpture for the Philadelphia Museum of Art in 1939. From 1937 to 1945, Calder perfected his mobiles—sometimes combining them with "stabile" bases, to create "standing mobiles".
Calder was given the grand prize for sculpture at the 1952 Venice Biennale. From 1957–1968, he created several important sculptures, including a stabile for the Paris headquarters of UNESCO and a mobile for the John F. Kennedy Airport in New York. Also memorable were Calder's contributions to the 1968 Olympics in Mexico City. Calder's enjoyment of life and art made him both an artist and a performer. The influence of his whimsical, energetic art can be seen in the work of other twentieth-century artists, including Claes Oldenburg, Tom Wesselmann, and Lucas Samaras.
Calder died in 1976 in New York City.
2013 – "Calder and Abstraction: From Avant-Garde to Iconic," The Los Angeles County Museum of Art, Los Angeles, California
2013 – "Artistic Relationships: Partners, Mentors, Lovers," Bechtler Museum of Modern Art, Charlotte, North Carolina
2013 – "Puppet Show," Eastside Projects, Birmingham, England
2013 – "In the Library," Richard Gray Gallery, New York, New York
2012 – "Alexander Calder," Crane Kalman Gallery, London, England
2012 – "Alexander Calder," Gemeentemuseum Den Haag, The Hague, Netherlands
2011 – "Alexander Calder: 1941," The Pace Gallery, New York, New York
2011 – "Calder," Huntington Museum of Art, Huntington, West Virginia
2011 – "Calder's Portraits: A New Language," The National Portrait Gallery, Washington, D.C.
2010 – "Alexander Calder," Galería Elvira González, Madrid, Spain
2010 – "Retrospective," Zadok Art Gallery, Miami, Florida
2010 – "Alexander Calder," Van de Weghe Fine Art, New York, New York
2009 – "Alexander Calder," Palazzo delle Esposizioni, Rome
2009 – "Alexander Calder," Olympic Sculpture Park, Seattle, Washington
2008 – "Alexander Calder Jewelry," Norton Museum of Art, West Palm Beach, Florida
2007- "Focus: Alexander Calder, MoMA," The Museum of Modern Art, New York, New York
2006 – "The Surreal Calder," San Francisco Museum of Modern Art, San Francisco, California; Travelled to: Minneapolis Institute of Arts, Minneapolis, Minnesota
2006 – "I Think Best in Wire: Alexander Calder," Whitney Museum of American Art, New York, New York
2006 – "Calder: From Model to Monument," PaceWildenstein, New York, New York
2005 – "Alexander Clader," Samuel Vanhoegaerden Gallery, Knokke-Heist, Belgium
2004 – "Calder: Gravedad y la Gracia," Museo Nacional, Centro de Arte Reina Sofia, Madrid, Spain
2003 – "Alexander Calder," Gagosian Gallery, Beverly Hills, California
2002 – "Alexander Calder: Motion and Color," Nagoya City Art Museum, Nagoya, Japan
2001 – "Alexander Calder in Focus," Museum Contemporary Art, Chicago, Illinois
2000 – "Earthly Forms: The Biomorphic Sculpture of Arp, Calder and Noguchi," Pacewildenstein, New York, New York
1999 – "Alexander Calder," Whitney Museum of American Art, New York, New York
1998 – "Alexander Calder: 1898 – 1976," National Gallery of Art, Washington, D.C. and SF MoMA, San Francisco, California
1996 – "Celebrating Calder," The Baltimore Museum of Art, Baltimore, Maryland
1994 – "Cader Bibliotheque Municipale and Abbate Saint-Germain, Auxerre, France
1993 – "Alexander Calder from the Collection of Ruth and Leonard J. Horwich Family," Museum of Contemporary Art, Chicago, Illinois
1992 – "Alexander Calder," Royal Academy of Arts, London, United Kingdom
1989 – "The Intimate World of Alexander Calder," Cooper-Hewitt National Design Museum, Smithsonian Institution, New York, New York; Traveled to: Minneapolis Institute of Arts, Minneapolis, Minnesota
1984 – "Des Stabiles et des Mobiles de Calder," Musee National d'Art Moderne, Centre Georges Pompidou, Paris, France
1981 – "Alexander Calder: A Concentration of Works from the Permanent Collection," Whitney Museum of American Art, New York, New York
1978 – "Images de Calder," Musee National d'Art Moderne
1977 – "Calder's Universe," Walker Art Center, Minneapolis, Minnesota
1976 – Retrospective, Whitney Museum of American Art, New York, New York
1963 – "Calder Gouache Show," Peris Gallery, New York, New York
1962 – Retrospective, Tate Gallery, London, United Kingdom
1950 – Galerie Maeght, Paris, France
1932 – Retrospective, Museum of Modern Art, New York, New York
1929 – Galerie Billiet, Paris, France
1928 – Weyhe Gallery, New York, New York
1926 – Artist's Gallery, New York, New York
INQUIRE ABOUT WORKS AVAILABLE BY ALEXANDER CALDER: