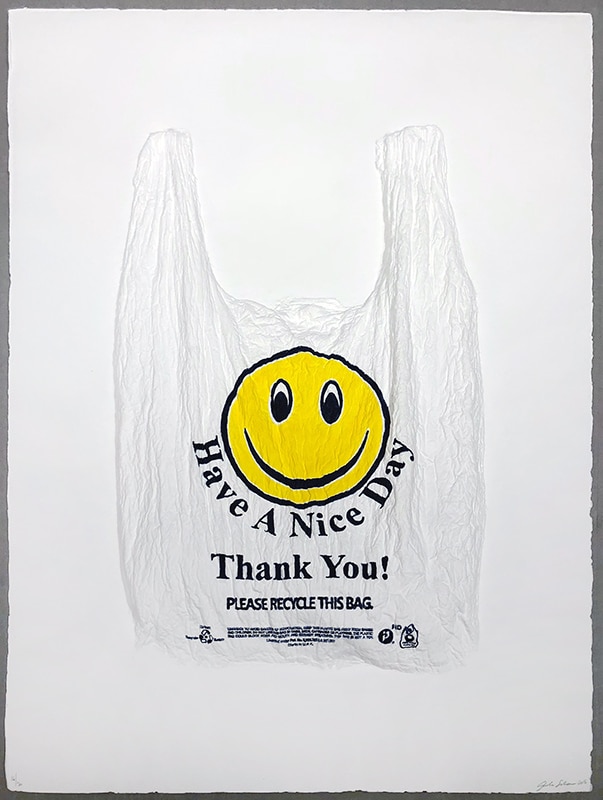 Analia Saban
Have A Nice Day, Thank You! Plastic Bag
2016
Mixografia print on handmade paper
28-1/2″ x 20-1/2″ (72.4 x 50.8 cm)
Edition of 20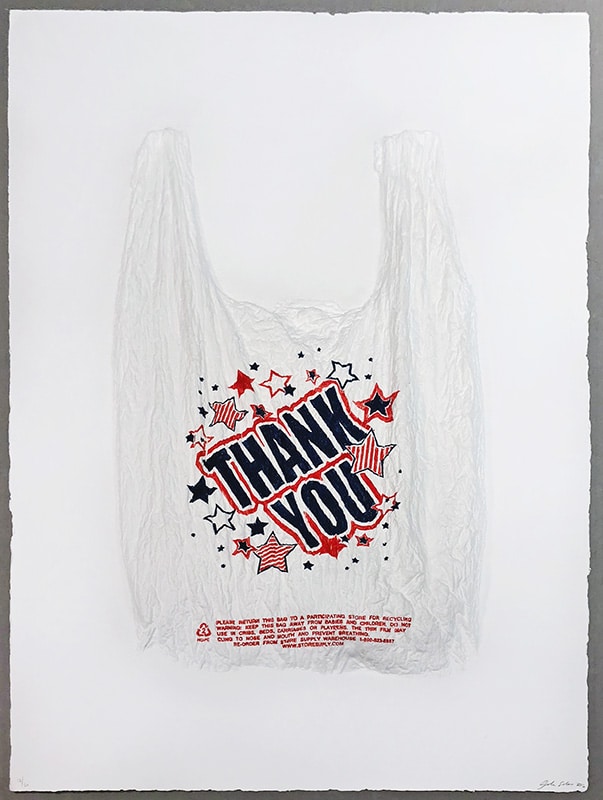 Analia Saban
Thank You! Plastic Bag
2016
Mixografia print on handmade paper
28-1/2″ x 20-1/2″ (72.4 x 50.8 cm)
Edition of 20
Analia Saban (born 1980) in Buenos Aires, Argentina, is adept at blurring the differences between artforms by deconstructing the techniques she uses in creating her work.  Ms. Saban's artistic creations are always informed by her curiosity—she establishes her own category of mixed media by getting to the root of how art is created. Her approach to her work is both scientific and imbued with an awareness of the social impact that art can provide. Ms. Saban's work can frequently be interpreted as a dismantling of art and objects in the quest to convey the metaphysical properties of the subject matter. Her exploration of her (and our) relationship with common objects serves as a powerful commentary on both the artistic process and the impact art can have on our worldly awareness.
Analia Saban was born in 1980 in Buenos Aires, Argentina, where her childhood was informed by the bombing of the Israeli embassy near her school in 1992. The school sustained damage, but when it reopened, it included a video lab donated by the Japanese Embassy. Saban became the only "lab apprentice" and began her education in editing and composition.  Ms. Saban commented about the experience: "It marked me for sure," she said. "It was a real explosion, with the ground shaking and windows shattering and then chunks of the classroom ceiling falling. I didn't get hurt but a lot of my friends had blood on them. And I do think a lot of my work has to do with destruction but also fixing things, or trying to weave things — or keep things — together." (New York Times, June 30, 2017).
Ms. Saban went on to study fine arts—primarily video art—at Loyola University in New Orleans (BFA, 2001). In 2002 she moved on to UCLA for graduate work. She received her MFA in the "New Genres" program in 2005, training with Paul McCarthy and John Baldessari—who also would become her mentor.
Nearing completion of her MFA, Ms. Saban realized that she felt somewhat confused regarding her creative path because, in 2005, the artworld was very much focused on the work of painters. Her reaction to this situation was the creation of "The Painting Ball (48 Abstract, 42 Landscapes, 23 Still Lifes, 11 Portraits, 2 Religious, 1 Nude)". The work consisted of over 100 paintings, collected from a variety of sources, that she unraveled and assembled into a giant ball. She showed the piece at her graduating exhibition where the work attracted the attention of two galleries leading to shows in both Los Angeles and Germany. Ms. Saban went on to be the featured artist in gallery shows in Paris, London, Buenos Aires, Berlin, Houston, New York and Shanghai.
 Ms. Saban's obscures the differences between the various artistic media by deconstructing the methods of creating art. Her work is always influenced by her curiosity—from exploration of art forms and their relationship to the very nature of art to humorous investigations of everyday objects and their physical and metaphysical significance. Ms. Saban is known for "dissecting" art and exploring the connections between historical references, traditional concepts and everyday objects. There is frequently a sense of ambiguity regarding the subject matter, yet, she approaches her work scientifically because, beyond the symbolism of the subject matter, she is also interested in the physical qualities of the work—including relationships between the second and third dimensions.
Analia Saban was an Artist in Residency at the Getty Institute in 2015-16. In addition to gallery exhibitions, her work is featured in the permanent collections at LACMA; the Hammer Museum; the Museum of Contemporary Art; Fonds régional d'Art contemporain, d'Auvergne, France; the Hessel Museum of Art at Bard College, NY; National Gallery of Victoria, Melbourne, Australia and the Norton Museum of Art, West Palm Beach, FL.
Solo Exhibitions
2017 Analia Saban "Where We Start From"
(November 18th – March 2nd)
Gemini G.E.L., Los Angeles, CA
2017 Analia Saban "Canvas on Paint"
(November 9th – January 29th)
Qiao Space, Shanghai
2017 Analia Saban "Pigmente"
(January 24th – February 23rd)
Galerie Sprüth Magers, Berlin, Germany
2017 Analia Saban "Folds and Faults"
(July 7th – September 2nd)
Galerie Sprüth Magers, Los Angeles, CA
2017
Analia Saban "The Warp and Woof of Painting"
(April 8th – June 17th)
Galerie Praz-Delavallade. Paris, France
2016 Analia Saban is Broken
(October 22nd – December 22nd)
Gemini G.E.L., Los Angeles, CA
2016 Analia Saban
(September 24th – December 23rd)
Blaffer Art Museum, University of Houston, Houston, TX
2016 Analia Saban "Paper or Plastic"
(September 10th – November 12th)
Mixografia, Los Angeles, CA
2015 Analia Saban "Interiors"
(February 27th – March 28th)
Galerie Sprüth Magers, London, UK
2015 Analia Saban "Backyard"
(February 19th – March 21st)
Tanya Bonakdar Gallery, New York, USA
2014
Analia Saban "Outburst"
(May 24th – June 28th)
Galerie Praz-Delavallade. Paris, France
2013 Analia Saban "Bathroom Sink, Etc."
(January 24th – February 23rd)
Galerie Sprüth Magers, Berlin, Germany
2013 Analia Saban "Datum"
(January 18th – February 22nd)
Josh Lilley Gallery, London, UK
2012 Analia Saban "Gag"
(Septemeber 6th – October 20th 2012)
Tanya Bonakdar Gallery, New York, USA
2011
Analia Saban "Derrames
"
(November 17th – January 7th)
Galeria 11×7, Buenos Aires, Argentina
2011
Analia Saban "Dig"
(November 3rd – December 23rd)
Galerie Praz-Delavallade. Paris, France
2011 Analia Saban, "Grayscale"
(March 12th – April 23rd)
Thomas Solomon Gallery, Los Angeles, USA
2010 Analia Saban, "Information Leaks"
(June 10th – July 17th 2010)
Josh Lilley Gallery, London, UK
2009
Analia Saban, "Light Breaks Out of Prism"
(September 12th – October 10th 2009)
Thomas Solomon Gallery, Los Angeles, CA
2009
Analia Saban, "Living Color"
(January 17th – March 7th 2009)
Galerie Praz-Delavallade. Paris, France
2007
Analia Saban, "When Things Collapse"
(April 21st – May 26th 2007)
Galerie Praz-Delavallade. Paris, France
2007
Analia Saban, "Wet Paintings in the Womb"
(March 28th – May 19th 2007)
Galerie Spruth Magers, Projekte. Munich, Germany
2005
Analia Saban, "Bit by Bit"
(October 29th – December 3rd 2005)
Kim Light Gallery / Lightbox (Inaugural Exhibition), Los Angeles, CA
Group Exhibitions 
2018 She Sees the Shadows (Curated by Olivia Leahy and Adam Carr) (July 13th to November 4th)
DRAF x MOSTYN, Llandudno, Wales
2018 Black & White & In Between – Contemporary Art from the Frederick R. Weisman Art Foundation (Curated by Billie Milam Weisman) (March 11th – May 27th)
Carnegie Art Museum, Oxnard, CA
2017 NGV Triennial (December 15th – April 15th 2018)
National Gallery of Victoria, Melbourne, Australia
2017 Latin American Artists in the Marciano Collection (Curated by Philipp Kaiser) (October 19th – January 20th)
The Marciano Art Foundation, Los Angeles, CA
2017 Unpacking: The Marciano Collection (Curated by Philipp Kaiser) (May 25th – December 24th)
The Marciano Art Foundation, Los Angeles, CA
2017 Concrete Island (Curated by Aaron Moulton) (March 11th – May 20th)
Venus Los Angeles, Los Angeles, CA  
2016 Progressive Praxis (December, 2016 – November, 2017)
de la Cruz Collection, Miami, FL  
2016 L.A. Exuberance (Curated by Rita Gonzalez and Michael Govan) (October 30th 2016 – April 2nd)
LACMA Museum, Los Angeles, CA  
2016 Good Dreams, Bad Dreams – American Mythologies (Curated by Massimiliano Gioni) (June 22nd – April 1st 2017)
Aïshti foundation, Beirut, Lebanon
2016 Paper in Profile: Mixografia and Taller de Gráfica Mexicana (Curated by Lynn Boland) (June 4th – August 21st) 
Georgia Museum of Art, Athens, GA
2016 Return to that Particular Moment (Curated by Robert Blake) (February 10th – April 9th) 
601 Artspace, New York, NY
2016 Wasteland (Curated by Shamim Momin) (March 12th – July 15th)
Mona Bismarck American Center, Paris and Galerie Thaddaeus Ropac, Pantin, France
2015 You've Got to Know the Rules… to Break Them (December 1st, 2015 – November 12th, 2016) 
de la Cruz Collection, Miami, FL. 
2015 No Man's Land – Women Artists from the Rubell Family Collection (December 2nd, May 28th, 2016)
Rubell Family Collection / Contemporary Arts Foundation, Miami, FL
2015 Picture the Cricket's Legs Apart (Curated by James Krone) (November 7th – February 20th, 2016)
Kavi Gupta Gallery, Chicago, IL 
2015 Free Admission (October 17th – November 21st)
Galerie Praz-Delavallade. Paris, France
2015 Back to the Real (Curated by Whitney Carter) (July 10th – August 8th)
David B. Smith Gallery, Denver, CO
2015 Theories on Forgetting (Curated by Aaron Moulton) (July 9th – August 21st)
Gagosian Gallery, Beverly Hills, CA  
2015 Forgetting the Future: Entropy in the Reflective Age (Curated by Lisa DeSmidt) (June 6th – July 25th)
Torrance Art Museum, Torrance, CA
2015 Vibrant Matter (Curated by Wim Waelput) (February 14th – March 29th)
KIOSK, Gent, Belgium
2014 Here There Be Tygers (Curated by Kio Griffith) (October 25th – November 30th)
Gallery Lara Tokyo, Tokyo, Japan
2014 Prospect.3 New Orleans (Curated by Franklin Sirmans) (October 25th – January 25th)
Contemporary Arts Center, New Orleans, LA 
2014 An Appetite for Painting (Curated by Gavin Jantjes) (September 13th – January 4th 2015) 
National Museum of Norway, Oslo, Norway
2014 Expanding on an expansive subject, Part 2: Analia Saban, Is this a Painting? (Curated by Sinéad Finnerty-Pyne) (September 6th – October 26th)
Armory Center for the Arts, Pasadena, CA
2014 Variations: Conversations in and Around Abstract Painting (Curated by Franklin Sirmans and Nancy Meyer) (August 24th – March 22nd)
LACMA Museum, Los Angeles, CA  
2014 Next (June 27th – September 7th)
Arsenal, Montreal, QC, Canada
2014 Some Artists' Artists (June 26th – August 22nd)
Marian Goodman Gallery, NY, NY
2014 Between the Lines (January 9th – February 8th)
Tanya Bonakdar Gallery, NY, NY
2013 Sur: Biennial II (Curated by Max Presneill) (October 26th – November 9th) 
Torrance Art Museum, Torrance, CA
2013 Objective (Curated by Thomas Solomon) (September 14th – October 26th) 
Thomas Solomon Gallery, Los Angeles  
2013 Le Club des Sous L'Eau (Curated by G. Déjean & F. Schulmann) in Nouvelles Vagues / Young Curator Season (June 21st – September 9th) 
Palais de Tokyo, Paris, France  
2013 La Révolte et l'Ennui (Curated by Marc Bauer) (June 1st – September 15th) 
FRAC Auvergne, France
2013 Transforming the Known, Works from the Bert Kreuk Collection (Curated by B. Kreuk & H. Janssen) (June 8th – September 29th) 
Gemeentemuseum den Haag, The Hague, NL
2013 Painting in Place (Curated by Shamim M. Momin) (May 22nd – July 31st)
LAND (Los Angeles Nomadic Division), Farmers and Merchants Bank, Los Angeles, CA
2013 Alchemy (April 22nd – June 22nd)
The Arts Club, London, UK 
2013 The Ecstasy of the Newness of the Image (or the Communicability of an Unusual One) (Curated by Tara Ramadan) (March 24th – May 26th)
Hessel Museum of Art, Bard College, NY
2013 4 Artistas + 11 Preguntas a Marta Minujín (March 21st – May 3rd)
Galeria 11×7, Buenos Aires, Argentina
2013 Paint Things: Beyond the Stretcher (January 27th – April 21st) 
deCordova Sculpture Park and Museum, Lincoln, MA
2013 The New Now (January 12th – February 9th, 2013) 
Carter & Citizen Gallery, Los Angeles, CA  
2012 Lost Line: Selections from the Permanent Collection (November 23rd – February 24th, 2013) 
LACMA Museum, Los Angeles, CA
2012 Your History is Our History (November 23rd – January 5th, 2013) 
Galerie Praz-Delavallade. Paris, France
2012 Pour une grammaire du hasard (November 11th – January 1st, 2013) 
FRI-ART, Centre d'art contemporain de Fribourg, Fribourg, Switzerland
2012 The Emerald City (November 10th – December 22nd)
Thomas Solomon Gallery, Los Angeles, CA, USA
2012 Mentors Exhibition (November 1st – January 10th, 2013) 
Loyola University New Orleans, New Orleans, LA
2012 On Sincerity (October 26th – December 16th) 
808 Gallery, Boston University, Boston, MA
2012 Stretching the Limits: Fibers in Contemporary Painting (October 22nd – February 3rd) 
SCAD Museum of Art, Savannah, GA
2012 La Ballena Negra (October 5th – March 3rd, 2013)
MARCO Museum, Vigo, Spain
2012 Weights and Measures (October 5th – November 4th)
Eleven Rivington Gallery, NY, NY
2012 Dark Matters – Takes on Conceptual and Minimal Aesthetics – Düsseldorf / Los Angeles (October 1st – October 29th)
Guggenheim Gallery at Chapman University, Orange County, CA 
2012 RUDIN PRIZE for Emerging Photographers (September 27th – December 9th)
Norton Museum of Art, West Palm Beach, FL 
2012 The Crash of Ruin Fitfully Resounds (July 21st – August 25th) 
Luis de Jesus Gallery, Los Angeles, CA
2012 Across the Pacific (June 20th – July 30th)
313 Art Project, Seoul, Korea 
2012 Made in L.A. 2012 (June 2nd – September 2nd)
Hammer Museum, Los Angeles, USA
2012 Changing States of Matter (May 31st – July 28th)
Brand New Gallery, Milano, Italy
2012 The Possessed (May 3rd – June 2nd)
Le Triangle, Marseille, France 
2012 Architectural Dispositions (April 28th – June 9th)
Thomas Solomon Gallery, Los Angeles, CA, USA
2011 American Exuberance (November 30th – July 27th)
Rubell Family Collection / Contemporary Arts Foundation, Miami, USA 
2011 Alistair Frost, Julian Hoeber, Analia Saban, Jeremy Shaw (November 18th – December 17th)
Bodson-Emelinckx Gallery, Brussels, Belgium
2011 Recent Acquisitions from The Grunwald Center for the Graphic Arts (October 15th – January 15th)
Hammer Museum, Los Angeles, USA
2011 Incredulous Zealots (October 12th – November 19th)
Josh Lilley Gallery, London, UK 
2011 White-Hot (July 7th – September 17th)
Margaret Thatcher Projects, NY, NY 
2011 Painting Expanded (June 30th – July 29th)
Tanya Bonakdar Gallery, NY, NY
2011 Suelto (May 7th – May 28th)
La Central, Bogota, Colombia 
2011 A Painting Show (May 6th – June 4th)
Harris Lieberman Gallery, NY, NY 
2011 Analia Saban, Aaron Spangler and Marianne Vitale (April 1st – 30th)
Zach Feuer Gallery, NY, NY
2010 Gifted (December 14th – January 7th, 2011) 
Josh Lilley Gallery, London, UK 
2010 Here Soon Now (December 1st – August 26th, 2011) 
Rubell Family Collection / Contemporary Arts Foundation, Miami, USA 
2010 To Tame a Land (December 9th – 12th)
Soi Fischer, Vancouver, B.C., Canada 
2010 Baker's Dozen (September 18th – November 6th)
Torrance Art Museum, Torrance, CA
2010 The Summer Show at Cottage Home (17th July – August 14th, 2010)
Cottage Home Los Angeles, Thomas Solomon Gallery, Los Angeles, CA
2010 5X5Castelló10 – Premi Internacional d'Art Contemporani – Diputació de Castelló (16th July – September 26th, 2010)
ESPAI d'Art Contemporani de Castelló, Castelló, Spain
2009 Counter Intelligence (November 21st – January 23rd, 2010) 
Luckman Gallery, Fine Arts Complex, California State University, Los Angeles, CA 
2009 Drawing (June 25th – July 25th, 2009)
Galerie Praz-Delavallade. Paris, France
2009 Haunted House (May 16th – June 6th, 2009)
Colin Roberts' Studio, Los Angeles, CA
2009 Lovable like Orphan Kitties and Bastard Children (May 9th – June 6th 2009)
The Green Gallery East, Milwaukee, WI
2009 A Modernist Vernacular (March 26th – May, 2009)
Espasso, Pacific Design Center, Los Angeles, CA
2008 Recursion (November 1st – January 18th 2009)
Loyola University, New Orleans, LA
2007 Soft Core – Perspectives for a New Guerrilla Art (June 30th – August 18th 2007)
Kim Light Gallery, Los Angeles, CA
2007 Arte Povera Now and Then – Perspectives for a New Guerrilla Art (April 14th – May 19th 2007)
ESSO Gallery, New York, NY
2005 Light Opt(s): A Selection (December 10th – – December 23rd 2005)
LIGHTBOX Gallery, Los Angeles, CA
2005 "The Artist's Touch / The Sleight of the Hand" (November 3rd – December 10th)
LINCART, San Francisco, CA
2005 "New Sculpture in Southern California" (October 20th – November 3rd)
Guggenheim Gallery, Chapman University, Orange County, CA
2005 "Fast Forward, a Passion for the New" (July 30th – September 5th)
Red House Gallery / House of Campari, Venice, CA
2005 "Genderosity" (July 16th – August 20th)
4F Gallery, Chinatown, Los Angeles, CA
2005 SUPERSONIC (June 25th – July 16th)
L.A. Design Center, Los Angeles, CA
2005 MFA Thesis Exhibition (May 12th – May 26th)
New Wight Gallery – University of California, Los Angeles, Los Angeles, CA
2004 "Paper" (October 23rd – December 4th)
Patricia Faure Gallery, Los Angeles, CA
2002 "Digital Louisiana" (April 5th – June 9th)
Contemporary Arts Center New Orleans, New Orleans, LA
2001 "Matérico vs. Digital" (July 5th – July 20th)
Lanín Galería – Pasaje Lanín, Buenos Aires, Argentina
2001 "Feedback" (May 3rd. – May 21st)
The Visual Arts Center and Collins C. Diboll Gallery, Loyola University, New Orleans, LA
INQUIRE ABOUT WORKS AVAILABLE BY ANALIA SABAN: