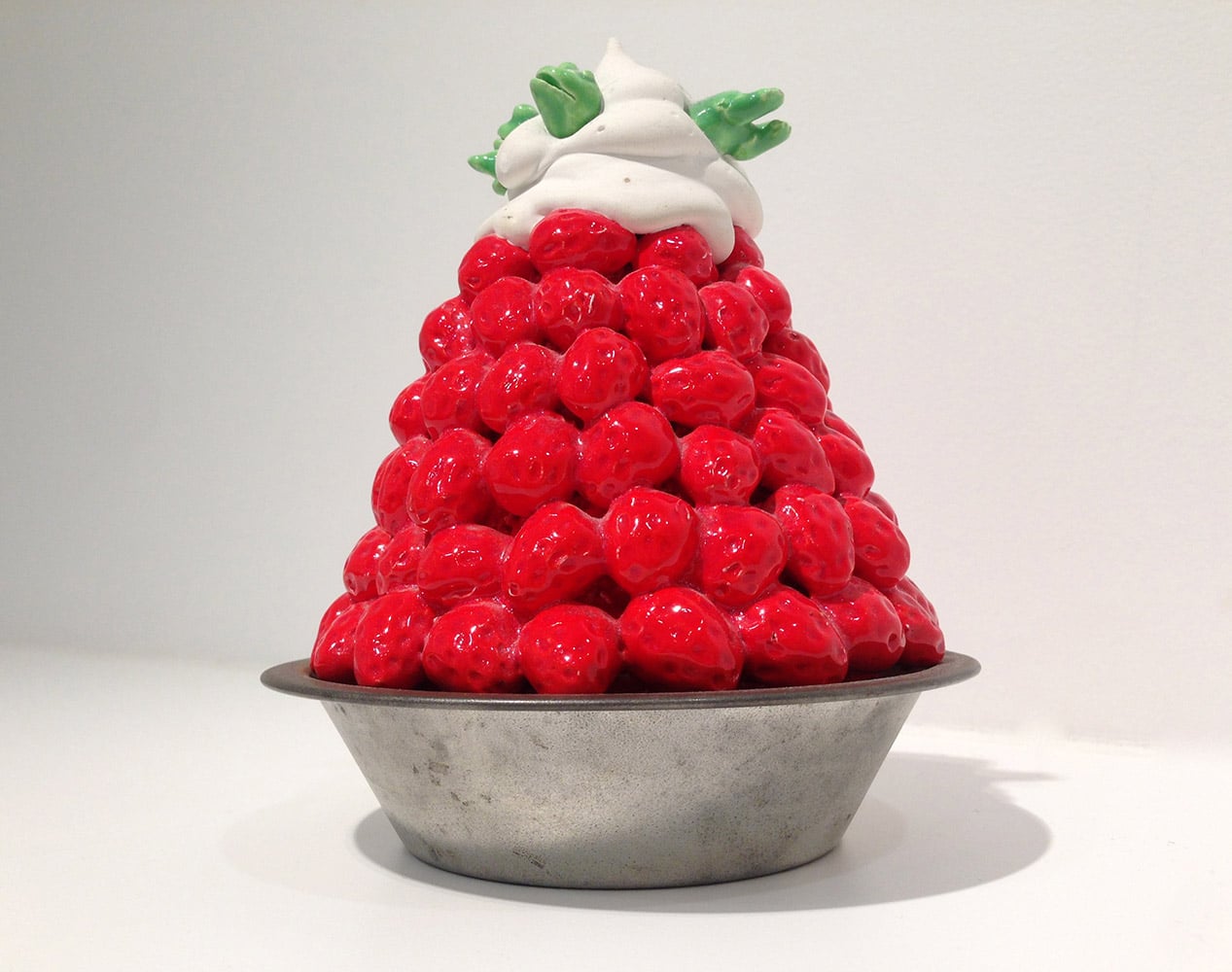 David Gilhooly
Strawberries and Cream and Frogs
1990
Glazed ceramic
6-1/2″ x 5-1/4″ x 4-1/4″ (16.5 x 13.3 x 13.3 cm)
David Gilhooly (1943-2013) was an American sculptor who created playful works of animals, food, and most notably of frogs. His renditions of these amphibians make up the incredible and quirky body of work deemed "FrogWorld." Gilhooly's FrogWorld both parallels and departs from human experience and behavior. Gilhooly was one of the most distinguished artists of the Funk Ceramics Movement of the Bay Area. His artwork exudes a light-hearted and celebratory energy.
David Gilhooly was born in Auburn, California in 1943. Growing up, Gilhooly lived in Puerto California, Puerto Rico, and Virgin Islands, with a veterinarian father. In 1961 he attended University of California with the intent of studying biology. It was in an attempt to impress a female art student that Gilhooly ended up in ceramics class and  switched into the arts, earning his Bachelor's and Master's degrees by 1967.
Gilhooly's career began in 1962 when he worked as an assistant for a sculptor named Robert Arneson. Arneson was in charge of TB-9 ceramics at University of California, Davis. He and other members of the Funk Art Movement created satirical works in response to "high artwork". Gilhooly pushed the boundaries and never failed to infuse a sense of humor and amusement into his expression.
Gilhooly taught at California State University, Sacramento; University of California, Davis; York University, Ontario; San Jose State College, California, and Linfield College, Oregon. He is remembered for his playful expression. His work is part of collections at: the San Francisco Museum of Modern Art, The Whitney Museum of American Art, and the Oakland Museum of Art.
Gilhooly died in August of 2013.
2006 – "The Many Hearts of David Gilhooly," Micaela Gallery, San Francisco, California
2005 – "Best in Show: Dog Works by David Gilhooly," Museum of Glass, Tacoma, Washington
2005 – "Food, Frogs and Fido: Works on Paper by David Gilhooly," Cantor Art Center, Stanford University, Stanford, California
2002 – Eastern Washington State College, Cheney, Washington
2001 – Nickle Arts Museum, University of Calgary, Calgary, Alberta, Canada
2000 – Hallie Ford Museum, Willamette University, Salem, Oregon
1999 – DeSaisset Museum, Santa Clara University, California
1994 – University of Puget Sound, Tacoma, Washington
1992 – San Jose Museum of Art, San Jose, California
1990 – Renshaw Gallery, Linfield College, McMinnville, Oregon
1985 – Redding Museum of Art, Redding, California
1980 – St. Louis Art Museum, St. Louis, Missouri
1978 – "A Gilhooly Galaxy," Owens Art Gallery, Sackville, New Brunswick, Canada; Travelled to: Confederation Centre, St. John's, Newfoundland, Canada; York University, Toronto, Ontario, Canada; Art Space, Peterborough, Ontario, Canada; St. Lawrence College, Kingston, Ontario, Canada; University of North Dakota, Grand Forks, North Dakota
1977 – ARCO Center for the Visual Arts, Los Angeles, California
1976 – Matrix Gallery, Wadsworth Anteneum, Hartford, Connecticut
1973 – "Gifts from the Frog World," York University, Toronto, Ontario, Canada; Robert McLaughlin Gallery, Oshawa, Ontario, Canada
1971 – Anna Leonowens Art Gallery, Hallifax, Nova Scotia, Canada
1970 – Norman MacKenzie Art Gallery, University of Saskatchewan,
Saskatchewan, Regina, Canada
1968 – M.H. de Young Memorial Museum, San Francisco, California
1967 – San Francisco Museum of Art, San Francisco, California
1965 – Richmond Art Center, Richmond, California
INQUIRE ABOUT WORKS AVAILABLE BY DAVID GILHOOLY: