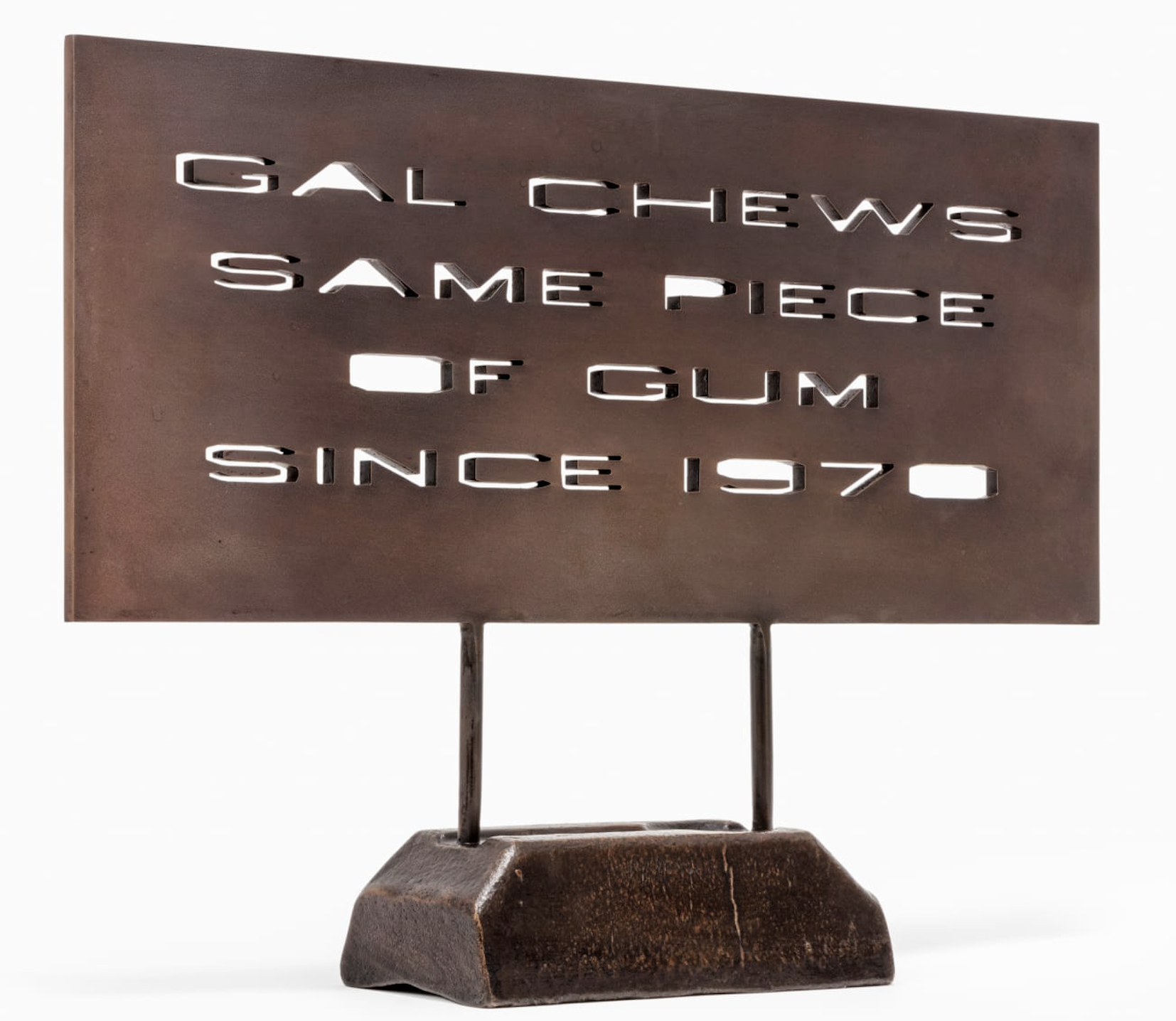 Ed Ruscha
Gal Chews Gum
2019
Cast bronze with hand applied patina
14-1/4″ x 20″ x 4-1/4″ (36.2 x 50.8 x 10.8 cm)
Edition of 40 + 8 AP
Ed Ruscha (born 1937) is a painter, photographer, printmaker, and filmmaker. Although Ruscha resists the narrow definitions of both Pop Art and Conceptualism, his work incorporates elements of both movements and developed in opposition to Abstract Expressionism. Ruscha's association with the Pop Art movement stems from his appropriation of mass-produced imagery surrounding the car culture of Los Angeles. He is perhaps best known for his series depicting mid-century gasoline stations and stylized, hand-painted typography. He also published a series of conceptual photographic artist's books including Thirty Four Parking Lots in Los Angeles and Every Building on the Sunset Strip. Ruscha's work often incorporates a subtle, deadpan humor through the juxtaposition of opposites including urban and rural life as well as high and low culture in Southern California.
Edward Ruscha was born in Omaha, Nebraska in 1937 but moved to Oklahoma as a child. In 1956, Ruscha won first prize in graphic design from the Oklahoma City Chamber of Commerce. After finishing high school, Ruscha settled in Los Angeles and attended the Chouinard Art Institute (now the California Institute of the Arts) in 1956. The influence of Ruscha's study of graphic arts can be felt in his choice and handling of subjects. By 1963, he had his first solo show at the Ferus Gallery and, soon after, published his first book of photography Twenty Six Gasoline Stations.
In 1967, the National Council of Arts recognized Ruscha for his contributions to painting and, two years later, he was awarded a grant from the National Endowment of the Arts. Ruscha taught briefly at University of California, Los Angeles in 1969 as visiting professor for printing and drawing. Throughout the 1970s, Ruscha experimented with unusual media including gunpowder, vegetable pigment, and organic matter. In 1971 he won a Guggenheim Foundation Fellowship. In 1976 he received a solo exhibition at the Institute of Contemporary Art, London.
Ruscha has been the focal point of multiple international exhibitions and retrospectives. In 1983, he received an early retrospective at the Museum of Modern Art, San Francisco. A retrospective organized in 2004 traveled to the Whitney Museum of American Art, New York; the Museum of Contemporary Art, Los Angeles; and the National Gallery of Art, Washington D.C. That same year, the Museum of Contemporary Art, Sidney organized a retrospective that traveled internationally to the Museo Nazionale delle Arti del XXI Secolo, Rome and the Scottish National Gallery of Modern Art, Edinburgh. Ruscha represented the United States at the 2005 Venice Biennial, showing a series of site-specific works.
Ed Ruscha lives and works in Los Angeles.
2013 – "Ed Ruscha: Los Angeles Apartments," Kunstmuseum Basel, Basel, Switzerland
2013 – "In Focus: Ed Ruscha," The Getty Center, Los Angeles, California
2013 – "Ed Ruscha: Made in California," Amon Carter Museum, Fort Worth, Texas
2012 – "Ed Ruscha," Gagosian Gallery, New York City, New York
2012 – "Ed Ruscha: Standard," Los Angeles County Museum of Art, LACMA, Los Angeles, California
2012 – "Ed Ruscha: On The Road," Museum of Contemporary Art, North Miami, MOCA, Miami, Florida
2011 – "Ed Ruscha: Nice, Hot Vegetables," Richard Gray Gallery, New York, New York
2011 – "Edward Ruscha," Portland Art Museum, Portland, Oregon
2011 – "Ed Ruscha ARTIST ROOMS," Wolverhampton Art Gallery, Wolverhampton, United Kingdom
2010 – "Ed Ruscha: Fifty Years of Painting," Moderna Museet, Stolkholm, Sweden
2009 – "Time & Place: Los Angeles, 1958-1968,"Kunsthaus Zürich, Switzerland
2008 – "Ed Ruscha: Paintings," Gagosian Gallery, London, United Kingdom (solo)
2007 – "Ed Ruscha: Photographer," Jeu de Paume, Paris, France
2007 – Museum Ludwig, Cologne, Germany
2007 – Kunsthaus, Zürich, Switzerland
2006 – "Two Artists, Two Worlds: the Drawings of Ed Ruscha and Robert Williams," Mendenhall Sobieski Gallery, Pasadena, California
2004 – "Ed Ruscha: The Drawings and Photographs," Whitney Museum of American Art, New York, New York
2004 – "Ed Ruscha: Cotton Puffs, Q Tips, Smoke and Mirrors," Los Angeles Museum of Contemporary Art, Los Angeles, California
2003 – "Ed Ruscha Photographs," Gagosian Gallery, Los Angeles, California
2002 – "Ed Ruscha: Recent works on Paper," Leo Castelli Gallery, New York, New York
2002 – "Ed Ruscha: Palindrome Paintings," Gagosian Gallery, New York, New York
2000 – "Ed Ruscha: Mountains and Highways," Anthony d'Offay Gallery, London, United Kingdom
2000 – "Ed Ruscha: Powders, Pressures and Other Drawings," John Berggruen Gallery, San Francisco, California
2000 – "Ed Ruscha," Gallery Stadtpark, Krems, Austria
1999 – "Edward Ruscha: The Complete Editions 1959-1999," Walker Art Center, Minneapolis, Minnesota; Travelled to: Los Angeles County Museum of Art, Los Angeles, California; University of South Florida Contemporary Art Museum, Tampa, Florida (2000-01)
1999 – "Ed Ruscha: Metro Plots," Gagosian Gallery, New York, New York
1999 – "Ed Ruscha," Kukje Gallery, Seoul, South Korea
1999 – "Ed Ruscha," Meta Gallery, Madrid, Spain
1998 – "Ed Ruscha," Anthony d'Offay Gallery, London, United Kingdom
1997 – "Spaghetti Westerns," Milwaukee Art Museum, Milwaukee, Wisconsin
1997 – "Edward Ruscha," Jurgen Becker, Hamburg, Germany
1997 – "Edward Ruscha: Cityscapes, O Books," Leo Castelli Gallery, New York, New York
1996 – "Edward Ruscha," Gallery Seomi, Seoul, South Korea
1995 – "Anamorphic Paintings," Leo Castelli Gallery, New York, New York
1995 – "The End," Close Range Gallery, Denver Art Museum, Denver, Colorado
1993 – "Edward Ruscha: Romance With Liquids," Gagosian Gallery, New York, New York
1992 – "Edward Ruscha: New Paintings & Drawings," Galerie Thaddeus Ropac, Salzburg, Austria
1992 – "Ed Ruscha: Stains," Robert Miller Gallery, New York, New York
1992 – "Edward Ruscha and Dennis Hopper: New Works," Tony Shafrazi Gallery, New York, New York
1990 – "Edward Ruscha," Galerie Ghislaine Houston, Paris, France
1990 – "Edward Ruscha: Obra Sobre Paper," Galeria Joan Prats, Barcelona, Spain
1990 – "Edward Ruscha," Centre Cultural de la Fundació Caixa de Pensions, Barcelona, Spain
1990 – "Edward Ruscha," Sheldon Memorial Art Gallery, University of Nebraska at Lincoln, Nebraska
1990 – "Ed Ruscha: New Paintings and Drawings," Karsten Schubert, London, United Kingdom
1990 – "Edward Ruscha Paintings and Drawings," Texas Gallery, Houston, Texas
1990 – "Ed Ruscha: Paintings," The Museum of Contemporary Art, Los Angeles, California
1990 – "Los Angeles Apartments," Whitney Museumof American Art, New York, New York
1990 – "Edward Ruscha," Galeria Trisorio, Napoli, Italy
1989 – "Edward Ruscha," Musée national d'art moderne, Centre Georges Pompidou, France; Travelled to: Museum Boymans-van Beuningen, Rotterdam, The Netherlands; Fundacio Caixa de Pensions, Barcelona, Spain; Serpentine Gallery, London, England; Museum of Contemporary Art (MOCA), Los Angeles. Catalogue
1989 – "New Paintings," Leo Castelli, New York, New York
1989 – "New Paintings and Drawings," Touko Museum of Contemporary Art, Tokyo, Japan
1988 – "Words Without Thoughts Never to Heaven Go," Lannan Museum, Lake Worth, Florida; Travelled to: Williams College Museum of Art, Williamstown, Massachusetts
1988 – "Changing Group Exhibition," Karsten Schubert Gallery, London, United Kingdom
1988 – "Early Paintings," Shafrizi Gallery, New York, New York
1988 – "Edward Ruscha: Recent Paintings," Museum of Contemporary Art, Chicago, Illinois
1988 – "Edward Ruscha: Recent Works on Paper 1988," Karsten Schubert Gallery, London, United Kingdom
1988 – Institute of Contemporary Art, Nagoya, Japan
1988 – Leo Castelli Gallery, New York, New York
1987 – "Edward Ruscha: 35 Lunette Paintings Commissioned by the Metro," Dade Art in Public Places Trust for Miami, Miami, Florida
1987 – "New Paintings," Robert Miller Gallery, New York, New York
1987 – "The Works of Ed Ruscha," Contemporary Arts Museum, Houston, Texas
1986 – The Texas Gallery, Houston, Texas
1986 – "4 x 6," Westfalischer Kunstverein, Münster, West Germany
1986 – "New Paintings," Fuller Goldeen Gallery, San Francisco, California
1986 – Galerie Susan Wyss, Zürich, Switzerland
1986 – "New Paintings," Leo Castelli Gallery, New York, New York
1985 – "Ed Ruscha: Quelques Dessins," Galerie Gilbert Brownstone, Paris, France
1985 – "New Paintings," James Corcoran Gallery, Los Angeles, California
1985 – "Octobre des Arts," Musee St. Pierre, Lyon, France
1984 – "New Paintings," Leo Castelli Gallery, New York City, New York
1983 – "New Drawings," Bernard Jacobson Gallery, Los Angeles
1982 – "Edward Ruscha: New Drawings," Castelli Uptown, New York, New York; Travelled to: San Francisco Museum of Modern Art, San Francisco, California
1982 – Retrospective, "The Works of Edward Ruscha," Whitney Museum of American Art, New York, New York; Travelled to: Vancouver Art Gallery, Vancouver, Canada; San Antonio Museum of Art, San Antonio, Texas Los Angeles County Museum of Art, Los Angeles
1981 – Ace Gallery, Vancouver, Canada
1981 – "Edward Ruscha: New Works," Arco Center for the Visual Art, Los Angeles, California
1981 – "Edward Ruscha: D Drawings," Leo Castelli Gallery, New York, New York
1980 – "Edward Ruscha: Paintings," Ace Gallery, Venice, California
1980 – Nigel Greenwood, Inc., London, United Kingdom
1980 – "New Paintings," Leo Castelli Gallery, New York, New York
INQUIRE ABOUT WORKS AVAILABLE BY ED RUSCHA: