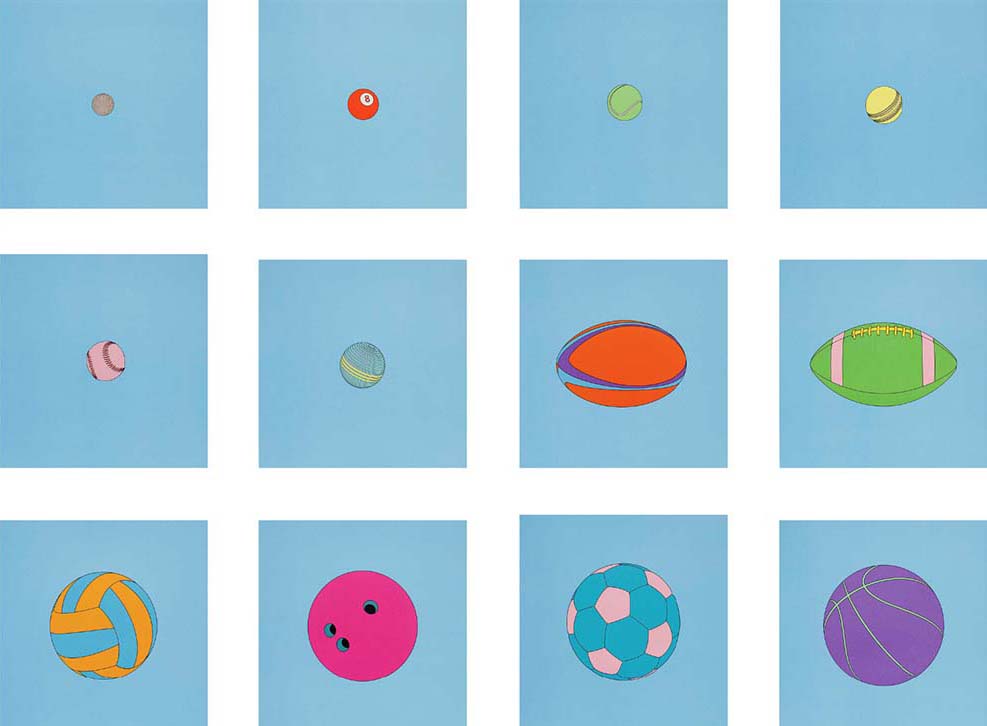 Michael Craig-Martin
Sports Balls
2019
A series of twelve screenprints on Somerset Satin 410 gsm,
with accompanying portfolio box
15-3/4″ x 15-3/4 (40 x 40 cm)
Edition of 15 (+5 AP)
Michael Craig-Martin (born 1941) is an important artist whose impressive oeuvre is a combination of three significant Post-War disciplines: Pop Art, Minimalism, and Conceptual Art. Craig-Martin began building his visual vocabulary of objects while studying at Yale University from 1961 to 1966. He is well-known for being an influential instructor at Goldsmiths College in London and taught important 1990s artists: Damien Hirst, Julian Opie, and Ian Davenport. His works are in important public collections including the Tate Gallery, London; The Museum of Modern Art, New York, and others.
Michael Craig-Martin was born in Dublin, Ireland in 1941. He grew up in the United States, where he received his higher education: first at Fordham University in New York (1961) followed by Yale University in Connecticut (1961-1966). In his final year of study, he worked for the School of Visual Arts in New York. In 1968 he settled in London, establishing himself as a leading figure in conceptual art. There he worked at Goldsmiths College, inspiring developing artists including Julian Opie and Damien Hirst. Many of the artists with whom he worked in his years teaching at Goldsmiths were later known as the Young British Artists.
Craig-Martin's first solo exhibition was in 1969 at Rowan Gallery in London, England.  He worked as an artist-in-residence at King's College in England from 1970-1972. By 1977, Craig-Martin began to form his visual language of common objects. To this day, he devotes energy into this ever-changing and evolving distilled form of optical communication. Within this vocabulary are images drawn from Craig-Martin's photographs, which focus on commonplace, mass-produced, and man-made items. In the late 1970s, Craig-Martin used his visual vocabulary to create drawings, which still hold a high importance in his oeuvre, serving as an important foundation for his later work.
In the 1980s, Craig-Martin began an important body of panel paintings. In 1982, he had his first solo exhibition at Waddington Galleries in London, United Kingdom. In 1989 Craig-Martin was appointed as a trustee of London gallery, Tate, and several years later, he was appointed as the Millard Professor of Fine Art at Goldsmith's.
In 1993, Craig-Martin began adding color to his studies of commonplace objects, granting himself the freedom to choose the colors he wished. The 1990s held much change for Craig-Martin's art; he began to shift primarily toward painting.  His bold themes and distinctive style led Craig-Martin to be recognized as one of the important members of contemporary Pop Art, Minimalism, and Conceptual Art. Amongst his creative accomplishments, Craig-Martin received the distinguished honor of Commander of the British Empire in 2001. In 2006, he was elected to the Royal Academy of Arts in London.
His work is part of major collections the Centre Pompidou in Paris, France; The National Gallery of Australia in Canberra; the Museum of Modern Art in New York, and at the Tate Gallery in London, United Kingdom. Retrospectives of his work in 2006 and 2007 and many international solo exhibitions exemplify Craig-Martin's impressive list of professional accomplishments.
Michael Craig-Martin works and lives in London, United Kingdom.
2019 – "Present Sense," The Gallery at Windsor, Florida, United States
2018/2019 –  "Home Futures," Design Museum, London, United Kingdom
2017 – "Quotidian," Alan Cristea Gallery, London, England
2017 – "With Space in Mind," Tremenheere Sculpture Garden, Penzance, UK
2016 – "Royal Academy Summer Exhibition," Royal Academy of Arts, London, England
2015 – "Transience," Serpentine Gallery, London, England
2015 – "Hello Walls," Gladstone Gallery, New York
2015 – "British Artists," Galeria Andres Thalmann, Zürich, Switzerland
2014 – "Objects of our Time," Alan Cristea Gallery, London, United Kingdom
2013 – "Drawing," GW Museum, Washington, D.C.
2013 – "Less is Still More," Museum Haus Esters, Krefeld, Germany
2012 – "Michael Craig-Martin: Prints and Drawings," Galerie I.D., Geneva, Switzerland
2011 – "Michael Craig-Martin: New Works," New Art Center, Roche Court, Wilshire, United Kingdom
2010 – "Michael Craig-Martin," The Goss-Michael Foundation, Dallas, Texas
2009 – "New Works," Galerie Haas & Fuchs, Berlin, Germany
2009 – Northern Print Biennale, Laing Art Gallery, Newcastle upon Tyne, United Kingdom
2008 – "Forgetting Velázquez: Las Meninas, Museu Picasso de Barcelona, Barcelona, Spain
2008 – Martian Musuem of Terrestrial Art, Barbican, London, United Kingdom
2008 – "Outlines," Gimpel Fils, London, United Kingdom
2007 – "Living in the Material World: 'Things' in Art of the 20th Century and Beyond," The National Art Gallery, Tokyo, Japan
2007 – "ART Futures," Bloomberg Space, London, United Kingdom
2006 – Irish Museum of Modern Art, INMA, Dublin, Ireland
2006 – "A is for Umbrella," Gagosian Gallery, London, United Kingdom
2006 – Hiscox Art Projects, London, United Kingdom
2006 – "Switched On," Alan Cristea Gallery, London, United Kingdom
2006 – "As if by Magic," Bethlehem Peace Center, Bethlehem, Palestine
2005 – "Painting in the Edge," Gallery Hyundai, Seoul, Korea
2005 – "Raised Awareness," Tate Modern, London, United Kingdom
2004 – "Michael Craig-Martin," Galerie Haas & Fuchs, Berlin, Germany
2004 – "Michael Craig-Martin: New Work," Alan Cristea Gallery, London, United Kingdom
2003 – "Michael Craig-Martin: Haunch of Venison," Galerie Judin, Zurich, Switzerland
2003 – "Michael Craig-Martin: Eye of the Storm," Gagosian Gallery, New York, New York
2002 – "Works 1984 – 1989," Waddington Galleries, London, United Kingdom
2002 – "Inhale/Exhale," Manchester Art Gallery, Manchester, United Kingdom
2002 – "Blast to Freeze," British Art in the 20th Century, Kunstmuseum, Wolfsburg, Germany
2001 – Lux Gallery, London, United Kingdom
2001 – "Living," Sintra Museum of Modern Art, Berardo Collection, Portugal
2000 – "Shifting Ground," Irish Museum of Modern Art, Dublin, Ireland
2000 – "Conference," Waddington Galleries, London, United Kingdom
2000 – "Full/empty," Fig-1, London, United Kingdom
1999 – Peter Blum Gallery, New York, New York
1999 – "Michael Craig-Martin: and Sometimes a Cigar is Just a Cigar," Württembergischer Kunstverein, Stuttgart
1998 – "Michael Craig-Martin Always Now," Kunstverein Hannover, Hannover, Germany
1997 – Alan Cristea Gallery, London, United Kingdom
1997 – "Michael Craig-Martin und Raymond Pettibon, Kunstverein fur die Rheinlande, Dusseldorf, Germany
1996 – "Un Siécle De Sculpture Angalise," Galerie National du Jeu de Paume, Paris, France
1995 – The Museum of Contemporary Art, Chicago, Illinois
1994 – Centre Georges Pompidou, Paris, France
1994 – "Wall Paintings at the Villa Herbst," Museum Sztuki, Lodz, Poland
1993 – "An Oak Tree," Galeria Foksal, Warsaw, Poland
1993 – Galerie Claudine Papillon, Paris, France
1992 – Waddington Galleries, London, United Kingdom
1991 – "Project Gallery," Museum of Modern Art, New York, New York
1991 – David Nolan Gallery, New York, New York
1991 – Musee des Beaux Arts, Andre alraux, Le Havre, France
1990 – Galerie Claudine Papillon, Paris, France
1989 – "Sculpture," Six Friedrich Gallery, Munich, Germany
1989 – "Michael Craig-Martin, Grenville Davey, Julian Opie," Galleria Lia Rumma, Naples, Italy
1988 – "Starlit Waters: British Sculpture, an International Art 1986-88," Tate Gallery, Liverpool, United Kingdom
1988 – "That Which Appears is Good, That Which is Good Appears," Tanja Grunert Gallery, Cologne, Germany
1987 – "Wall Works," Cornerhouse Gallery, Manchester, United Kingdom
1986 – "L'Attitude," Galeria Comicos, Lisbon, Portugal
1985 – Waddington Galleries, London, United Kingdom
1984 – "The British Art Show," City Museum and Art Gallery and Ikon Gallery, Birmingham, United Kingdom
1983 – "New Art," Tate Gallery, London, United Kingdom
1982 – "Aspects of British Art Today," Metropolitan Art Museum, Tokyo, Japan
1982 – Waddington Galleries, London, United Kingdom
1981 – "British Sculpture in the 20th Century," Whitechapel Art Gallery, London, United Kingdom
1980 – Galerie Bama, Paris, France
1979 – Galeria Akumlatory, Poznan, Poland
1978 – Galerie December, Dusseldorf, Germany
1978 – Institute of Modern Art, Brisbane, Australia
1977 – "Reflected Images," Kettle's Yard Gallery, Cambridge, England
1977 – Hayward Annual: Current British Art Part II, Hayward Gallery, London, England
1977 – Oliver Dowling Gallery & Museum, Dublin, Ireland
1976 – "Michael Craig-Martin: Selected Works 1966-1975," Turnpike Gallery, Leigh, United Kingdom
1976 – "Recent International Forms in Art," 2nd Biennale of Sydney, Art Gallery of New South Wales, Sydney, Australia
1975 – IX Biennale des Jeunes Artistes, Paris, France
1975 – "Contemporary British Drawings," XIII Bienal of Sao Paolo, Brazil
1974 – "Idea and Image in Recent Art," The Art Institute of Chicago, Chicago, Illinois
1973 – Henry Moore to Gilbert & George, Palais des Beaux-Arts, Brussels, Belgium
1972 – "The New Art," Hayward Gallery, London, United Kingdom
1971 – Arnolfini Gallery, Bristol, United Kingdom
1970 – Critic's Choice, Arthur Tooth & Sons, London, United Kingdom
1969 – Rowan Gallery, London, United Kingdom
INQUIRE ABOUT WORKS AVAILABLE BY MICHAEL CRAIG-MARTIN: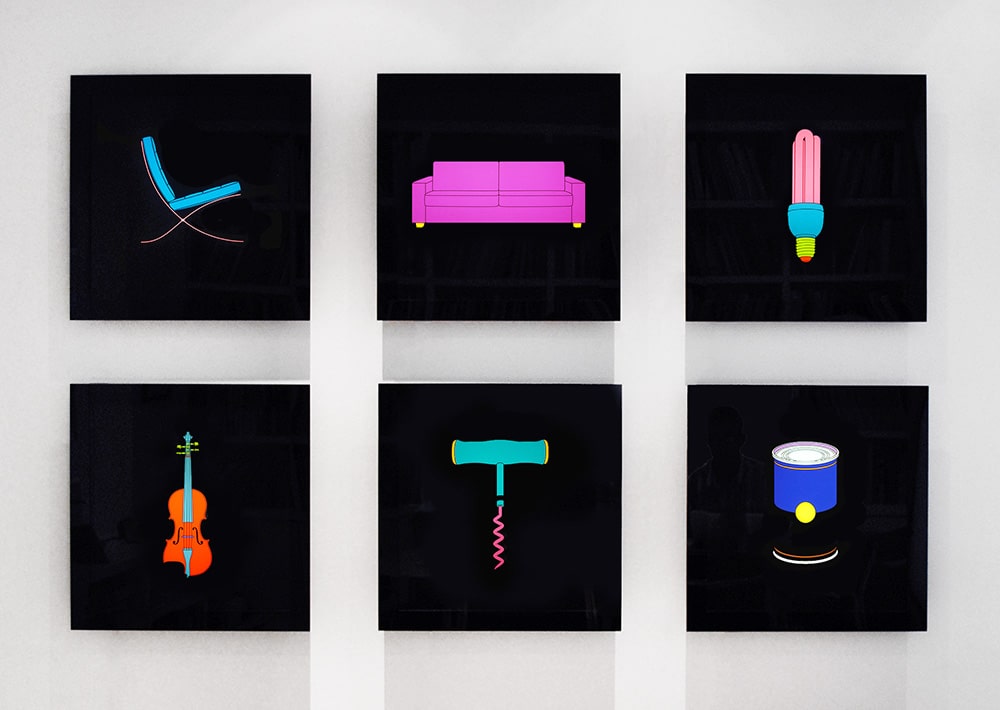 Michael Craig-Martin
Light
2013
6 LED lightboxes with images digitally printed onto acrylic
Each lightbox: 23-5/8″ x 23-5/8″ (60 x 60 cm)
Edition of 15 (+ 2 AP)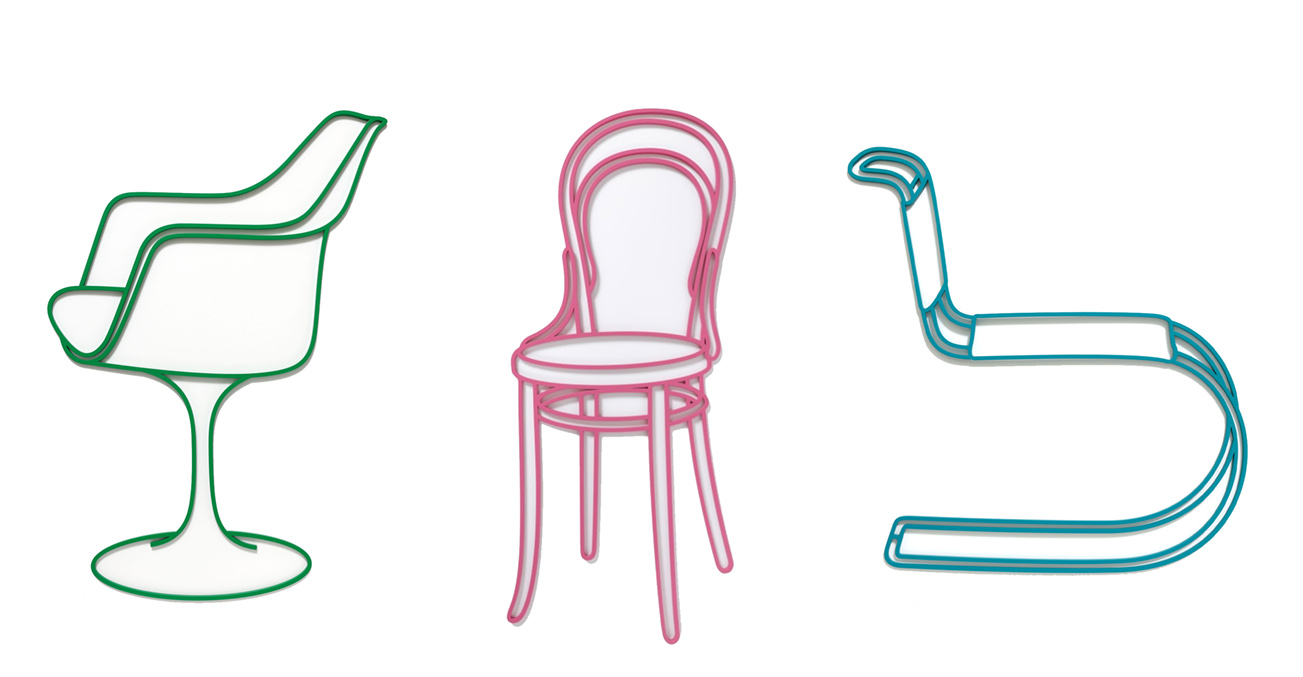 Michael Craig-Martin
Chairs (Saarinen, Thronet Mies van der Rohe)
2019
A series of three polished steel reliefs with spray paint
Edition of 15