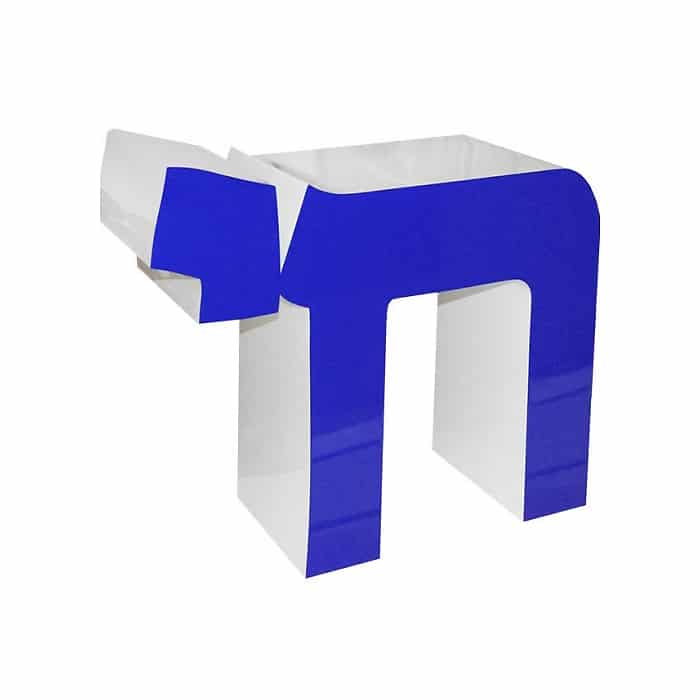 Robert Indiana
Chai
2012
Aluminum with baked enamel
18″ x 19-5/8″ x 9″ (45.7 x 49.8 x 22.9 cm)
Edition of 9
Robert Indiana (born Robert Clark in 1928) is an American artist associated with 1960s Pop Art and Hard-edge Abstraction. Indiana's stark paintings and sculptures act as a physical synecdoche for the cultural shifts in the later part of the twentieth century. Influenced by poets William Carlos Williams and Walt Whitman, Indiana's works combine a philosophical concern for the human condition with striking contrasts of color and exacting compositions.
The symbolic numbers and phrases chosen by Indiana represent a personal mythology, yet one that is insistently enigmatic. Famous for his iconic rendering of LOVE, Indiana's symbols act as monuments to 1960s counter-culture. In doing so, they remind us that a single word can represent determined optimism in the face of seemingly overwhelming adversity.
Robert Indiana was born in New Castle, Indiana in 1928. He received his Bachelor's in Fine Arts from the Art Institute of Chicago and attended the Edinburgh College of Art in Scotland on the George Brown Travelling Fellowship before graduating in 1953.
In 1955 Indiana moved to New York where he began assembling wood and mixed media into sculptures with painted words and other graphics. Indiana considered himself foremost a sign painter and associated with the hardworking ideals of the American Dream.
Indiana's early works are captivating and exciting, influenced by the Hard-edge paintings of his contemporaries including Ellsworth Kelly and Jack Youngerman. Indiana was also at the center of the Pop Art movement in New York, appearing in Andy Warhol's 1964 film entitled Eat. In 1973 Indiana designed the iconic United States Postal Stamp with the word "Love," an image that would become an important theme in his work.
Indiana has received Honorary Doctor of Fine Arts degrees from: Franklin and Marshall College in Lancaster, Pennsylvania (1970); University of Indiana in Bloomington, Indiana (1977); and Colby College in Waterville, Massachusetts (1981). Additionally, Indiana's works are held in major collections including the Whitney Museum of American Art, New York; the Hirshorn Museum and Sculpture Garden, Washington D.C.; the Museum of Modern Art, New York; and the Israel Museum, Jerusalem.
Indiana lives and works in Vinalhaven Island, Maine.
2013/14 – "Robert Indiana: Beyond Love," The Whitney Museum of American Art, New York, New York
2013 – "Pop Art Accrochage," Fluegel-Roncak Gallery, Nuremberg, Germany
2013 – "All You Need is LOVE," Mori Art Museum, Tokyo, Japan
2013 – "The Pop Object: The Still Life Tradition in Pop Art," Acquavella Galleries, Inc., New York, New York
2012 – "Hope," Contini Galleria d'Arte, Venice, Italy
2012 – "Robert Indiana: Sculptures," Waddington Custot Galleries, London, United Kingdom
2012 – "Robert Indiana: New & Classic Works," Rosenbaum Contemporary, Boca Raton, Florida
2011 – "Robert Indiana: Rare Works from 1959 on Coenties Slip," Galerie Gmurzynska, Zurich, Switzerland
2010 – Museum of Contemporary Art Jacksonville, Jacksonville, Florida
2009 – "Robert Indiana and the Star of Hope," Farnsworth Art Museum, Rockland, Maine
2008 – "Pop and Op," Nassau County Museum of Art, Roslyn Harbor, New York
2007 – "Art Market Now," The Columns, Seoul, South Korea
2006 – "Life as a Legend: Marilyn Monroe," Boca Raton Museum of Art, Boca Raton, Florida
2005 – "Made in USA: Ausgewählte Graphik," Galerie & Edition Bode GmbH, Nuremberg, Germany
2005 – "Summer of Love Art of the Psychedelic Era," Tate Liverpool, Liverpool, United Kingdom
2005/05 – "Robert Indiana 66: Paintings and Sculpture," Price Tower Arts Center's, Bartlesville, Oklahoma
2003 – "Letters, Words and Numbers," L & M Gallery, New York, New York
1998 – Retrospective, Musée D'Art Moderne Contemporain, Nice, France
1991 – "Prints Retrospective," Susan Sheehan Gallery, New York, New York
1990 – "Prints as Process," Baxter Gallery, Portland School of Art, Massachusetts
1986 – "Vinalhaven Press 1985-1986," Portland Museum of Art, Massachusetts
1982 – "Indiana's Indianas: A 25 Year Retrospective of Paintings and Sculptures from the Collection of Robert Indiana," National Museum of Art, Smithsonian Institute, Washingtonm, D.C.
1978 – "Art About Art," Whitney Museum of Art, New York, New York
1977/78 – "Museum Retrospective," University Art Museum at University of Texas, Austin, Texas; Travelled to: the Chrysler Museum, Norfolk, Virginia, Virginia; the Indianapoilis Museum of Art, Indiana, Indiana; the Neuberger Museum, State University of New York, Purchase, New York; The Art Center, South Bend, Indiana, Indiana
1976 – "Thirty Years of American Art," Brooklyn Museum of Art, curated by Gene Baro, Brooklyn, New York
1975/76 – Galerie Denise Rene, New York, New York
1975 – "American Art Since 1945," Museum of Modern Art, New York, New York
1972 – "The Modern Image," High Museum of Art, Atlanta, GA
1972 – Galerie Denise Rene, New York, New York
1969/70 – "The Prints and Posters of Robert Indiana," St. Mary's College, Notre Dame, Indiana; Travelled to: Colby College of Art Museum, Waterville, Maine; the Currier Gallery of Art, Manchester, New Hampshire; The Hopkins Center, Dartmouth College, Hanover, New Hampshire; the Bowdoin College Museum of Art, Brunswick, Maine; Brandeis University, Waltham, Massachusetts
1969 – "70 Years of American Art," Whitney Museum of Art, New York, New York
1968 – "Word and Image," Museum of Modern Art, New York, New York
1967 – Ninth Sao Paulo Bienal, Brazil
1966 – "LOVE Exhibition," Stable Gallery, New York, New York
1966 – Galerie Alfred Schmela, Dusseldorf, Germany
1966 – Museum Haus Lange, Krefeld, Germany
1965 – "1965 Annual Exhibition of American Paintings," Whitney Museum of Art, New York, New York
1964 – Stable Gallery, New York, New York (solo)
1963 – "Americans 1963," Museum of Modern Art, New York, New York
1963 – New Realists, Sidney Janis Gallery, New York, New York
1962 – Stable Gallery, New York, New York (solo)
1961 – "The Art of Assemblage," Museum of Modern Art, New York, New York
INQUIRE ABOUT WORKS AVAILABLE BY ROBERT INDIANA: