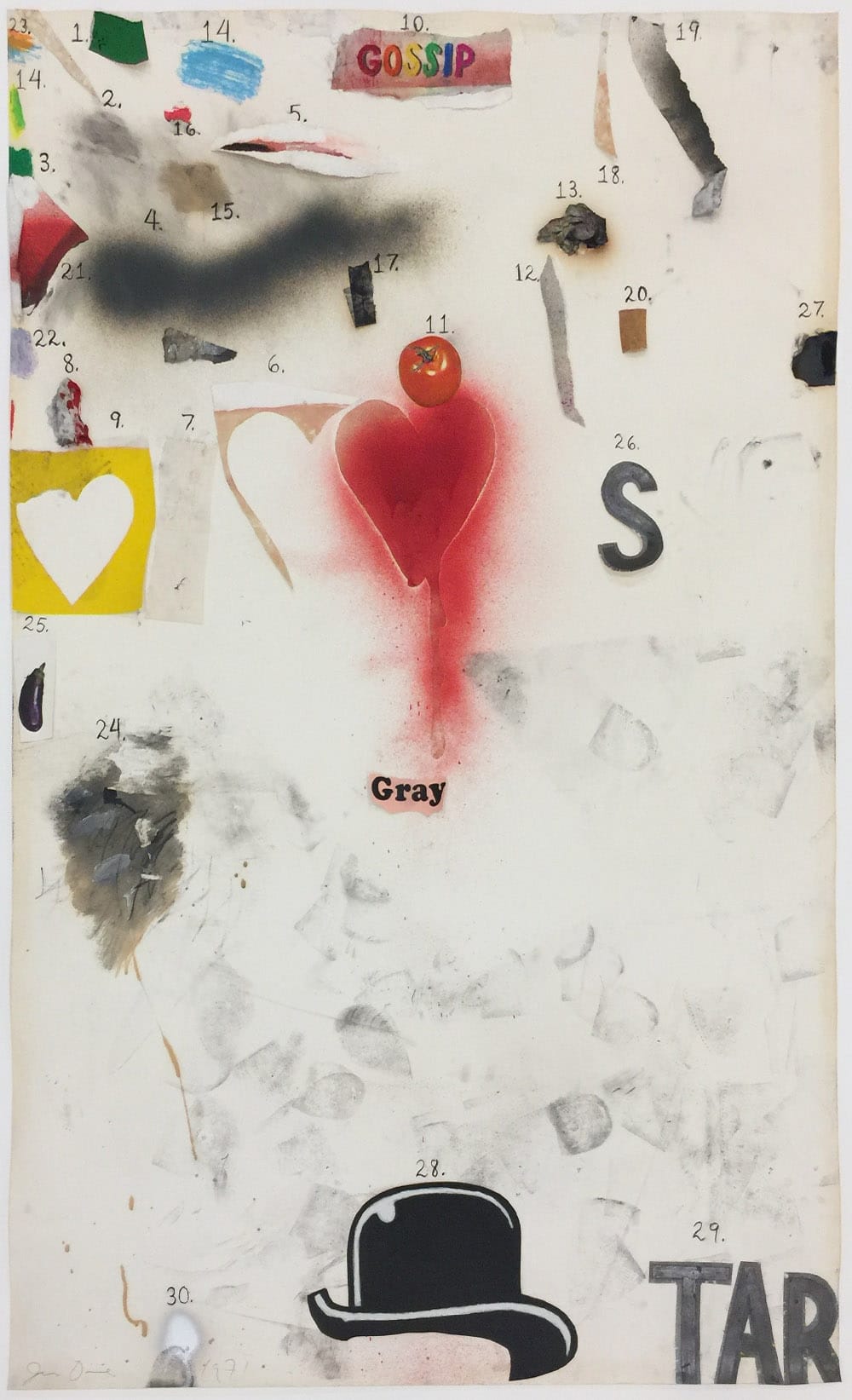 Jim Dine
Untitled (Gossip)
1970-71
Paint, spray paint, charcoal, paper elements, oil pastel, magazine reproductions, and pencil on paper
60″ x 40″ (152.4 x 101.6 cm)
Among the iconic images brought together by the current exhibition, Jim Dine: A Retrospective, hearts are prominently featured. Whether through painting, sculpture, printmaking, or drawing, Dine has laid undisputed claim to the simple shape, suggesting boundless possibilities endowed with complex meaning.
Together with other everyday forms, including bathrobes and tools, Dine's work is often placed within the realm of Pop Art. While the subjects of his work are taken from popular sources, they do not serve the same ironic sensibility. Instead, they are invested with rich personal significance through the artist's tactile brushwork, inventive printmaking techniques, and monumental cast sculptures. A self-described romantic artist, Dine has embraced the heart as a template through which he can explore relationships of color, texture, and composition.
Dine's recent pairing of hearts, And The Cherry Trees (2013), emphasizes contrasts in relationships of color and texture. While one heart palpitates with warm yellows built up through oil paint and sand, the other recedes into cool blues and grays applied in washes and rivulets of color. The powerful presence of the two hearts suggests human interaction: the forms accommodate one another where they touch, yet their strong outlines—recalling the geographic delineations of the title—do not overlap.
A stand-alone heart entitled Madison 5 (2013) is a tour de force of Dine's "ongoing romance" with innovative and rigorous monotype and other printmaking techniques. Energetic passages of bright color fill the heart and reverberate beyond its permeable borders. Traditional woodcut and etching techniques combined with hand-applied details result in this distinctive work that bridges printmaking and painting.
Perhaps one of Dine's most iconic compositions, Hearts in the Meadow (1970) presents the viewer with a rhythmic repetition of hearts. The unique work on paper incorporates a wide range of mediums to define the shapes through both positive and negative space. Dine's integration of acrylic, enamel, spray paint, pencil, charcoal, gouache, and collaged elements results in hearts that bleed and blend into one another.
Dine's dynamic repetition of a condensed visual vocabulary has redefined the once-common heart as a personal symbol for the artist.
Return to Jim Dine: A Retrospective