Ben Schonzeit
Into Peaches
2010
Acrylic on polyester canvas
33″ x 33″ (83.8 x 83.8 cm)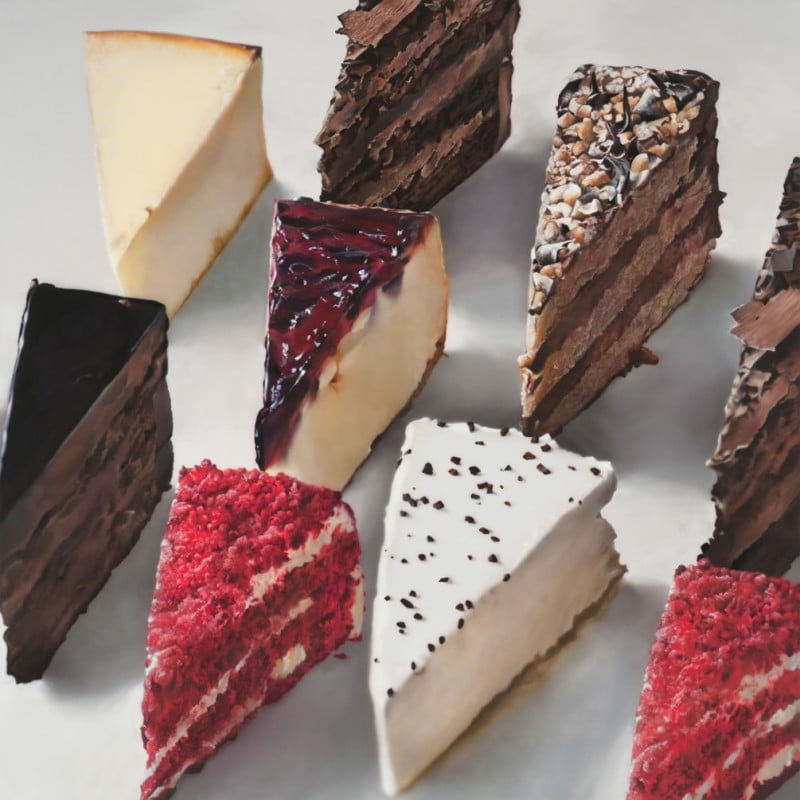 Ben Schonzeit
Cake Slices
2011
Acrylic on polyester canvas
72-1/8″ x 72-1/16″ (183.2 x 183 cm)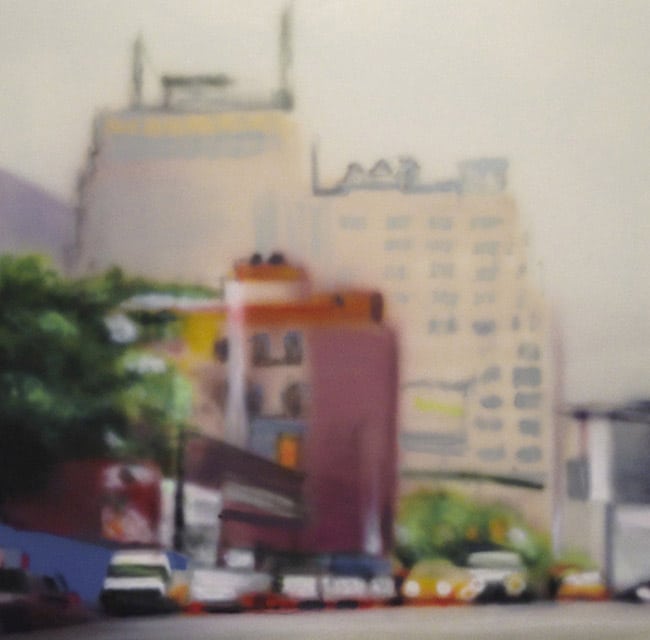 Ben Schonzeit
Sixth Avenue
2013
Acrylic on wood panel
18″ x 18″  (45.7 x 45.7 cm)
Ben Schonzeit (born 1942) is a central figure in American Photorealism, whose technical contribution was his pioneering use of the airbrush. Today he remains the virtuoso of this technique; his recent paintings are even more exquisitely executed than the ground-breaking works he created in the 1970s. Schonzeit is recognized amongst peers such as Richard Estes and Robert Bechtle. As a prolific artist who manifests beauty with his brush, his focus on detail often creates an aesthetic that surpasses the charm of the objects themselves. With the objective of discovery and enlightenment directed toward the everyday, Schonzeit illuminates splendor in quotidian reality in order to connect his audience to his work. The extreme level of realism captured in each painting can only be truly appreciated in person.
Ben Schonzeit was born in 1942 in Brooklyn and has lived in New York City for his entire life. He was artistically inclined from a very young age, influenced by his parents who were creative and expressive individuals and kept a plethora of art in the house. His mother was a nightclub singer and his father was a fireman who also ran an antique furniture business.
When Schonzeit was five years old, he lost one of his eyes to an injury. Because he could not handle much sunlight afterward, he spent a great deal of time drawing, creating model airplanes, and sculpting figurines out of clay. Schonzeit was an artist by nature and developed his skills through practice and enjoyment. When it came time to attend university, he enrolled in architecture school. His parents encouraged him to study a vocation that they felt had earning potential. After a year of studying architecture, Schonzeit switched over to fine arts. In university, he learned from a variety of influential teachers. Some of his mentors were Abstract Expressionists, and others were figurative. Schonzeit especially gravitated toward cubist form and expressed his vision in a Picasso-like and Matisse-like voice. Schonzeit graduated from Cooper Union in 1964 with a bachelor's degree in Fine Arts.
It was when he went to see Ivan Karp, who was then with Leo Castelli gallery, that he got a professional opportunity. When he showed Karp his art, which was varied and broad, Karp asked him to create 20 more works 'like this' and then come back. When Schonzeit returned with a body of essentially Photorealist works, he was given the opportunity to exhibit and shortly after had his first solo exhibition at French and Company in 1970. Schonzeit's career steadily developed and over time, he earned a reputation as one of the highly important members of the Photorealist movement. Schonzeit, however, describes himself as "an abstract artist who believes that art should represent something." His artwork illuminates parts of everyday human experience. Through his art comes discovery and enlightenment of quotidian affairs. Photography plays a major part in Schonzeit's artistic success. He looks for paintings with his camera, shining light onto what might have been invisible to others.
Schonzeit has drawn inspiration from a number of artists, most notably: Diego Velázquez, Pablo Picasso, Henri Matisse, Constantin Brancusi, Mark Rothko, Barnett Newman, and Willem de Kooning. His artwork is part of collections at: The Metropolitan Museum of Art, The Denver Art Museum, The Solomon R. Guggenhem Museum, The Brooklyn Museum, and the Basel Kunstmuseum.
Schonzeit lives and works in Brooklyn, New York.
Statement 
"After ten years of spraying paint with an airbrush and spray guns, I decided that my lungs had withstood enough damage to last a lifetime. I was no longer impressed with what was easy for me. Following The Music Room in 1978, for which I created a series based on the same photograph painted and drawn in fifty different ways, I settled on the brush for exploring format and subject broadly.
Recently a photograph came up that couldn't be painted in any other way than with an airbrush. Today, paints and airbrushes are much better and safer than they were in the 1960s. I rediscovered the excitement of this marvelous tool–finding something new in an older format. It was like sitting down to dinner with a very good friend from your youth that leads to a conversation that goes on all night and continues for years.
Since the paintings shown here are part of my Photorealist work, I think it best to begin from the start–how I came to work from photographs and why. After graduating from Cooper Union, I painted abstract, or nonobjective, shaped canvases that combined my admiration of what was going on in contemporary art at the time: Frank Stella, Marris Louis, Rothko, Barnett Newman, perhaps some of Jackson Pollock, Picasso, Miró, and Matisse. Color is what excited me most. There wasn't one realist in the lot. Of course, I loved Vermeer, Velázquez, Degas, and Manet for their intimacy, space, color, and virtuosity. Pop probably tipped the scales, sending me to what has come to be called Photorealism. Rauschenberg, Rosenquist, and Warhol were making paintings from Photographs. My abstractions didn't engage me enough with the world. Having lost an eye as a child makes what and how I see very important to me. The camera gave substance to vision. Vision is a big part of my "Vision."
Never trained in classical technique, I taught myself to paint figuratively, projecting a slide. To understand my work, look for the meeting of color, space, a camera, and subject in that order. Currently, I project digital images. The projections are not as good as slides, but the options are wonderful. More and more I work from both projections and prints. The potential of digital photography is amazing. Our phones are now capable of capturing photographs that until a short time ago were nearly impossible without lighting, tripods, light meters, and an assortment of specialty films.
I paint photographs most of the time. The photograph is my subject–not oranges or apples, but the photographs themselves. Cameras mimic how we see in both detail and depth of field. A part of what I do is look for the timeless in the specific . But in the end you must know that you are looking at something other than a photograph. Paintings have a unique ability to convey experience because every inch is created by hand."
-Ben Schonzeit, from the book Photorealism in the Digital Age © 2013
Citation: Bernarducci, Frank, Harris, Elizabeth K., and Meisel, Louis K. Photorealism in the Digital Age. New York: Harry N. Abrams, Inc., Publishers, 2013.
2016 – "Abstract Figuration," Nassau County Museum of Art, Roslyn Harbor, New York, New York
2015 – "Ben Schonzeit: Brilliant Realism," Museum of Art, Dedland, Florida
2015 – "Ben Schonzeit: Florals," MODERNISM, San Francisco, California
2014 – "Photorealism: The Everyday Illuminated," Jonathan Novak Contemporary Art, Los Angeles, California
2014 – "Ben Schonzeit: Baked Goods," Baker Sponder Gallery, Boca Raton, Florda
2012 – "Edibles," Jonathan Novak Contemporary Art, Los Angeles, California
2012 – "New Paintings From New York," Plus One Gallery, London, United Kingdom
2011 – "Ben Schonzeit: Paintings," Elaine Baker Gallery, Boca Raton, Florida
2009 – "Picturing America," Photorealism from the 1970s, Berlin, Germany
2007 – "Ben Schonzeit – Four Decades," Gerald Peters Gallery, New York, New
2006/07 – "Ben Schonzeit," Plus One Gallery, London, United Kingdom
2004 – "Ben Schonzeit – Watercolors," Gerald Peters Gallery, New York, New York
2003 – Elaine Baker Gallery, Boca Raton, Florida
2002 – "Ben Schonzeit – Paintings," Gerald Peters Gallery, Santa Fe, New Mexico
2001 – "Ben Schonzeit – New Paintings," Bernarducci Meisel Gallery, New York, New York
2001 – "Ben Schonzeit – Landscape and Memory," Galeria Manuel Ojeda, Las Palmas de Gran Canaria, Spain
2001 – "Ben Schonzeit – Paintings for ARCO," Ojeda Gallery, Madrid, Spain
1999 – "Ben Schonzeit – Flower Paintings," The Butler Art Institute of American Art, Youngstown, Ohio
1999 – "Irish Impressions and Other Watercolors," Stable Gallery Roundstone, Co. Galway, Ireland
1998 – Gerald Peters Gallery, Santa Fe, New Mexico
1997 – Jaffe Baker Gallery, Boca Raton, Florida
1995 – "Ben Schonzeit: Private Paintings – 1980-1995," J.J. Brookings, San Francisco, California
1993 – Ann Jaffe Gallery, Bay Harbor Islands, Florida
1992 – "The Seven Ages of Man," Bayer AG, Leverkusen, Germany
1991 – "Comedia," Tomatissimo, Cologne, Germany
1990 – J.J. Brookings,  San Jose, California
1989 – Modernism, San Francisco, California
1988 – Galerie Ninety-Nine, Miami, Florida
1984 – Delaware Art Museum, Wilmington, Delaware
1983 – Nancy Hoffman Gallery, New York, New York
1981 – DeGestlo Gallery, Cologne, Germany
1980 – Nancy Hoffman Gallery, New York, New York
1979 – DeGestlo Gallery, Cologne, Germany
1978 – Nancy Hoffman Gallery, New York, New York
1976 – Nancy Hoffman Gallery, New York, New York
1975 – Galerie DeGestlo, Hamburg, Germany
1974 – Carl Solway Gallery, Cincinnati, Ohio
1972 – Galerie Mikro, Berlin, Germany
1971 – Galerie DeGestlo, Hamburg, Germany
1970 – French & Co., New York, New York
INQUIRE ABOUT WORKS AVAILABLE BY BEN SCHONZEIT: