JULIAN OPIE: RECENT WORKS
"It's only when you are bored that you can see." ~ Julian Opie
Jonathan Novak Contemporary Art is pleased to present Julian Opie: Recent Works, an exhibition of new editioned work by one of the leading British contemporary artists working today.
Julian Opie is a master at observing everyday life and transforming prosaic scenes into powerful, graphic works that speak to all of us on a basic level. Born in London (1958) and raised in Oxford, Opie went on to study at Goldsmith College under the tutelage of Michael Craig-Martin, the conceptual artist who served to influence his technique and process. Over several decades, Opie has developed and perfected the minimalist approach he adopted during his education. His work has evolved to incorporate a variety of media and styles including sculpture, silhouettes, animations, and quintessential portraits and landscapes.
Opie considers himself to be a realist whose work does not deal in metaphors. A sheep is a sheep; a crow is a crow; a person walking down the street is nothing else. Expanding on this realist approach, he says "having more details in a picture doesn't mean it's more like reality". He uses technology to strip down and present his ideas in a way that is reminiscent of both the European old masters and the Japanese manga art which inspire him. Although he frequently uses photographs as his starting point, the work is also inculcated with his empirical understanding of the subject matter: "reality is a complex construction that is built from experience."
Julian Opie: Recent Works includes a series of black-line relief silhouettes entitled Walking in Melbourne as well as three-dimensional walking figures known as Melbourne Statuettes.  Additionally, the show will feature Crows, a whimsical animated light installation; Cornish Coast, a series of colorful minimalist landscapes; and Heads, a set of three-dimensional profiles on sprayed aluminum.  Also on view will be a Julian Opie self-portrait and the Nature 1 series featuring laser-cut aluminum wall reliefs depicting boats, pebbles, sheep and fish.
Julian Opie's works can be found in many public art collections, including Tate, British Museum, Victoria & Albert, Arts Council, British Council and National Portrait Gallery in London, The Museum of Modern Art in New York, ICA in Boston USA, Essl Collection in Vienna, IVAM in Spain, The Israel Museum in Jerusalem and Takamatsu City Museum of Art in Japan. Opie has also presented many public projects in cities around the world, notably in the Dentsu Building in Tokyo 2002; City Hall Park in New York 2004, Mori Building, Omotesando Hill in Japan 2006; River Vltava in Prague 2007; Phoenix Art Museum USA 2007; Dublin City Gallery in Ireland 2008; Seoul Square in South Korea 2009; Regent's Place in London 2011; Calgary, Canada; The Lindo Wing, St Mary's Hospital, London; and more recently permanent installations at SMETS in Belgium, PKZ in Zurich, Arendt and Medernach in Luxembourg, Taipei, Taiwan and Tower 535, Causeway Bay in Hong Kong.

Cornish Coast 2.   2017
A series of six digital prints on Epson Premium Glossy 250gsm Photo paper,
Diasec bonded on clear acrylic mounted to a white acrylic backing
Each: 17-3/4″ x 1″ x 24-1/4″ (45 x 2.8 x 61.5 cm)  Edition of 20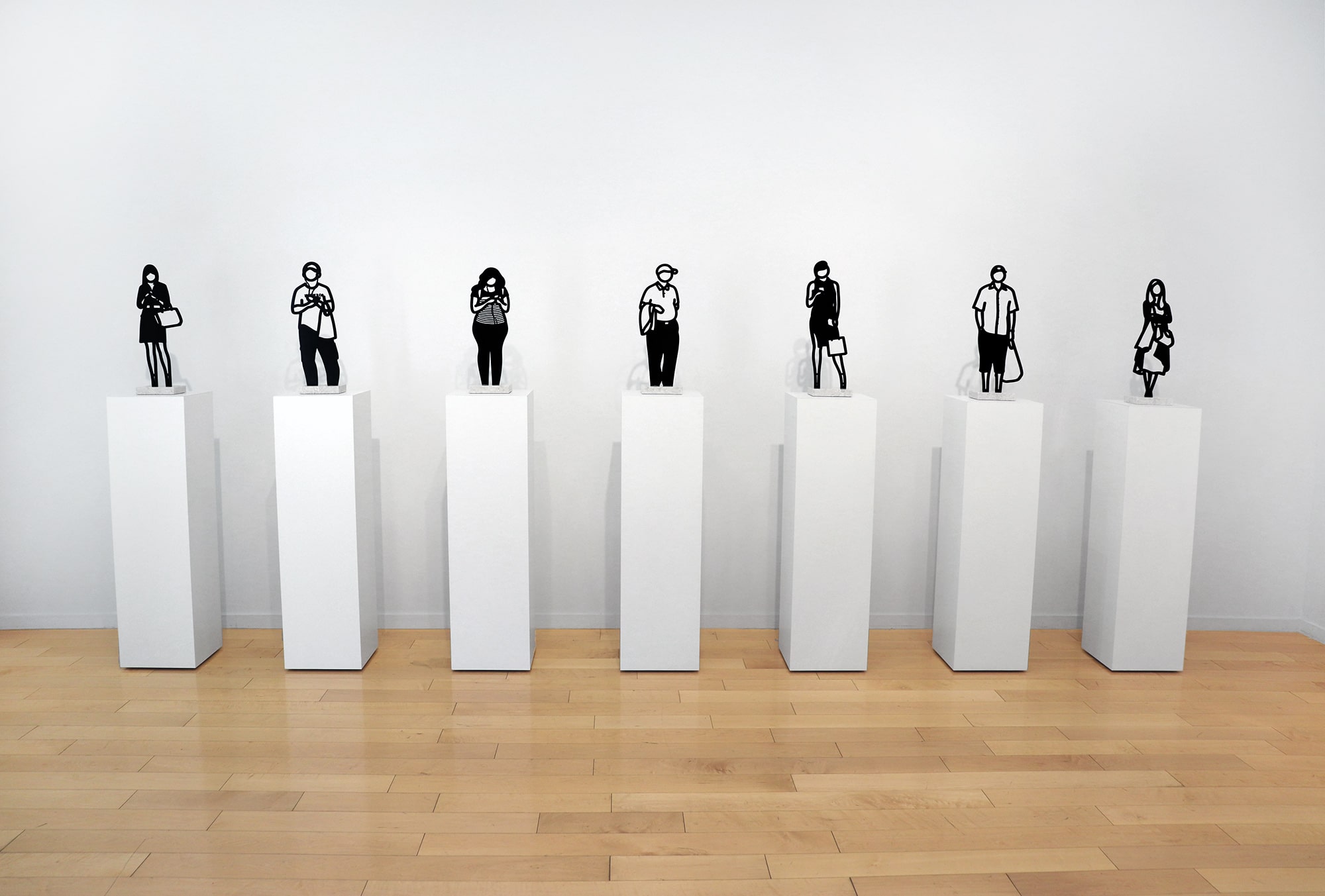 Melbourne Statuettes.  2018
A series of 7 freestanding patinated black bronze statuettes on a Crema Grey light stone base
Largest: 20-3/4″ x 8″ x 4-3/4″ (53.0 x 20.2 x 12.0 cm)  Edition of 25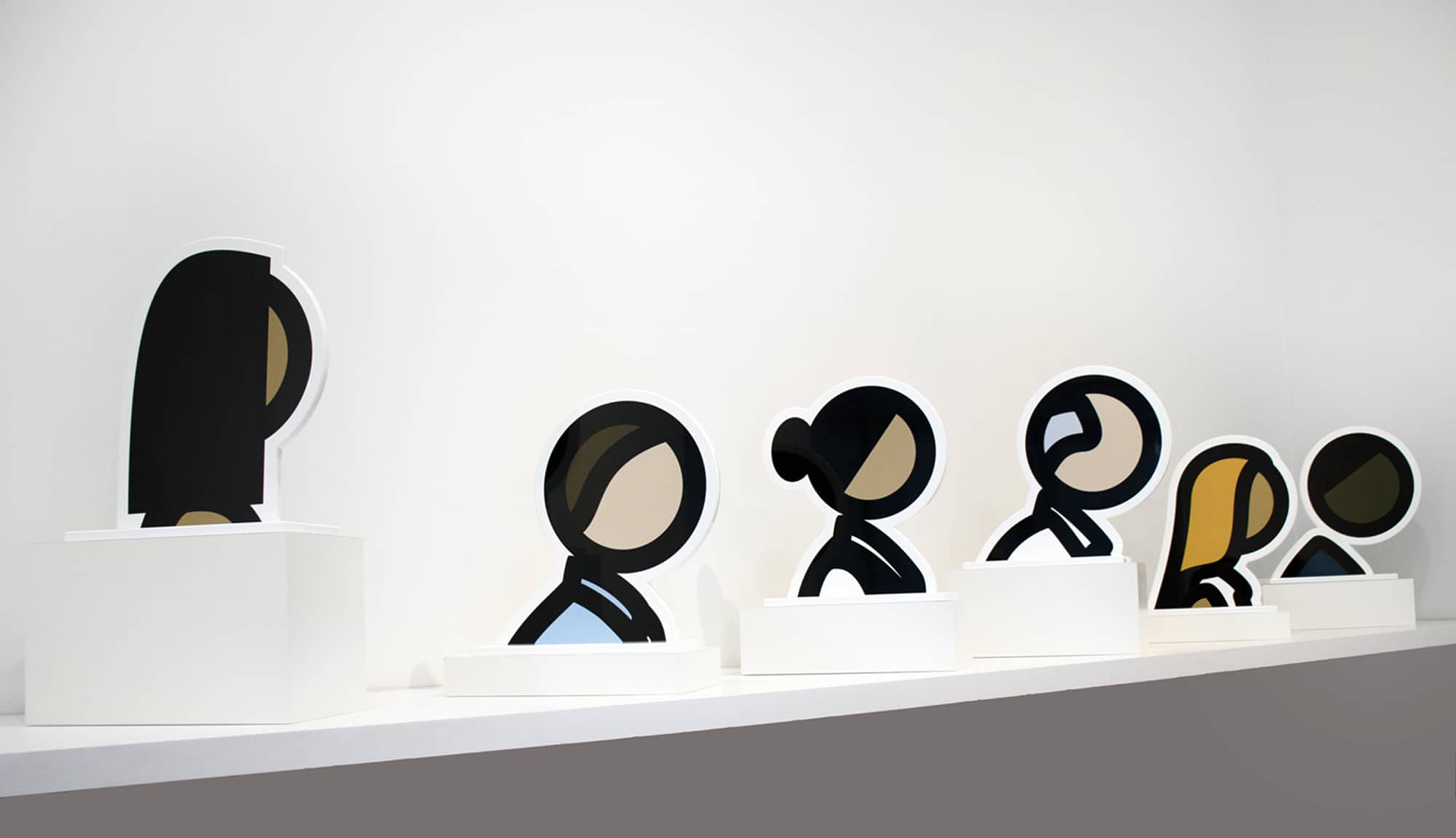 Heads.  2017
A series of six screenprints on sprayed aluminum
Various dimensions on 5-1/8″ x 11″ bases (13 x 28 cm bases).  Edition of 20
Crows.  2018
A series of four computer animations on 15″ LCD screen
Each: 10-1/4″ x 13-1/4″ (26″ x 33.5 cm).  Edition of 20

Walking in Melbourne.  2018
A series of six laser-cut Museum board relief prints presented in a sprayed white frame specified by the artist
25″ x 62-3/4″ (63.6 x 158.4 cm)   Edition of 45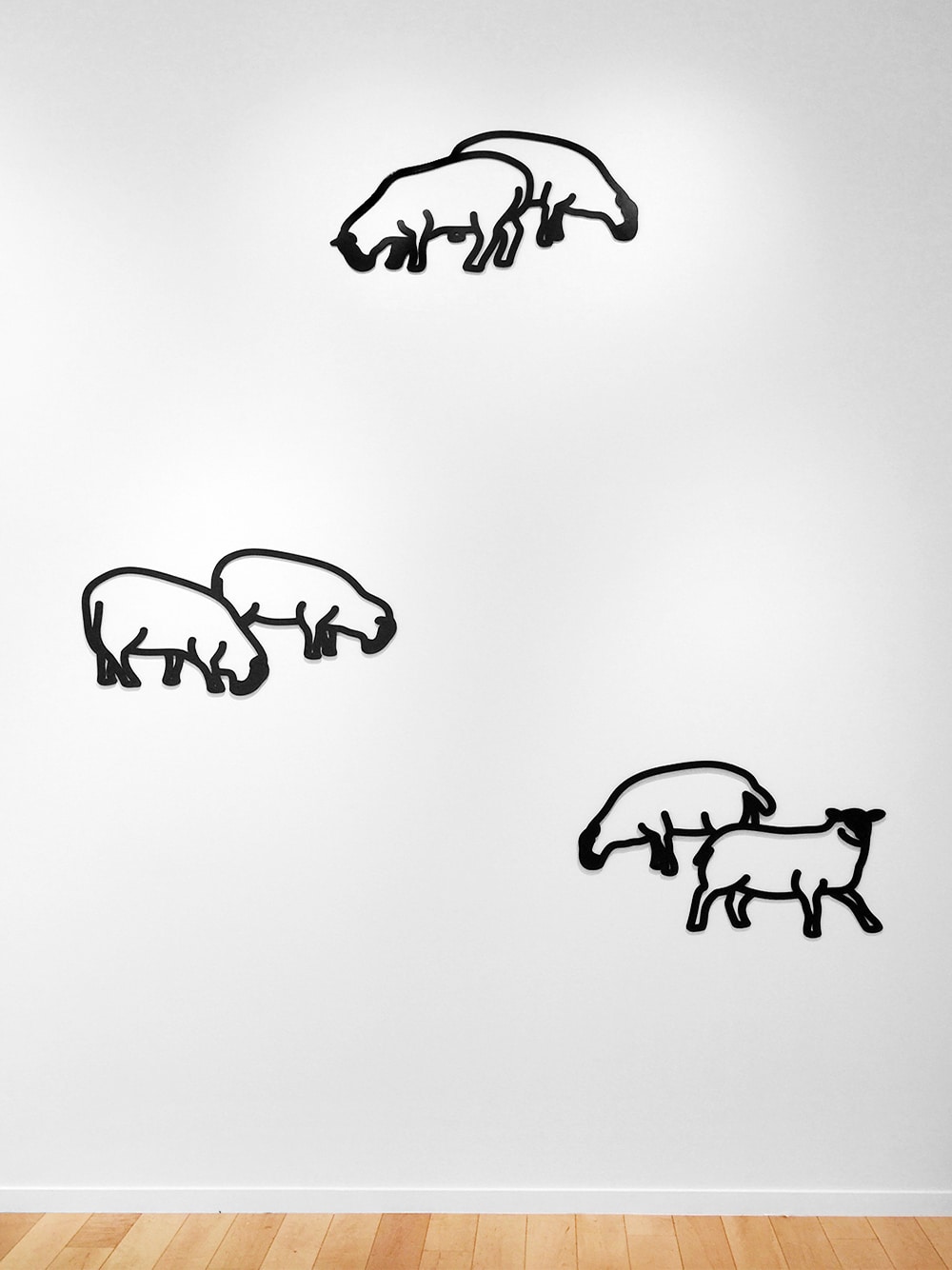 Sheep 1 / Sheep 3 / Sheep 2.  2015
Powder coated aluminum wall reliefs in satin black
Largest: 21″ x 32-7/8″ x 1/8″ (53.2 x 83.6 x 0.4 cm)  Edition of 25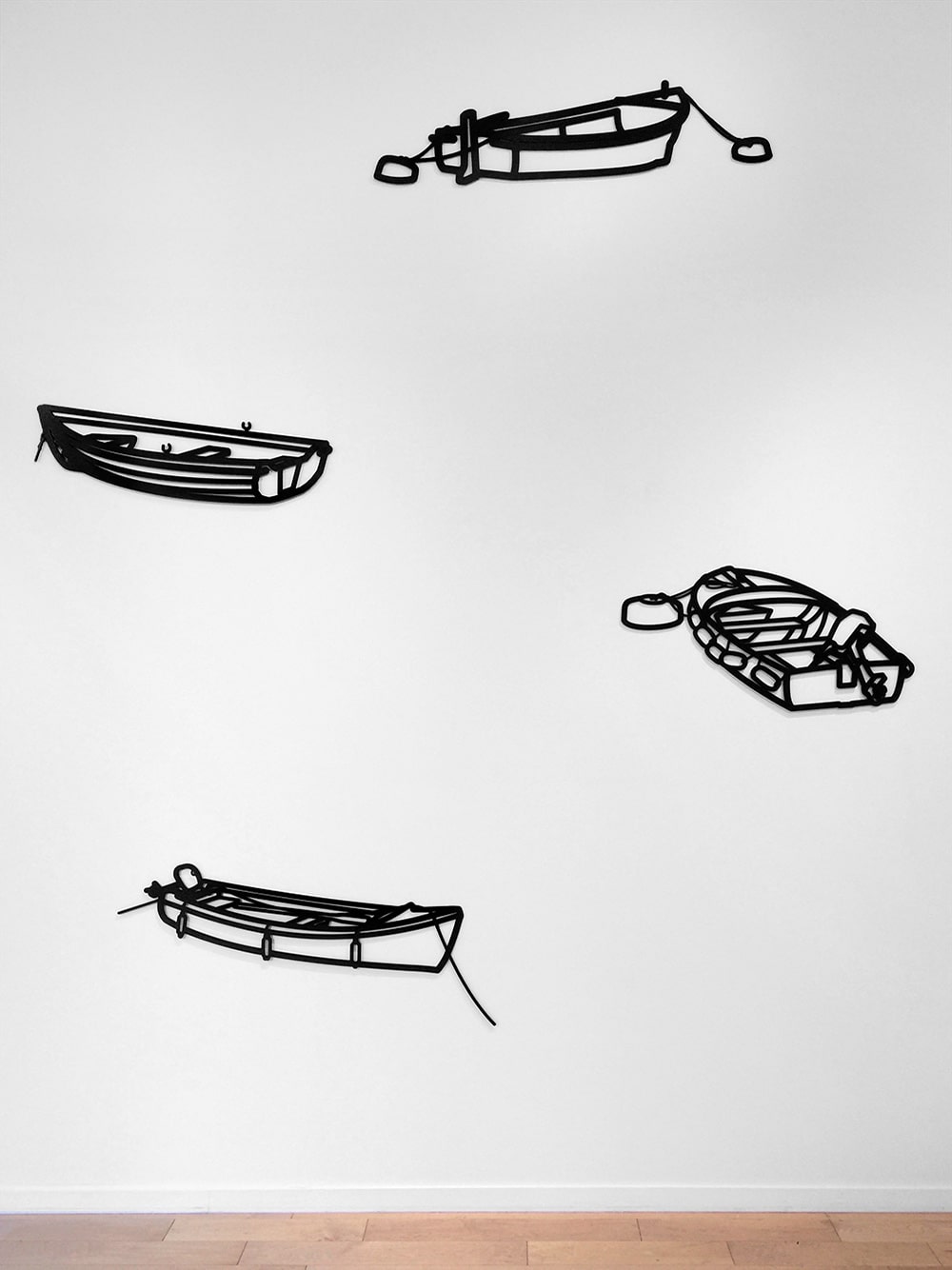 Boat 3 / Boat 2 / Boat 4 / Boat 1.  2015
Powder coated aluminum wall reliefs in satin black
Largest: 18-1/4″ x 39-5/8″ x 1/8″ (46.2 x 100.6 x 0.4 cm).  Edition of 25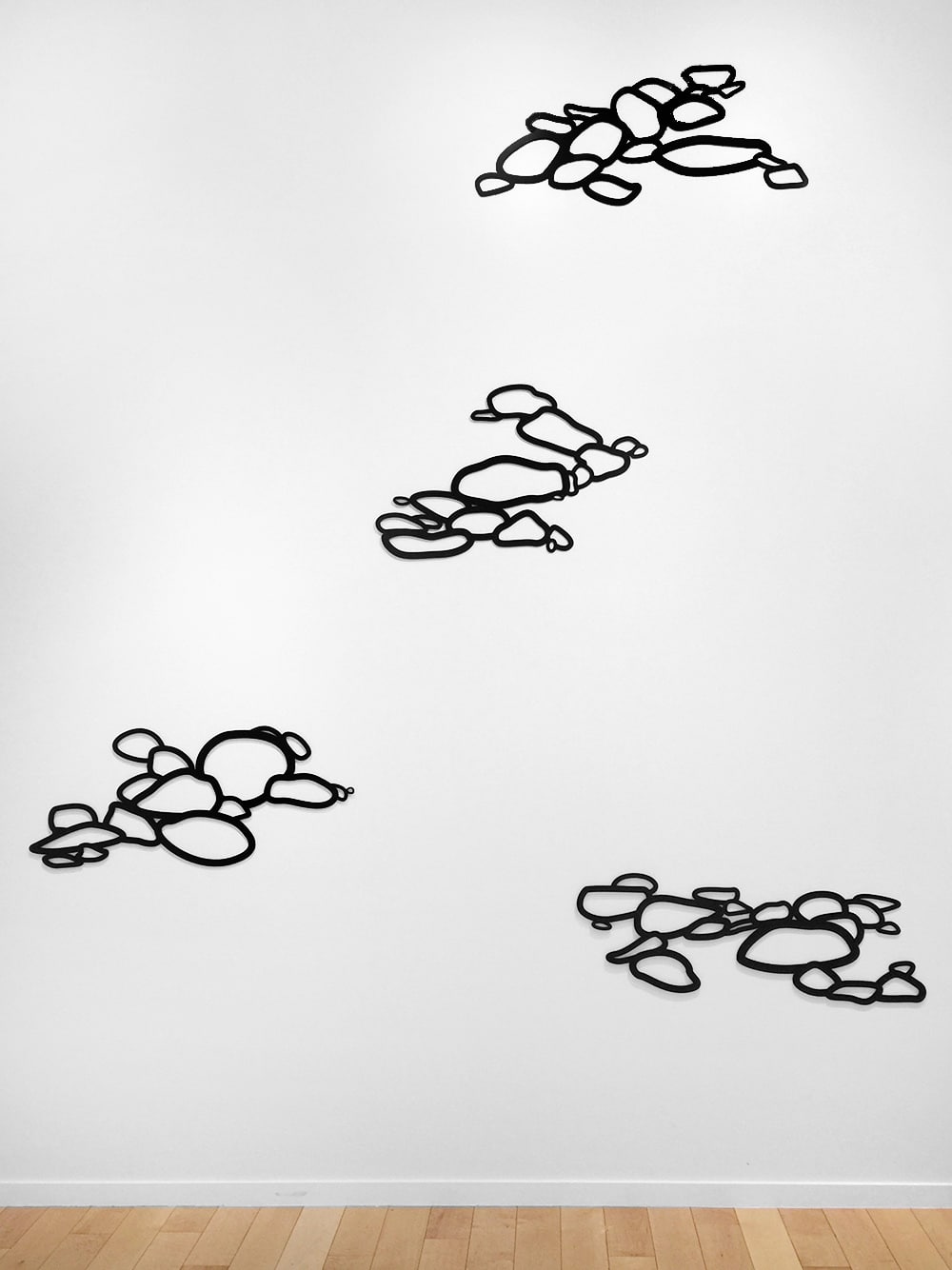 Pebbles 3 / Pebbles 4 / Pebbles 2 / Pebbles 1. 2015
Powder coated aluminum wall reliefs in satin black
Largest: 16-3/4″ x 39″ x 1/8″ (42.4 x 99 x 0.4 cm).  Edition of 25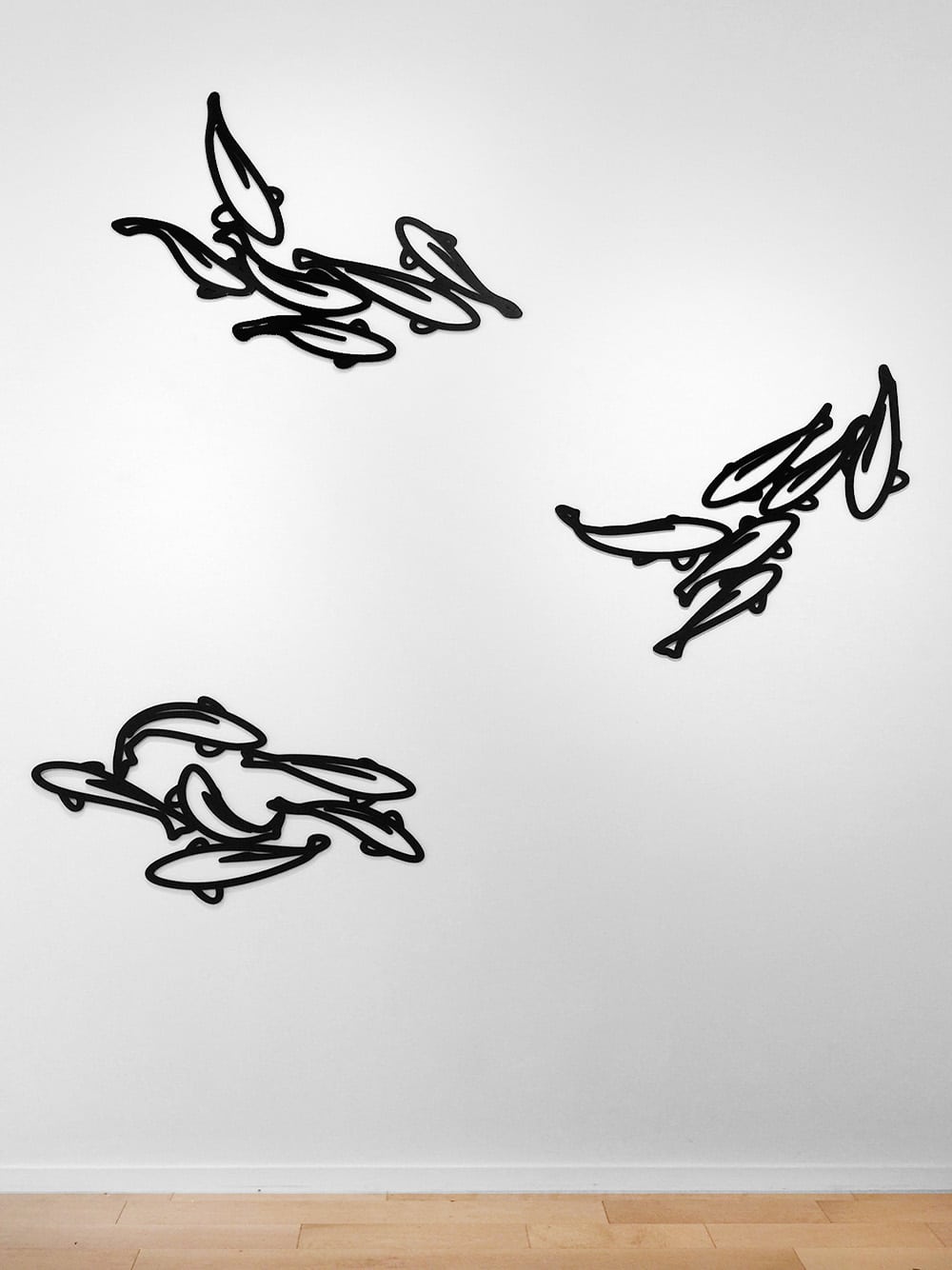 Carp 2 / Carp 1 / Carp 3. 2015
Powder coated aluminum wall reliefs in satin black
Largest:  25-1/2″ x 40-1/2″ (64.7 x 103 cm). Edition of 25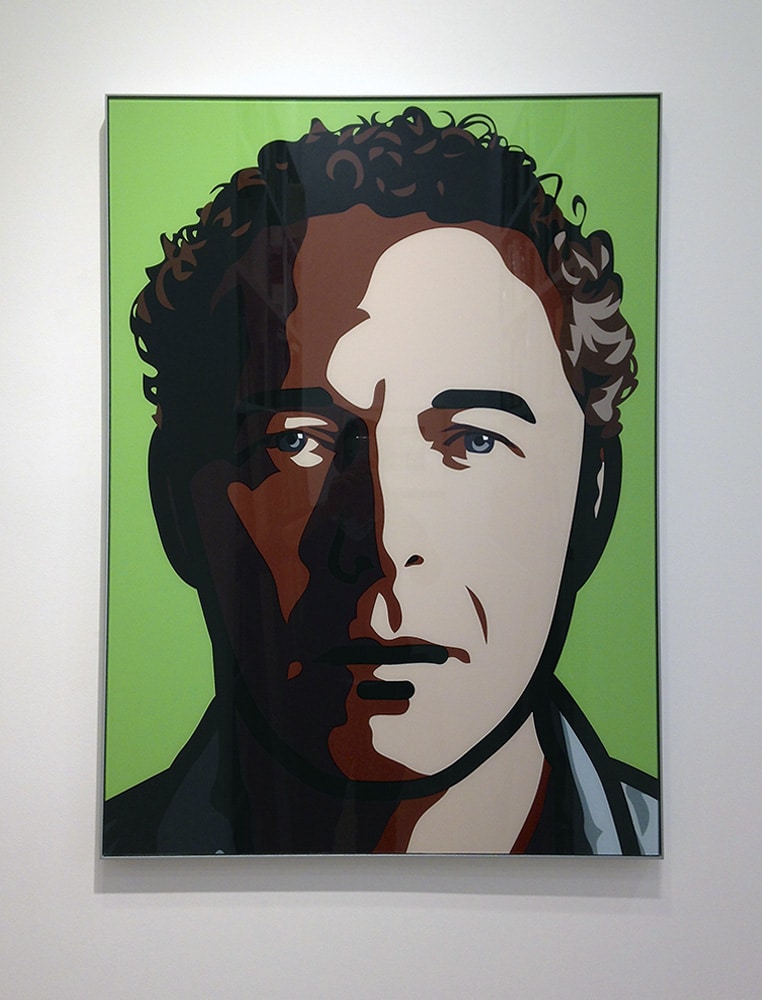 Julian.   2013
Archival inkjet print on Epson Premium Glossy 250 gsm Photo Paper laminated to
glass and backed with Dibond, presented in a powder coated aluminum frame specified the artist
39-7/8″ x 29-5/8″  (101.1 x 75.3 cm)  Edition of 35
INQUIRE ABOUT WORKS AVAILABLE BY JULIAN OPIE: