Julian Opie
Tina Walking. (3).
2013
Continuous computer animation, computer film,
media player and 55″ LCD screen
50-3/8″ x 29-1/2″ x 2-7/8″ (128 x 75 x 7.3 cm)
Edition of 4 + 1 AP
Julian Opie (born 1958) is a British artist whose work spans multiple disciplines. He is most well-known for his process of digital manipulation, through which he distills photographs of his subjects down to their essential visual forms. Although his process is reductive, the portraits are imbued with a wide range of emotion from aloof coldness to psychologically penetrating glances—all within a narrow economy of pictorial means. Blurring the lines between illustration, environmental design, and fine art, Opie has managed to further refine and update the visual clarity and bold impact of 1960s Pop Art.
Born in London in 1958 to Norma Opie, a schoolteacher, and Roger Opie, an economics professor at New College, Oxford, Julian Opie was unsurprisingly a driven learner from an early age. After completing a foundation year at Chelsea College of Art, Opie received a BA from Goldsmiths College of Art, London, in 1982.
During the years Opie was at Goldsmiths, the mood at the school was post-structuralist and anti-authoritarian. Old ways of thinking about art, in particular the formalist modernism preached by influential art critic Clement Greenberg, had reached its apex in Minimalism and now a reaction was taking place. Opie and his peers made figurative art, in contrast to—and perhaps in reaction against—the abstraction that had been the norm for the past two decades. Goldsmiths was innovative. There was no official style and no division between departments by medium. As such, Opie was invited to work in any and all media that interested him, and he did, working in paint, sculpture, and film, as well as learning as much as he could about art history. He was "an intelligent, restless and prolific student, impatient to transform his ideas into material reality." Much of Opie's early art differed from the 'classic Opie,' linearly stylized visual language for which he is known today: he worked by hand and focused on overthrowing old systems of artistic representation—from Van Gogh to Minimalists like Judd and Andre—in favor of a new one that acknowledged the cultural influence of mass media and mass production. Some of his works parodied old masters or reinterpreted their styles (Five Old Masters, 1984), while others dealt with themes like the colorful seriality of the contemporary suitcase (Project For Heathrow, 1985). Opie was informed by the stark clarity of Minimalism, but he was less interested in abstraction, always grounding his work in the figurative representation of things and people.
In the early 1980s, Opie found himself fascinated with the work of Michael Craig-Martin, a London-based Pop artist. Craig-Martin's object drawings rejected the geometry of Minimalism as irrelevant; everyday items—books, chairs, tables—were the real primary forms of modern life. Craig-Martin also taught Opie at Goldsmiths and respected the young artist's similar, if very differently executed, vision. Like Craig-Martin, Opie was "miming the everyday," abstracting a language of generic representation from the repetitious world of news-images and mass-made items they saw around them. Soon after Opie graduated, Craig-Martin showed his work to Nicholas Logsdail, the director of the Lisson Gallery, who was impressed: within a year of graduating, Opie had a solo show at the gallery, and then another two in 1985—one at the Lisson Gallery and one at the Institute of Contemporary Arts in London.
Opie's unprecedented early success led the artist to question what his next step would be. He was unsatisfied with some of his mid-1980s steel sculpture and worried he had exhausted his body of work. This, of course, turned out to be completely false, and by the late 1980s he had moved on to a new type of purely abstract works that played with the intersection of painting and sculpture. Although he has since returned to figurative work, the period of abstraction was crucial in the development of Opie's signature style because his aesthetic was no longer hand-made, as it had been at Goldsmiths. Instead, by the late 1980s it looked machine-made—slick, smooth, hard-edged and regularized. He added a pop-culture relevance to his pieces by choosing titles from newspaper headlines, prompting people to seek visual connections between the abstract shapes and the news.
From 1987 to 1989, Opie's abstract works regained some of their direct concern with the everyday object. His sculptures resembled commercial appliances. Around this time, Opie moved into a new studio in East London. He also had a bout of bad health that prevented him from welding, so he began considering the possibilities of other media like aluminum and PVC. He began making sculptures that were indistinguishable from their gallery environments—works that looked like air vents, mirrors, and shelves—in other words creating reverse ready-mades. These pieces pointed out the degree to which modern abstraction had been co-opted and commoditized within consumer culture—it was impossible for gallery-goers to distinguish between abstract sculpture made to look like appliances and appliances made to look like abstract sculptures. In 1989, Opie also worked with light installations, at the Night Lights show at the Newport Harbor Art Museum.
The 1990s marked another transition in Opie's career. Opie became interested in the spatial distortion and architectural simplicity of certain Renaissance artists like Duccio and Cimabue, which he likened to the 2-D spatial realism of then-current computer graphics. He found similarly spare designs in Japanese art prints. Opie produced Imagine you are walking (1993), a series of digital drawings of simple, slightly impossible perspectives down cartoonishly minimalistic streets. The works compared the idea of moving through the serial spaces of the postmodern city with the sensation of moving through virtual reality, and made use of linearity, simple color schemes and urban walking, all of which became trademark elements of the classic Opie style. Opie's art in the 1990s often requested that the viewer "imagine" something: Imagine you are climbing was a jungle-gym-like abstract sculpture, Imagine you can order these a collection of both colorful rectangular sculptures and super-simplified acrylic paintings of the sculptures.
Since the early 1990s, Opie has mastered his reinterpretation of the computer aesthetic, moving slightly away from his concerns with the mass-produced object (although that look still very much informs his art). Many of his artworks seem plucked from cyberspace, but their uncanny resemblances to real landscapes, people and things reveal that underneath it all, Opie' works are carefully, individually designed, meticulously crafted and deeply personal. In the late 1990s and early 2000s, Opie began making the type of art he is best known for, graphic-outline portraits. These include his famous album cover for Best of Blur (2000), in which each of the band's singers is recognizable but similarly stylized—a few lines indicated nose, mouth and eyebrows, with small dots for eyes. The figures are three things at once: Opie-style people, band members, and flat, 2-D printed objects. Despite their extremely pared down composition, the figures even seem to be in certain moods, which speaks to the subtle brilliance of Opie's graphic style: he blurs the boundaries between thing and person, finding the absolute edge at which a cartoonish, computer-graphic figure can still have individual human qualities, distilling things to their most basic forms. He has transformed countless people into his signature style—including himself, with Julian (2013).
Opie's approach to the aesthetics of the mass-media age has become universally recognizable. He continues to work across media, creating everything from LED lightshows to, in his lenticular series, moving graphic art boxes. He has shown at dozens of important galleries in the U.S., Europe and Asia and taken part in numerous public art projects. His work is held by a number of major museums including MoMA in New York, and the National Portrait Gallery and the Tate Modern in London. He continues to live and work in London.
2019 – Tokyo Opera City Art Gallery, Tokyo, Japan
2019 – "Life is a Highway: American Car Culture,"  Toledo Museum of Art, Toledo, Ohio
2019 – Lehmbruck Museum, Duisberg, Germany
2019 – Gerhardsen Gerner, Oslo, Norway
2019 – "Walking in Shanghai," Shanghai, China
2018 – "Julian Opie: Recent Works," Jonathan Novak Contemporary Art, Los Angeles
2018 – National Museum of Contemporary Art, Athens, Greece
2018 – National Gallery of Victoria, Melbourne Australia
2018 – "Beach walkers." Hamilton Princess Hotel, Bermuda
2018 – "What Does Art Do in Hospitals?" Museum for Art in Public Spaces, Koeg, Denmark
2017 – "Julian Opie After Van Dyck," National Portrait Gallery, London, England
2017 – Suwon Ipark Museum of Art, Suwon, South Korea
2017 – Fosun Foundation, Shanghai, China
2016 – "Julian Opie: Nature 1," Jonathan Novak Contemporary Art, Los Angeles
2015 – Galerie Boisserée, Cologne, Germany
2015 – "Face to Face," Galerie Bob van Orsouw, Zurich, Switzerland
2014 -Barbara Krakow Gallery, Boston, United States
2014 – Krobath, Berlin, Germany
2014 – Kukje Gallery, Seoul, South Korea
2014 – Galerie Fluegel-Roncak, Nuremberg, Germany
2013 – Alan Cristea Gallery, London, United Kingdom
2013 – "Tate Britain: Display," London, United Kingdom
2013 – National Academy, New York, United States
2012 – "Julian Opie," Lisson Gallery, London, United Kingdom
2012 – "Sightings," Sakashi Gallery, Mumbai, India
2011 – "Julian Opie," Lisson Gallery, Milan, Italy
2011 – Kroboth, Berlin, Germany
2010 – Gallery Mario Sequeira, Braga, Portugal
2010 – 2010 World Expo, Shanghai, China
2009 – "Dancing in Kivik," Kivik Art Centre, Osterlen, Sweden
2009 – Kukje Gallery, Seoul, South Korea
2009 – SCAI the Bathhouse, Tokyo, Japan
2008 – MAK, Vienna, Austria
2008 – Alan Cristea Gallery, London, United Kingdom
2007 – Barbara Thumm, Berlin, Germany
2007 – Museum Kampa, Prague, Czech Republic
2006 – CAC, Malaga, Spain
2006 – Bob van Orsouw, Zurich, Switzerland
2005 – MGM, Oslo, Norway
2005 – Valentina Bonomo, Rome, Italy
2004 – Public Art Fund, City Hall Park, New York, New York
2004 – Lisson Gallery, London, United Kingdom
2004 – Patrick de Brock Gallery, Knokke, Belgium
2002 – Rebecca Camhi Gallery, Athens, Greece
2002 – Barbara Krakow Gallery, Boston, Massachusetts
2001 – Ikon Gallery, Birmingham Wetterling Gallery, Stockholm Sweden
1999 – Primo Piano, Rome, Italy
1999 – Stadtgalerie am Lenbachhaus, Munich, Germany
1997 – Gallery Nova Sin, Prague, Czech Republic
1997 – The Economist Plaza, London, United Kingdom
1996 – Galerie Analix B&L Polla, Geneva, Switzerland
1996 – Lisson Gallery, London, United Kingdom
1995 – Galerie de l'Ancienne Poste, Calais Monica de Cardenas, Milan, Italy
1994 – Kunstverein Hannover Galerie Albrecht, Munich, Germany
1994 – Tramway, Glasgow, Scotland
1993 – Hayward Gallery, London, United Kingdom
1992 – Wiener Secession, Vienna, Austria
1991 – Galleria Franz Paludetto, Turin, Italy
1991 – Kunsthalle, Bern, Germany
1990 – Lisson Gallery, United Kingdom
1988 – Paul Maenz, Cologne, Germany
1986 – Franco Toselli Gallery, Milan, Italy
1985 – Institute of Contemporary Arts, London Fondation Cartier pour l'art Contemporain, Jouy-en-Josas
1984 – Kolnischer Kunstverein, Cologne, Germany; Traveled to: The Netherlands
1983 – Lisson Gallery, London, United Kingdom
INQUIRE ABOUT WORKS AVAILABLE BY JULIAN OPIE:
Julian Opie
Crossing.: Puffer jacket.
2021
From a series of eight color changing lenticular acrylic panels.
Lenticular back mounted with 3mm Dibond, presented
in a white wooden frame specified by the artist.
Framed: 43-3/4″ x 23-1/4″ (111.0 x 59.0 cm)
Edition of 50 + 5 AP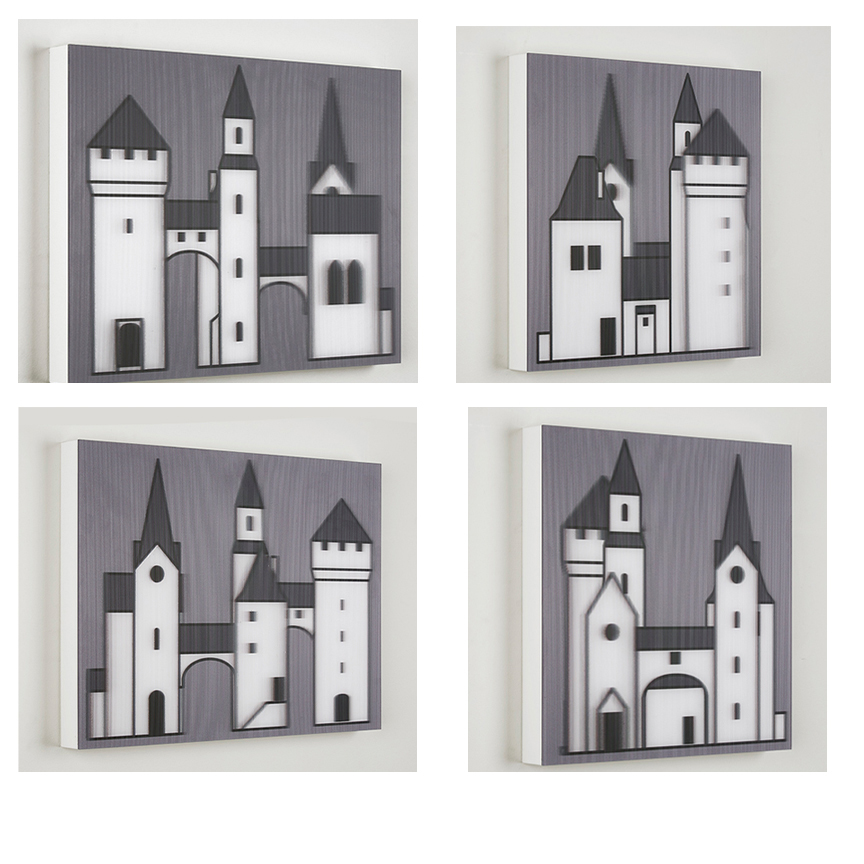 Julian Opie
Medieval Village.
2019
A series of four lenticular acrylic panels mounted onto white acrylic
Panel 1: 11-3/4″ x 15-5/8″ (29.8 x 39.7 cm)
Panel 2: 11-3/4″ x 11-11/16″ (29.8 x 29.7 cm)
Panel 3: 11-3/4″ x 15-5/8″ (29.8 x 39.7 cm)
Panel 4: 11-3/4″ x 11-11/16″ (29.8 x 29.7 cm)
Edition of 20 + 5 AP