Today, we take a closer look at three works from our Important Works on Paper exhibition: John Cage's Ryoanji etchings, Robert Motherwell's Untitled (P77-3122), and Sam Messenger's Veil From Ketos. Each of these notable compositions favors abstraction, elegantly simple tonality, and the unique aesthetic possibilities of the paper medium. From Cage's complex, overlapping tracings to Motherwell's and Messengers's layering of images, these artists have taken advantage of the durability of paper and the delicate precision of drawing.
John Cage was an influential American composer and artist known primarily for his experimental music. He began producing visual art in the late 1970s, after arthritis put an unfortunate end to his piano performances. In 1978, Cage set out to make a number of works with Crown Point Press in Oakland, CA. 
Masterful early examples of the Crown Point etchings, R3 (Where R = Ryoanji) and (R3) (Where R = Ryoanji), created in 1983,  visually capture the same blend of chaos and mathematics we can hear in Cage's music. Elegantly minimal, maximally tonal, the etchings were inspired by the kare-sansui at Ryōan-ji, a famous Zen rock garden in Kyoto. Cage repeatedly placed fifteen stones on an etching plate and traced them. He positioned the rocks using his 'chance operations' method, a random results-generator derived from coin-flipping procedures in the Chinese divination book I Ching. R3 refers to 153: Cage made 15 x 15 x 15 traces, individually placing and outlining each of the stones 225 times, totalling 3,375 traces—on just one 7" x 21-1/2" etching plate. The visible difference between the two etchings results from a slight change in rules. For (R3), Cage specified that he would turn any peripheral stones inward, confining all of the traces within the plate's edges, whereas for R3 he made no such delimitation. 
Cage's obsessive etchings are both optical and cerebral: fluid abstract compositions with brilliant underlying formulas. 
One of the "Irascible 18," the original group of Abstract Expressionists that included Pollock, Newman, and de Kooning, Robert Motherwell was a crucial player in 20th century avant-garde painting. Untitled (P77-3122) (1977) showcases his talent for combining sweeping gesture and tastefully dense swaths of color. Motherwell has painted on top of a monotype ground, an unusual and innovative technique. He has left a margin of ground around the edges of the central marks, evoking a sense of repeatedly captured motions in space—as if we are seeing floating, frozen brushstrokes. The transparency of the composition draws our attention to the compression of space inherent in any flat image.  In short, this is gestural abstraction from a definitive master of the style.
To begin his Veil from Ketos (2012), British artist Sam Messenger exposed his paper to the elements, leaving it outside for a week in the French Alps. Like Cage, Messenger left some of the work's appearance up to chance, allowing freezing rain, snow, wind, and dirt to roughen and shape the material. He stained the paper, and then took a human hand to the nature-made imperfections of its surface, drawing a meticulously thin grid over a portion of the background. Messenger's simple, rigorous process creates mesmerizing spatial distortions. Two- and three-dimensional warped planes and fluid chiaroscuro give the already textured paper a heavily sculpted look. The intricate silver veil looks like metal mesh, yet also seems to be a landscape: surreal, dematerialized peaks and valleys beneath a black sky swirling with detail. 
These works will be on view as part of our exhibition through August 28, 2015.
Send an inquiry about an artwork or artist:
[bestwebsoft_contact_form]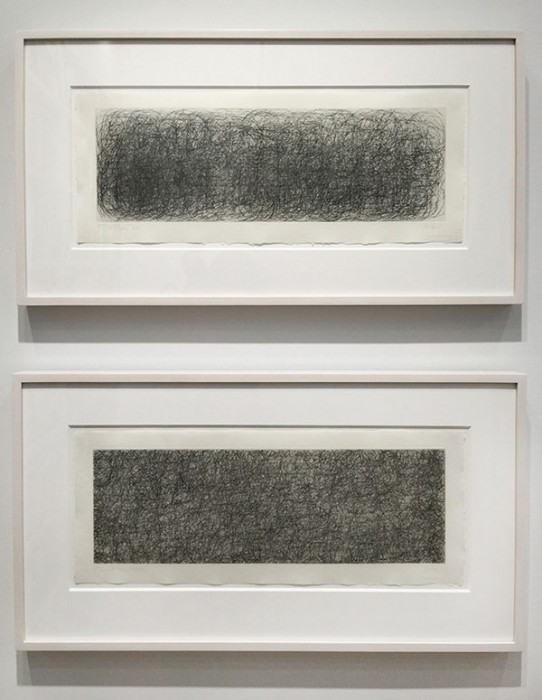 JOHN CAGE   (R3) (Where R=Ryoanji) and R3 (Where R=Ryoanji)  1983 Etchings on paper, each 13-7/8″ x 17-5/16″ (35.4 x 44 cm)   Edition of 25   © 2015, John Cage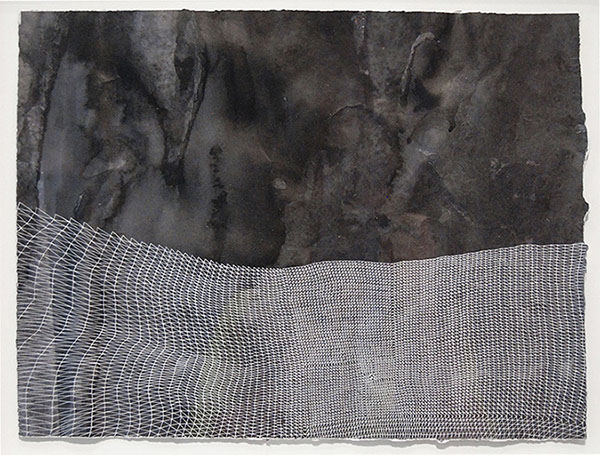 SAM MESSENGER   Veil From Ketos   2012 Pen and ink, ink wash and rain water on paper   11″ x 15″ (27.9 x 38.1 cm)   © 2015, Sam Messenger