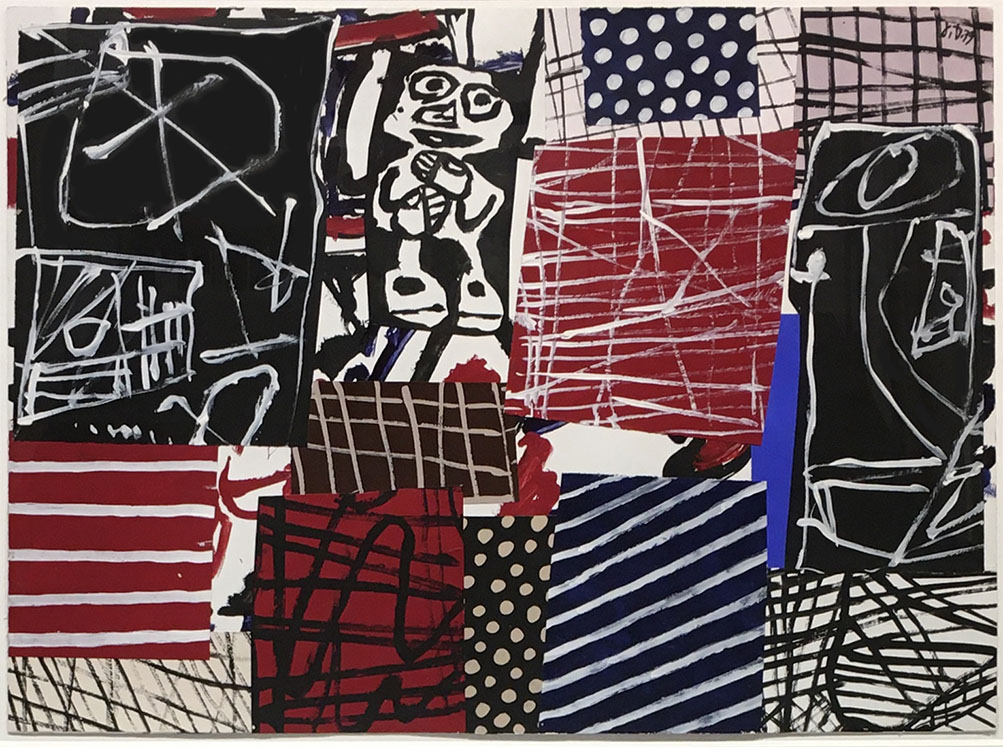 Jean Dubuffet
Habitat Véhément
1979
Acrylic and paper collage on canvas-backed paperboard
19-1/2″ x 27-1/2″ (49.5 x 69.9 cm)
Framed: 30-1/8″ x 37-3/4″ (76.5 x 95.9 cm)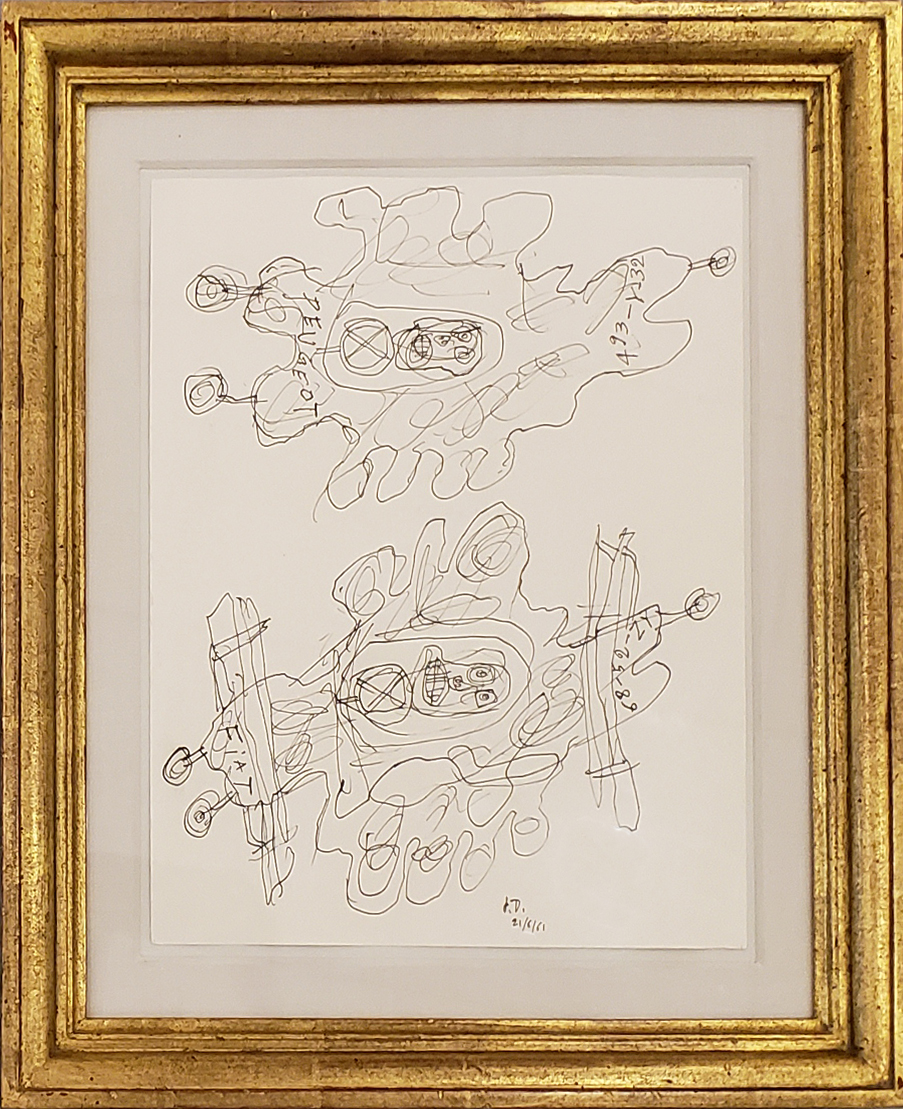 Jean Dubuffet
Deux Automobiles (Peugeot, Fiat)
1961
Ink on paper
15-1/2″ x 12-7/8″ (39.5 x 32.7 cm)
Framed: 22-1/8″ x 19-1/2″ (56.2 x 49.5 cm)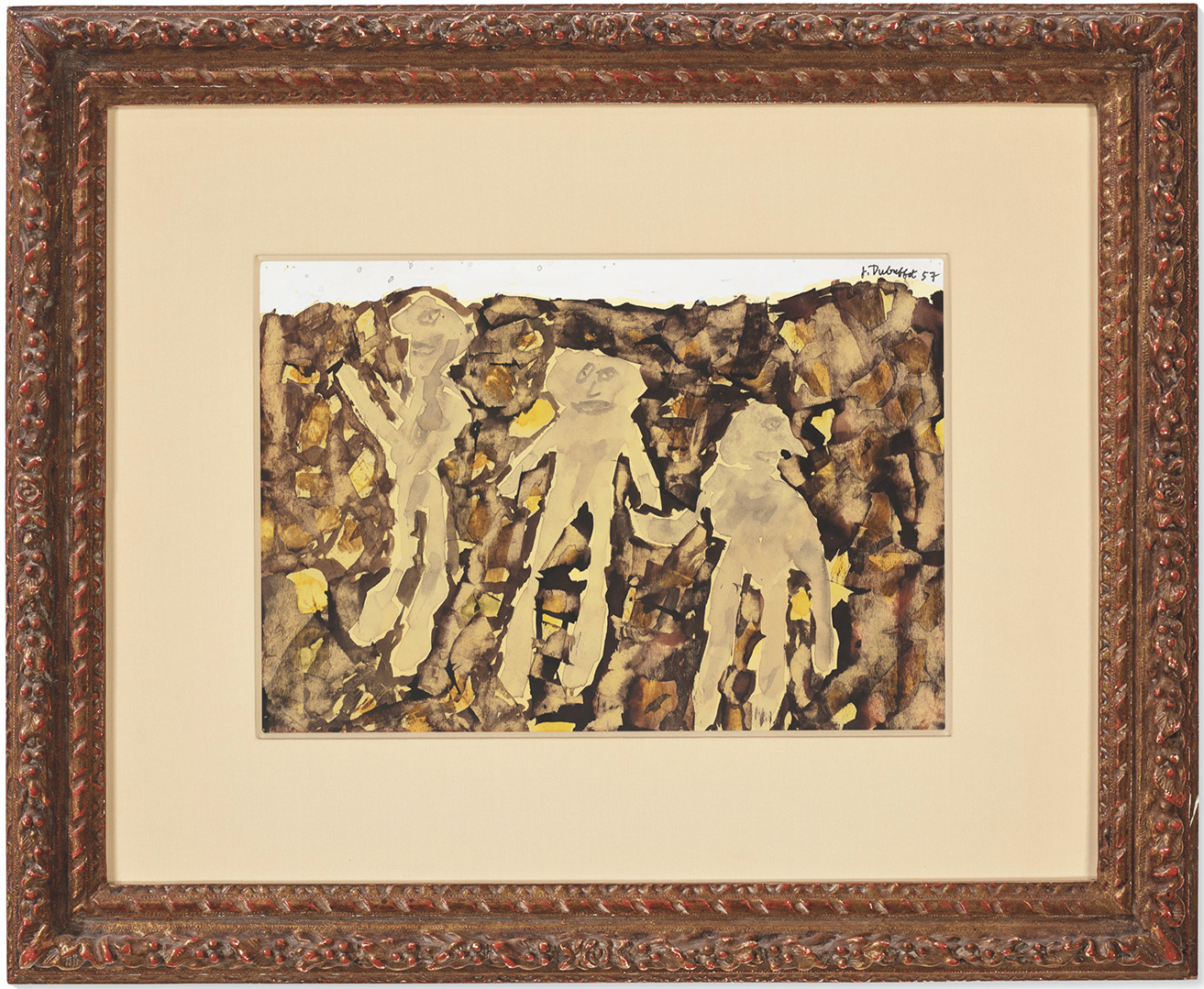 Jean Dubuffet
Trois personnages dans un paysage
1957
Gouache on paper
9-1/2″ x 14″ (24.1 x 36.6 cm)
Framed: 19-1/4″ x 23-1/4″ (48.9 x 59.1 cm)
Jean Dubuffet (1901–1985) is one of the most important artists of the Post-War generation. Dubuffet's technique embraced what he referred to as "low-art" and demonstrated an instinctual—almost sub-conscious—approach to image making. Bold colors, emotive line-work, and an aggressive naïveté define his oeuvre and his contributions to the Art Brut movement. Often painting in thick impasto and emphasizing the material as an end rather than a means, Dubuffet's work blurs the line between painting and sculpture. His distorted portraits contain an emotional immediacy, preferring the primordial archetype to an individualized subject. In addition to paintings, Dubuffet created drawings, graphics, sculptures, and assemblages of found objects.
Jean Dubuffet was born in Le Havre, France in 1901. He began studying art at the Ecole des Beaux-Arts at Le Havre in 1916.  Two years later he moved to Paris to study painting at the Académie Julian. During these early years, Dubuffet dedicated himself not only to painting but also to a wide range of intellectual pursuits, taking an interest in music and literature and visiting the studios of artists from whom he drew inspiration.
In 1924, frustrated by oppressive cultural values, Dubuffet took an eight-year hiatus from painting, and instead focused his attention on his family's wine business in Le Havre. By 1930 Dubuffet had married and established himself as a wine merchant. However, he began to paint again in 1933 and rented a studio in Paris. In 1942, after remarrying and serving in the French army, Dubuffet decided to devote his life to painting.
Dubuffet's first exhibition at the Galerie René Drouin in Paris in 1944 opened to sharp criticism from the Parisian art community. Yet, it also sold out within days. The gallery would prove to be an important establishment for Dubuffet's future exhibitions and success.
In 1955, after living and working in locations as diverse as the Sahara and New York City, Dubuffet settled in Vence, in southeastern France, where he built a large studio and villa. For the next decade he lived both in Vence and Paris, exhibiting paintings, drawings, and lithographs.
Dubuffet's reach was already considerably international by this point in his career. In 1957, his first German retrospective was held in Leverkusen. By 1960, his works were exhibited at the Stedelijk Museum, Amsterdam; Kestner-Gesellschaft, Hannover; Kunsthaus, Zurich; and in a retrospective at Musée des Arts Décoratifs, Paris. His first American retrospective was held in 1962 at the Museum of Modern Art, New York. The show also traveled to Chicago and Los Angeles. Dubuffet was given a retrospective at the Tate Gallery, London in 1966. In 1968, he had his first exhibition at Pace Gallery in New York City, a connection that would remain strong throughout the artist's career.
The 1960s also represented a time of experimentation for Dubuffet. In the earliest part of the decade he collaborated with Asger Jorn on a series of experimental music recordings and, in 1966, he began the Hourloupe Cycle, with a series of sculptures in polystyrene and vinyl paint.
Dubuffet was intensely productive during the 1970s. In 1972 he completed Groupe de Quatre Arbres commissioned by bank chairman David Rockefeller for the new plaza of Chase Manhattan Bank. In 1973, he created painted cutouts for Régie Ranault entitled L'Homme du commun à l'ouvrage. In the mid 1970s Dubuffet worked on several series of paintings including: Mondanites and Lieux Abreges. He also finished Closerie Falbala, a large resin and concrete structure for meditation, placed in the center of a walled garden decorated with energetic black abstract shapes on a white ground. This incredible structure is now a historic monument in Val-de-Marne, France.
In 1981 Dubuffet created the Psycho-Sites series, an important collection of detailed, colorful, and raw works. Shortly after, he created Sites Aleatoires, a series with strong, graphic lines and bold colors. Dubuffet also produced an impressive body of abstract paintings and drawings the year before his death, including Mires and Non-Lieux. In 1984, the French Pavilion at the Venice Biennial was dedicated to Dubuffet.
Jean Dubuffet died in Paris in 1985.
2015 – "Important Works on Paper" Jonathan Novak Contemporary Art
2012 – "Late Paintings by Jean Dubuffet: 1975-1982," Waddington Custot Galleries, London, United Kingdom
2011 – "Botero, Dubuffet, Kusama and Lichtenstein," Ikon Ltd./Kay Richards Contemporary Art, Santa Monica, California
2011 – "Accrochage," Galerie Boiserée, J. & W. Boiserée GmbH, Cologne, Germany
2011 – "Brassai & Dubuffet," Galerie Boiserée, J. & W. Boiserée GmbH, Cologne, Germany
2011 – Galerie Karsten Greve, Paris, France
2008 – Post-War Dutch, Paol & Co. Fine Art, Maastricht, The Netherlands
2007 – "Die aufregende Kunst des 20 Jahrhundderts," Neue Nationalgerlie, Berlin, Germany
2006 – "Classics," Sara Hilden Museum, Tampere, Finland
2005 – "Accrochage," Van de Weghe Fine Art, New York, New York
2004 – "Modern Means: Continuity and Change in Art from 1880 to the Present," Mori Art Museum, Tokyo, Japan
2002 – "20 Years Galerie Streinek," Vienna, Austria
2000 – "Face the Face," Galerie Steinek, Vienna, Austria
1991 – "Lithografien aus 1991," Galerie Steinek, Vienna, Austria
1987 – "Lithografien 1950-1960," Galerie Steinek, Vienna, Austria
1984 – Venice Biennale, French Pavillon Venice, Italy
1983 – "Collagen und Zeichnungen," Galerie Steinke, Vienna, Austria
1969/72 – Groupe de Quatre Arbres et Chase Manhattan Plaza Downtown, New York, New York
1966/67 – Retrospective, Solomon R. Guggenheim Museum, New York, New York
1966 – Retrospective, Tate Gallery London, United Kingdom
1966 – Retrospective, Stedelijk Museum Amsterdam, The Netherlands
1964 – Palazzo Grassi, Venice, Italy
1962 – Galerie-Librairie Einaudi, Rome, Italy
1962 – "Paris Circus," Galerie Daniel Cordier, Paris, France
1962 – "The Work of Jean Dubuffet," The Art Institute of Chicago, Chicago, Illinois
1961 – "Dubuffet Grafik," Silkeborg Museum, Silkeborg, Denmark
1961 – "Matériologies di Jean Dubuffet," Galleria del Naviglio, Milan, Italy
1960 – Retrospective, Kestner-Gesellschaft, Hanover, Germany
1960 – "Jean Dubuffet," World House Gallery, New York, New York
1960 – "Jean Dubuffet Grafik," Stedelijk van Abbemuseum, Eindhoven, The Netherlands
1960 – "Eléments Botaniques," Arthur Tooth & Sons Gallery, London, England
1960 – "Jean Dubuffet," Galleria La Bussola, Turin, Italy
1959 – "Retrospective Dubuffet," Pierre Matisse Gallery, New York, New York
1959 – "Célébration du Sol," Galerie Daniel Cordier
1958 – "Lob der Erde," Galerie Daniel Cordier
1958 – Galleria Selecta, Rome, Italy
1975 – Chateau de Morsbroich, Leverkusen, Germany
1957 – "Tableaux d'Assemblages," Galerie Rive Droite, Paris, France
1956 – Frank Peris Gallery, Beverly Hills, California
1955 – "Exhibitions of Paintings, Drawings, Sculptures by Jean Dubuffet," Institute of Contemporary Arts, London, United Kingdom
1955 – "Vingt Tableaux Peints Récemment a Vence par Jean Dubuffet," Galerie Les Mages, Vence, France
1954 – "Petites Statues de la Vie Précarie," Galerie Rive Gauche, Paris, France
1954 – "Jean Dubuffet (Lithographies)," Galerie Blanche, Stockholm, Sweden
1953 – "Terres Radieuses," Galerie-Librairie La Hune, Paris, France
1952 – "Landscaped Talbes, Landscaped of the Mind, Stones of Philosophy," Pierre Matisse Gallery, New York, New York
1951 – "J. Dubbufet 1950," Pierre Matisse Gallery, New York, New York
1950 – " La Métromanie ou les Dessous de la Capitale," Galerie Nina Dausset, Paris, France
1950 – "Paintings by Jean Dubuffet," Pierre Matisse Gallery, New York, New York
1949 – "Le Diable par la Queue," Galerie Geert van Bruaene, Brussels, Begium
1948 – "Paintings, Gouaches: 1946-1948," Pierre Matisse Gallery, New York, New York
1947 – "Portraits a Ressemblance Extraite, a Ressemblance Cuite et Confite Dans la Mémoire, a Ressemblance éclatée Dans la Mémoire de M. Jean Dubffet, Peintre," Galerie René Drouin, Paris France
1946 – "Mirobolus, Macadem et Cie, Hautes Pates," Galerie André, Paris, France1947 – "Paintings," Pierre Matisse Gallery, New York, New York
1945 – "Lithographies," Galerie André, Paris, France
1944 – Galerie René Drouin, Paris, France
INQUIRE ABOUT WORKS AVAILABLE BY JEAN DUBUFFET: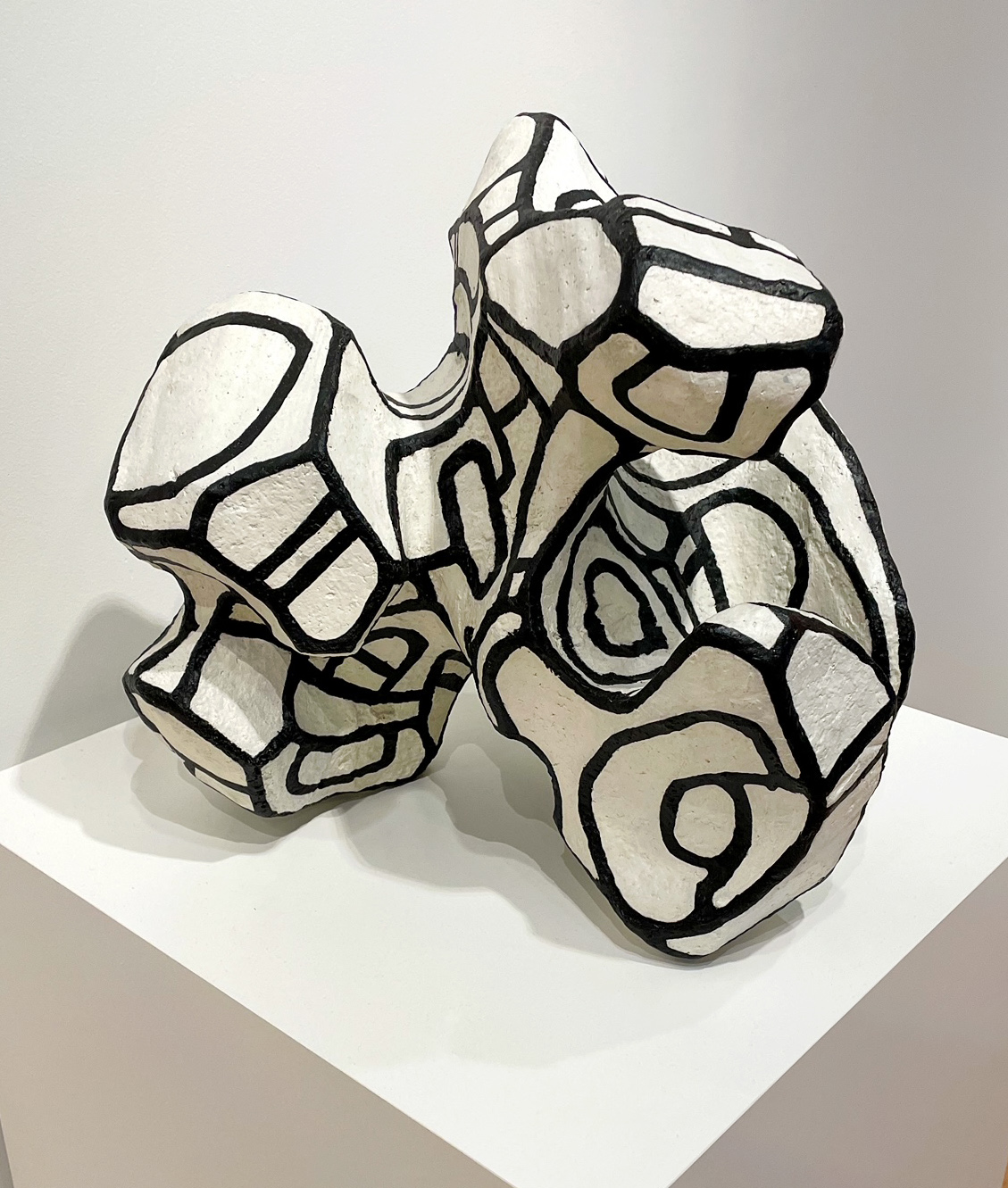 Jean Dubuffet
Boule Chantourne
1970
Transfer on polyester
14-5/8″ x 18-7/8″ x 17-3/4″ (37.1 x 47.9 x 45.1 cm)