Landscape paintings are paradoxical. They do not depict us, but they are about us. They show us how we see the world—and call into question what that perception says about our cultures, our emotions, and our ideas about images themselves.
In a unique twist on landscape painting, Dubuffet refigures the French countryside into avant-garde art brut in Vache aux Deux Arbres.
During the month of July 1943,
Jean Dubuffet
(1901 – 1985) and his wife Lili left Paris for a bicycling tour of the French countryside. The young artist stopped frequently along the way, capturing what he saw with a child's gouache paint set and an album of artist's paper. He later adapted much of this sketch series into larger works for his shocking debut exhibition at Galerie René Drouin, Paris in 1944. This painting, from that bicycle trip sketchbook, shows a cow grazing in front of two trees.
Dubuffet transforms the idyllic scene in a revolutionary way. The work deliberately lacks scale. The cow looks at least half as tall as the trees, and all of the objects seem to float around rather than being grounded in perspectival space. Simplified and flattened, the image subjects, while they resemble real elements of a landscape, seem to be symbolic: Dubuffet shows us the idea of a cow, trees, and a field rather than visual reproductions of those things, employing thick outlines and simple coloration to striking and unusual effect. Dubuffet, inspired by Jean Fautrier's rudimentary flatness, undoes the idealization of the European landscape. The bright green and blue hues express the joy of a summer day, while the deliberately crude figuration of the countryside is one of the earliest examples of what would become Dubuffet's signature style, art brut.
Not as childlike as it appears, Dubuffet's art brut was in fact a bold, complex political protest, an atavistic response to the cruelty of WWII. Dubuffet believed the legitimacy of academic realism (a style he mastered at an early age) had been shattered by the war, that art had to be reinvented along with the universe it depicted. He and others—including Paul Klee and Max Ernst—turned to the art of the mentally ill for inspiration. A foray into the aesthetic these artists would create, Vache aux Deux Arbres gives us a fascinating glimpse at the psychology of a painter in transition from academic youth to avant-garde maturity, and at the roots of post-war art.
Click here to see available works by the artist.
To inquire about this work, please fill in the form below:
[bestwebsoft_contact_form]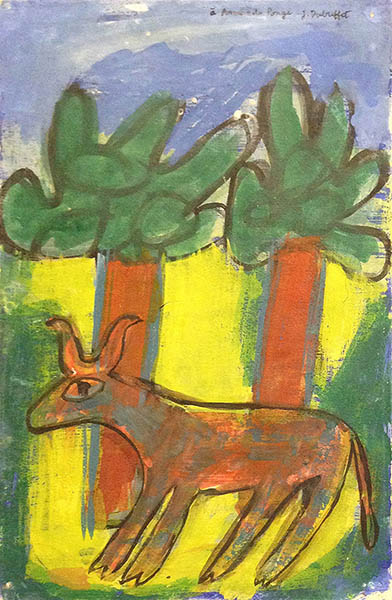 Jean Dubuffet – Vache aux Deux Arbres