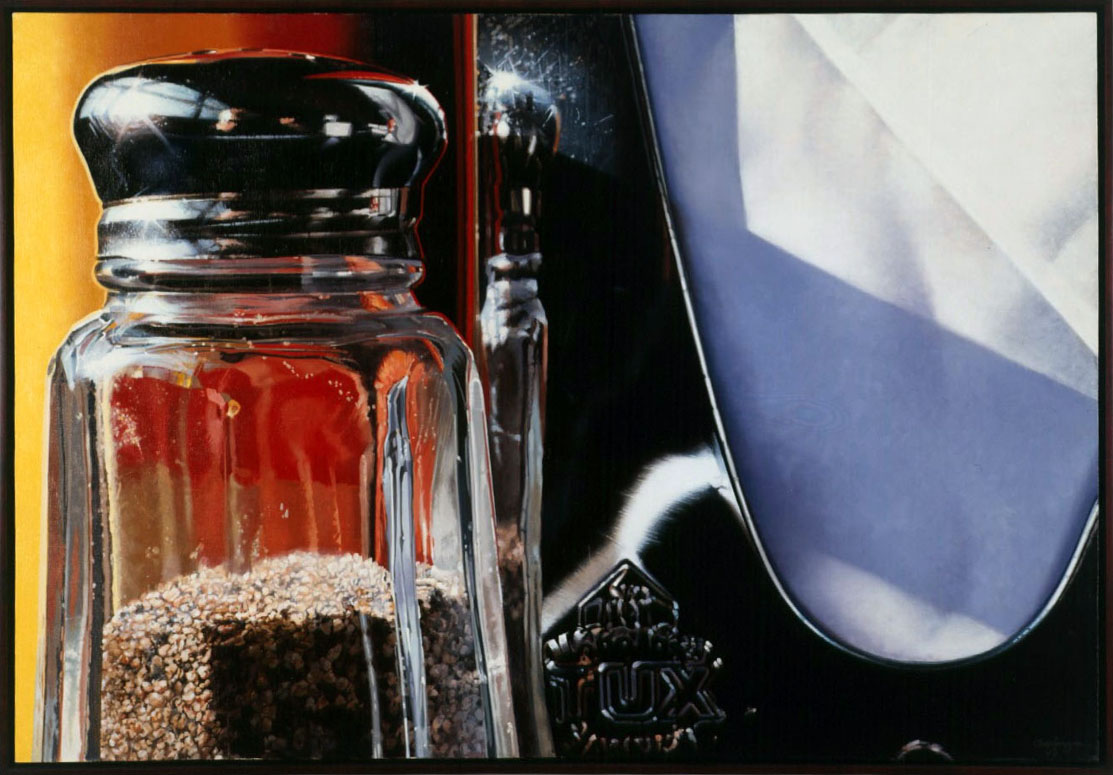 Ralph Goings
Tux
2003
Oil on canvas
32″ x 46″ (81.3 x 116.8 cm)
Framed: 33-1/4″ x 47-1/2″ (84.5 x 120.7 cm)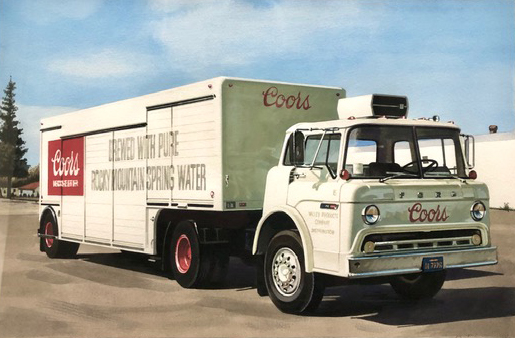 Ralph Goings
Valley Products
1977
Watercolor on paper
9″ x 14″ (22.9 x 35.6 cm)
Ralph Goings (born 1928) is an American Photorealist painter whose pioneering work helped to establish the movement on the West Coast. Goings' carefully selected scenes—replete with detail—focus the viewer's attention on the tactile qualities of diners, pickup trucks, and tabletop objects. His paintings reflect a rigorous attention to process applied to an everyday aesthetic.
Goings' interior scenes read as a vast landscape of meticulously rendered surfaces while his more intimate depictions of tabletops represent a poetic rendering of quotidian sensibilities. The uncanny reflections of light in Goings' images suggest a slightly detached quality, as if caught in a moment of contemplative silence.
Ralph Goings was born in Corning, California in 1928. He received his Bachelor's of Arts from the California College of Arts in Oakland in 1953. In 1966 he earned his master's from California State University, Sacramento and soon began independently exploring his signature style of realism.
Initially, Goings used images from magazines to inform his art. After culling thousands of images from magazines in search of the desired imagery, Goings decided to photograph his own source material. The photograph that is eventually translated into oil paint represents Goings's masterful selection from hundreds of shots of parking lots, diners, fast food drive-ins, supermarkets, and coffee shops.
After painstakingly selecting a single photograph, Goings works by projecting the image onto canvas and creating a detailed pencil composition. Goings eschews the traditional oil painting technique of layering colors to develop depth. Instead he dedicates himself to painting each object within the composition individually—often from left to right—approaching the image as a text. Goings references the photograph, but uses it merely as a source and never as a limitation. His works are interpretive and highly personalized. These works can take months of extreme concentration, yet the degree of finish in the final product renders the artist's hand almost invisible.
Goings' move to New York State in 1974 focused his energies on depicting the interiors of diners. These intimate views of architecture and gleaming stainless steel stand in contrast to his earlier West Coast depictions of bright, exterior space.
Goings resides in Charlotteville, New York and Santa Cruz, California.
Statements
"Reality is possessed of a visual order and logic at once more dynamic and more subtle than any vista I can contrive. I try to perceive this splendor as objectively as possible and render it with believable authenticity. Realist painting provides an occasion to visually savor reality."
-Ralph Goings, 1973
"My paintings are about light, about the way things look in their environment and especially about how things look painted. Form, color, and space are at the whim of reality–their discovery and organization is the assignment of the realist painter."
-Ralph Goings, 1978
From the book Photorealism in the Digital Age © 2013
Citation: Bernarducci, Frank, Harris, Elizabeth K., and Meisel, Louis K. Photorealism in the Digital Age. New York: Harry N. Abrams, Inc., Publishers, 2013.
2018 – "Works on Paper," Jonathan Novak Contemporary Art, Los Angeles
2015 – "Important Works on Paper" Jonathan Novak Contemporary Art, Los Angeles, California
2014 – "Photorealism: The Everyday Illuminated," Jonathan Novak Contemporary Art, Los Angeles, California
2011 – "The Donut Suite," OK Harris Works of Art, New York, New York
2005 – "Great Goings: Vintage Pick-Up Trucks and Diner Paintings," Louis K. Meisel Gallery, New York, New York
2004 – "Ralph Goings: Four Decades of Realism," Butler Institute of American Art, Youngstown, Ohio
2003 – "Ralph Goings: Paintings & Watercolors, Vintage & Current Works," Bernarducci Meisel Gallery, New York, New York
2003 – "Hyperrealismes Americains," Musee d'Art Moderne et Contemporain, Strasbourg, France
2003 – "Subject: Object," O.K. Harris Works of Art, New York, New York
2002 – "As Real As It Gets: Super Realism and Photo-Realism from the Tucson Museum of Art and Private Collections," Tucson Museum of Art, Tucson, Arizona
2001 – "Illusion and Reality: Hyperrealism Paintings in Korea and America," Samsung Museum of Modern Art, Seoul, South Korea
2001 – "This is America: American Photorealists," Aarhus Kunstmuseum, Arhus, Denmark
2000/01 – "A Century of the American Dream," Hyogo Prefectural Museum of Modern Art, Kobe, Japan
2000 – "The Photorealists," Holmes Gallery, Center for the Arts, Vero Beach, Florida
1999/2000 – "Outward Bound: American Art at the Brink of the Twenty-First Century," Meridian International Center, Washington, D.C.; Travelled to: Museum of Fine Arts, Hanoi, Vietnam; Museum of Fine Arts, Ho Chi Minh City, Vietnam; Painting Institute, Shanghai, China; Working People's Cultural Palace, Beijing, China; Singapore Museum of Art, Singapore; CIPTA Gallery, Jakarta Arts Center, Jakarta, Indonesia
1998 – "Get Real: Contemporary American Realism from the Seavest Collection," Duke University Museum of Art, Durham, North Carolina
1997 – "Ralph Goings: Photorealism," Solomon Dubnick Gallery, Sacramento, California
1996 – "A Survey of Contemporary American Realism," Posco Gallery, Seoul, South Korea
1996 – OK Harris Works of Art, New York, New York
1995/96 – "The Landscape of American Culture,1967-1975," John Berggruen Gallery, San Francisco, California
1993/94 – "American Realism: The Urban Scene," Selections from the Glenn C. Janss Collection, traveling show organized by the Boise Art Museum, Boise, Idaho
1994 – "Ralph Goings, A Retrospective View of Watercolors: 1972-1994," Jason McCoy Inc., New York, New York
1993 – "Contemporary Realist Watercolor," Sewall Art Gallery, Rice University, Houston, Texas
1991 – "In Sharp Focus: Super-Realism," Nassau County Museum of Art, Roslyn Harbor, New York
1993 – "Contemporary Realist Watercolor," Sewall Art Gallery, Rice University, Houston, Texas
1988 – O.K. Harris Works of Art, New York, New York
1986/87 – "Boston Collects: Contemporary Painting and Sculpture," Museum of Fine Arts, Boston, Massachusetts
1985/87 – "American Realism Twentieth-Century Drawings and Watercolors," San Francisco Museum of Modern Art, San Francisco, California
1985 – "Fortissimo! Thirty Years from the Richard Brown Baker Collection of Contemporary Art," Museum of Art, Rhode Island School of Design, Providence, Rhode Island
1983 – O.K. Harris Works of Art, New York, New York
1980 – O.K. Harris Works of Art, New York, New York
1978 – "Representations of America," Metropolitan Museum of Art, New York, New York; Traveled to: Ministry of Culture, Moscow, Hermitage and Leningrad, Russia; Palace of Art, Minsk, Belarus
1973 – O.K. Harris Works of Art, New York, New York
1970 – O.K. Harris Works of Art, New York, New York
INQUIRE ABOUT WORKS AVAILABLE BY RALPH GOINGS: