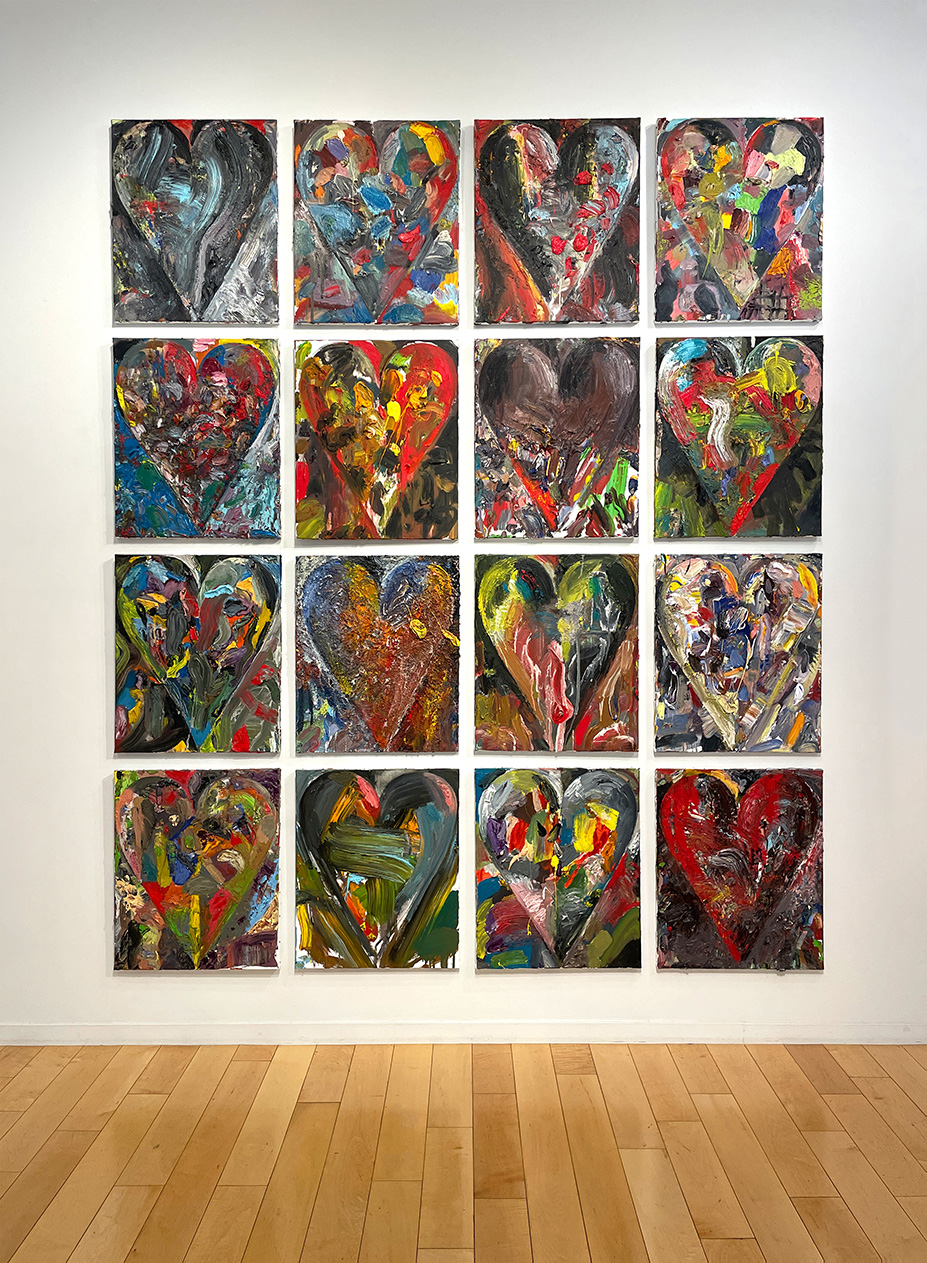 Jim Dine
Rachel Cohen's Flags version IV
2022
Drypoint, electric tools with hand-painting in oil, charcoal and paste on Hahnemuhle copper plate, on six sheets of Rives BFK 300 gsm paper
20-1/2″ x 135″ (52.2 x 342.9 cm)
Edition of 6 (+ 2 AP)
Jim Dine
Nature and Green Acrylic
2022
Acrylic woodcut on Nyala print with hand-coloring
in charcoal and hand-painting in acrylic on Lanaquarelle 640gsm paper
59-1/2″ x 42″ (151.1 x 106.7 cm)
Edition of 8
Jim Dine (born 1935) is a painter, printmaker, and sculptor often associated with the American Pop Art and Neo-Dada movements. Dine incorporates images of familiar objects including tools, rope, shoes, neckties, and other articles of clothing into his colorful works. The most famous examples of this are his paintings of enormous hearts and robes which fill their frames. In recent years he has created large-scale works that utilize acrylic paint, sand and charcoal. These paintings are rough and granulated in texture and are perhaps some of his most powerful creations, embodying abstraction and motion.
Jim Dine was born in Cincinnati, Ohio in 1935. He studied at the University of Cincinnati during his senior year of high school, later earning his BFA at Ohio University in 1957. Dine moved to New York in 1959 where he became a key figure in the Happenings movement. His talent was quickly recognized, leading to his first solo exhibition was held at the Reuben Gallery, New York in 1960.
Although Dine's prominence in the New York art scene led him to befriend Pop Art figures including Claes Oldenburg and Roy Lichtenstein, his works strayed from the traditional subjects typically associated with that movement. Instead, the everyday objects Dine incorporates into his art are often personal possessions, lending a powerful sense of autobiography to his works. His continual concentration on favorite items like robes, tools, and hearts has become his signature style.
In 1967 Dine moved to England with his family where he practiced the art of printmaking and drawing, for which he has become well known. After returning to the United States, figure drawing became Dine's priority. During this period in his life he created many self-portraits, as well as intimate depictions of his wife, Nancy. In the 1980s Dine began producing sculptures; since then he has created many evocative sculptures in bronze, from table-top to monumental in size, including many of his iconic imagery: Venus, hearts, tools, portraits, seashells, parrots, apes and cats.
Dine has been given solo exhibitions at museums throughout Europe and the United States, including a major retrospective at the Whitney Museum of American Art in 1970, the Solomon R. Guggenheim Museum in 1999, and the National Gallery of Art in Washington, D.C. in 2004.
2018 – "Jim Dine Paris Reconnaissance," Centre Pompidou, Paris, France
2018 – "Print Project Space: Pop Prints," Alan Cristea Gallery, London, England
2017 – "A Life in Print," National Gallery Victoria, Australia
2017 – "Poet Singing" Alan Cristea Gallery, London, England
2017 – Richard Gray Gallery, Chicago, Illinois
2016 – "Jim Dine: Abstraction" Jonathan Novak Contemporary Art, Los Angeles, California
2016 – "Jim Dine: I Never Look Away," Albertina, Vienna, Austria
2016 – "Muscle and Salt," Antikenmuseum Basel, Switzerland
2015 – "Important Works on Paper" Jonathan Novak Contemporary Art, Los Angeles, California
2015 – "Jim Dine: A Retrospective," Jonathan Novak Contemporary Art, Los Angeles, California
2015 – "About the Love of Printing, Graphic Works 1960-2015," Museum Folkwang, Essen, Germany
2015 – "Jim Dine: Hearts of Stone," Wetterling Gallery, Stockholm, Sweden
2014 – "Jim Dine: A History of Communism/Printmaker," Alan Cristea Gallery, London, England
2013 – "Give me five," Städel Museum, Frankfurt/Main, Germany
2013 – "Jim Dine," LeeAhn Gallery, Seoul, Korea 2013 – "Jim Dine," Pace Gallery, New York, New York (catalogue) 
2012 – "Jim Dine: Recent Work," Jonathan Novak Contemporary Art, Los Angeles, California
2012 – "Jim Dine," Cincinnati Museum of Art, Cincinnati, Ohio
2012 – "Sculpture / Jim Dine / Pinocchio," Nassau County Museum of Art, Roslyn Harbor, New York
2012 – "Jim Dine: Hello Yellow Glove—New Drawings," Galerie Daniel Templon, Paris, France (catalogue)
2011 – "Jim Dine: Work That Sings," Leeahn Gallery, Daegu, Korea 2011 – "Jim Dine," Galerie de Bellefeuille, Montreal, Canada (catalogue)
2011 – "Jim Dine: The Glyptotek Drawings," The Morgan Library and Museum, New York, New York (catalogue)
2011 – "Jim Dine: Theme and Variation: A Half Century of Printmaking," The Nagoya/Boston Museum of Fine Arts, Japan (Catalogue)
2011 – "Jim Dine," Agnellini Arte Moderna, Brescia, Italy (catalogue)
2011 – "Paintings, Jim Dine," The Pace Gallery, New York,  New York (catalogue)
2011 – "Jim Dine: Recent Editions," Pace Prints, New York, New York
2010 – "Jim Dine: The Picture of Dorian Gray, 1968," Paul Petro Contemporary Art, Toronto, Canada
2010 – "Jim Dine: The Wind and Tools (A Glossary of Terms), 2009," MaD Wainscott Gallery, Wainscott, New York, New York
2010 – "Jim Dine," William Shearburn Gallery, San Francisco, California
2009 – "Jim Dine: Old Me, Now—Self-Portrait Drawings 2008–2009," Richard Gray Gallery, Chicago, Illinois (catalogue)
2009 – "Jim Dine: New Works," Wetterling Gallery, Stockholm, Sweden (catalogue)
2009 – "Jim Dine: Hearts, Robes, Pinocchio," Galerie Proarta, Zurich, Switzerland (catalogue)
2009 – "Jim Dine," Galerie de Bellefeuille, Montreal, Canada (catalogue)
2009 – "Jim Dine: Boy in the World," Borås Konstmuseum, Sweden (catalogue)
2009 – "Jim Dine: Göttingen Songs," Galerie Daniel Templon, Paris, France
2008 – "Jim Dine: Poet Singing (The Flowering Sheets)," J. Paul Getty Museum, Getty Villa, Malibu, California, (catalogue)
2008 – "Jim Dine," Guy Pieters Gallery, Saint-Paul de Vence, France (catalogue)
2008 – "Jim Dine: Hot Dream (52 Books)," Museum Liner, Appenzell, Switzerland, June 22–October 26, 2008; Traveled to: PaceWildenstein, New York, New York (catalogue)
2008 – "Jim Dine," Wetterling Gallery, Gothenburg, Sweden
2007 – "Jim Dine: Recent Works," Jonathan Novak Contemporary Art, Los Angeles, California (catalogue)
2007 – "Jim Dine: Pinocchio As I Knew Him This Year," John Berggruen Gallery, San Francisco, California
2007 – "Jim Dine: The Lost Boy," Trinity Gallery, Atlanta, Georgia
2007 – "Jim Dine: Selected Prints 1996–2006," The Amie and Tony James Gallery, The Graduate Center, City University of New York, New York (catalogue)
2007 – "Jim Dine: Recent Works," Galerie Thomas, Munich, Germany (catalogue)
2006 – "Jim Dine's Pinocchio," New York Public Library, New York, New York
2006 – "Jim Dine," Wetterling Gallery, Stockholm, Sweden (catalogue)
2006 – "Jim Dine: Botanical Drawings," Wildenstein and Co., New York, New York (catalogue)
2006 – "Jim Dine: Recent Editions," Pace Prints, New York, New York
2005 – "Jim Dine: Personal Allegories: Hearts, Bathrobes, Palettes and Tools," Craig F. Starr Associates, New York, New York
2005 – "Jim Dine: Pinocchio as I Knew Him," Richard Gray Gallery, Chicago, Illinois (catalogue)
2005 – "Jim Dine: Tools and Plants," Alan Cristea Gallery, London, United Kingdom (catalogue)
2004 – "Jim Dine: Sculpture from the Walla Walla Foundry," Museum of Art, Washington State University, Pullman, Washington (catalogue)
2004 – "Jim Dine: New Photographs," Galerie Daniel Templon, Paris, France
2004 – "Jim Dine: New Paintings, Photographs and a Sculpture," PaceWildenstein, New York, New York
2004 – "Drawings of Jim Dine," National Gallery of Art, Washington, D.C., (catalogue)
2003 – "Jim Dine: Paintings, Sculptures and Works on Paper," Shaheen Modern and Contemporary Art Gallery, Cleveland, Ohio
2003 – "Jim Dine: Photographs, so far," Maison Européene de la Photographie, Paris, France; Traveled to: Hasselblad Center at Goteborg Museum of Art, Goteborg, Sweden; Die Photographische Summlung/SK Stiftung Kultur, Cologne, Germany; Davison Art Center, Ezra and Cecile Zilkha Gallery, Wesleyan University, Middletown, Connecticut; Cleveland Museum of Art, Cleveland, Ohio (catalogue)
2003 – "Jim Dine," Wetterling Gallery, Stockholm, Sweden
2002 – "Jim Dine: Printing and Dancing 2002," Pace Prints, New York, New York
2002 – "Jim Dine: Painted Monoprints," Alan Cristea Gallery, London, United Kingdom (catalogue)
2002 – "Jim Dine: Prints 1985–2000," Minneapolis Institute of Arts, Minneapolis, Minnesota (catalogue)
2001 – "Jim Dine," Wildenstein, Tokyo, Japan (catalogue)
2001 – "Jim Dine," Galerie Daniel Templon, Paris, France
2001 – "Jim Dine: Monuments to the Human Condition, Sculpture and Paintings," Bentley Gallery, Scottsdale, Arizona (catalogue)
2000 – "Jim Dine: New Drawings and Paintings," Gerald Peters Gallery, Santa Fe, New Mexico (catalogue)
2000 – "Jim Dine: New Drawings and Sculpture," Richard Gray Gallery, Chicago, Illinois (catalogue)
2000 – "Jim Dine: Photographs 1994–2000," Magazzini del Sale/Palazzo Publico, Siena, Italy,
2000 – "Jim Dine: D'apres l'Antique," Musée du Louvre, Paris, France
2000 – "Jim Dine," Villa Haiss Museum for Contemporary Art, Zell, Germany
1999 – "Jim Dine: Color Photographs, PaceWildenstein, 142 Greene Street, New York, September 24–October 23, 1999. (Catalogue)
1999 – "Jim Dine: Fiend for Love, New Color Photographs," Gerald Peters Gallery, Santa Fe, New Mexico, (catalogue)
1999 – "Jim Dine: Walking Memory, 1959–1969," Solomon R. Guggenheim Museum, New York, New York; Traveled to: Cincinnati Art Museum, Cincinnati, Ohio (catalogue)
1998 – "Jim Dine – Photographies Récentes." Maison Européenne de la Photographie, Paris, France;  Traveled to: Carrousel du Louvre, Paris, France (catalogue)
1998 – "Jim Dine: New Photographs-Kali in New York," Pace/MacGill Gallery, New York, New York
1998 – "Jim Dine," Galeria Ramis Barquet, Monterrey, Mexico, (catalogue)
1997 – "Jim Dine: Ape and Cat," Alexander Editions, New York, New York
1997 – "Grabados de Jim Dine," Museo Regional de Guanajuato, Mexico
1997 – "Jim Dine: Druckgraphik aus den Jahren 1987–1996," Galerie im Traklhaus, Salzburg, Germany
1997 – "Jim Dine: New Editions," Galerie de Bellefeuille, Montreal, Canada
1996 – "Jim Dine: Works 1977–1996," Didier Imbert Fine Art, Paris, France (catalogue)
1996 – "Jim Dine: The Body and its Metaphors." Organized by Art Life Ltd., Tokyo, Japan; Traveled to: Miyagi Prefectural Museum, Japan; Hokkaido Museum of Contemporary Art, Sapporo, Japan; Marugame Genichiro-Inokuma Museum of Contemporary Art, Kagawa, Japan; Koriyama City Museum of Art, Fukushima, Japan; Gifu Prefectural Museum, Japan, (catalogue)
1996 – "Jim Dine's Venus," Civico Museo Revoltella, Galleria d'arte moderna, Trieste, Italy (catalogue)
1995 – "Jim Dine: Prints from 1970–1995, a Selection," Gerhard Wurzer Gallery, Houston, Texas
1995 – "Jim Dine: Major Icon Paintings and Sculptures," Arij Gasiunasen Fine Art Inc., Palm Beach, Florida (catalogue)
1994 – "Jim Dine," International Exhibition Centre, Finland
1994 – "Jim Dine: Flowers and Plants," The Pace Gallery, New York, New York
1994 – "Jim Dine: Untersberg 1993–1994," Salzburg Residenzgalerie, Austria (catalogue)
1993 – "Jim Dine: Paintings, Drawings and Sculpture 1973–1993," Borås Konstmuseum, Sweden; Traveled to: Ludwig Museum, Budapest, Hungary; Musée d'Art Moderne et d'Art Contemporain, Nice, Italy (catalogue)
1993 – "Jim Dine: Ape and Cat," The Pace Gallery, New York, New York (catalogue)
1993 – "Jim Dine: New Paintings," Richard Gray Gallery, Chicago, Illinois (catalogue)
1993 – "Jim Dine: Drawing from the Glyptothek," Madison Art Center, Wisconsin; Traveled to: Cincinnati Art Museum, Cincinnati, Ohio; Contemporary Museum, Honolulu, Hawaii; Museé des beaux-arts de Montréal, Montréal, Canada (catalogue)
1992 – "Jim Dine," Kukje Gallery, Seoul, Korea (catalogue)
1992 – "Jim Dine: Recent Prints," Pace Editions, New York, New York
1992 – "Important Sculpture by Jim Dine," Avenue Galleries, Palm Beach, Florida Jim Dine: New Paintings and Sculpture, The Pace Gallery, 142 Greene Street, New York, September 21–October 26, 1991. (Catalogue Jim Dine, Hakone Open-Air Museum, Hakone-machi, Japan, April 19–May 7, 1991. Jim Dine: Trembling for Color, Galerie Beaubourg, Paris, February–March 1991. (Catalogue)
1990 – "Jim Dine," Organized by The Sankei Shimbun and The National Museum of Art, Osaka, Japan; Traveled to: Isetan Museum of Art, Tokyo, Japan; Museum of Art, Kintetsu, Japan; Hakone Open-Air Museum, Hakone-machi, Japan (catalogue)
1990 – "Jim Dine: Hearts Forever," Spark Gallery, Tokyo, Japan
1990 – "Jim Dine: In Der Glyptotek," Staatliche Antikensammlungen und Glyptotek, Munich, Germany; Traveled to: Ny Carlsberg Glyptothek, Copenhagen, Denmark; Nelson-Atkins Museum of Art, Kansas City, Missouri (catalogue)
1989 – "Jim Dine: Prints and Drawings," Museum of Fine Arts, Boston, Massachusetts
1989 – "Jim Dine: New Paintings, Sculpture and Graphic Work," Waddington Galleries, London, United Kingdom (catalogue)
1989 – "Jim Dine: Youth and the Maiden and Related Works," Graphische Sammlung Albertina, Vienna, Austria (catalogue)
1988 – "Jim Dine: Paintings, Sculpture, Drawings, Prints, 1959–1987," Galleria d'Arte Moderna Ca' Pesaro, Venice, Italy (catalogue)
1988 – "Jim Dine: New Paintings," The Pace Gallery, New York, New York (catalogue)
1987 – "Jim Dine: Chez Aldo Crommelynck: Gravures," American Center, Paris, France (catalogue)
1987 – "Jim Dine," Fuji Television Gallery, Tokyo, Japan (catalogue)
1986 – "Jim Dine: Paintings, Graphics," Galerie Kaj Forsblom, Helsinki, Finland
1986 – "Jim Dine: Rise Up, Solitude! Prints 1977–85," Waddington Graphics, London, United Kingdom; Traveled to: Dolan/Maxwell Gallery, Philadelphia, Pennsylvania, (catalogue)
1986 – "Jim Dine: Paintings, Drawings, Sculpture," The Pace Gallery, New York, New York (catalogue)
1985  – "Jim Dine: Recent Prints," Toni Birckhead Gallery, Cincinnati, Ohio
1984 – "Jim Dine," Waddington Graphics, London, United Kingdom
1984 – "Jim Dine: Five Themes," Walker Art Center, Minneapolis, Minnesota; Traveled to: Phoenix Art Museum, Phoenix, Arizona; Saint Louis Art Museum, St. Louis, Missouri; Akron Art Museum, Akron, Ohio; Albright–Knox Art Gallery, Buffalo, New York; Hirshhorn Museum and Sculpture Garden, Washington, D.C., (catalogue)
1984 – "Nancy Outside in July: Etchings by Jim Dine," Art Institute of Chicago, Chicago, Illinois; Traveled to: Museum of Fine Arts, Boston, Massachusetts (catalogue)
1983 – "Jim Dine: Etchings, Woodcuts, Monotypes," Galerie Kaj Forsblom, Helsinki, Finland
1983 – "Jim Dine in Los Angeles," Los Angeles County Museum of Art, Los Angeles, California
1982 – "Jim Dine: Drawings and Prints," Thorden Wetterling Gallery, Göteborg, Sweden 1982 – "Jim Dine," Waddington Galleries, London, United Kingdom (catalogue)
1981 – "Jim Dine: New Paintings and Drawings," The Pace Gallery, New York, New York (catalogue)
1981 – "Jim Dine: Trees," Galerie Isy Brachot, Brussels, Belgium (catalogue)
1980 – "Jim Dine," Harcus/Krakow Gallery, Boston, Massachusetts
1980 – "Jim Dine: New Paintings," The Pace Gallery, New York, New York (catalogue)
1980 – "Jim Dine: Portraits," Works on Paper, Galerie Alice Pauli, Lausanne, Switzerland
1975/79 – "Jim Dine: Figure Drawings 1975–1979," University Art Museum, California State University, Long Beach, California; Traveled to: Helen Foresman Spencer Museum of Art, University of Kansas, Lawrence, Kansas; Reed College, Portland, Oregon; Boise Gallery of Art, Boise, Idaho; Springfield Art Museum, Springfield, Missouri; Arkansas Arts Center, Little Rock, Arkansas (catalogue)
1979 – "Jim Dine: Oeuvres sur papier, 1978–79," Galerie Claude Bernard, Paris, France (catalogue)
1979 – "Jim Dine," The Pace Gallery, Columbus, Ohio 1978 – "Jim Dine's Etchings," The Museum of Modern Art, New York, New York; Traveled to: Toledo Museum of Art; Tacoma Art Museum, Washington; Fundación Eugenio Mendoza, Caracas, Venezuela; Baltimore Museum of Art, ; Cincinnati Art Museum (catalogue)
1978 – "Jim Dine: New Paintings," The Pace Gallery, New York, New York
1977 – "Jim Dine Prints: 1970–1977," Herbert F. Johnson Museum of Art, Cornell University, Ithaca, New York
1977 – "Jim Dine," Getler/Pall Gallery, New York, New York
1976 – "Jim Dine," Penryn Gallery, Seattle, Washington
1976 – "Jim Dine: Prints 1970–1977," Williams College Museum of Art, Williamstown, Massachusetts; Traveled to: Hayden Gallery, Massachusetts Institute of Technology, Cambridge; Johnson Gallery, Middlebury College, Vermont; University Art Gallery, State University of New York, Albany; Herbert F. Johnson Museum of Art, Cornell University, Ithaca, New York (catalogue)
1975 – "Jim Dine," Galerie Ileana Sonnabend, Paris, France
1975 – "Jim Dine," Centre des Arts Plastiques Contemporains, Bordeaux, France
1974 – "Jim Dine," Galerie Ileana Sonnabend, Geneva, Switzerland
1974 – "Jim Dine," Sonnabend Gallery, New York, New York
1974 – "Jim Dine: Prints," Institute of Contemporary Art, London, United Kingdom
1974 – "Jim Dine," Knoedler Prints Gallery, New York, New York
1973 – "Jim Dine," DM Gallery, London, United Kingdom
1973 – "Jim Dine," Sonnabend Gallery, New York, New York
1972 – "Jim Dine," Galerie Ileana Sonnabend, Paris, France
1972 – "Jim Dine," Jack Glenn Gallery, Newport Beach, California
1972 – "Ten Years of Jim Dine," Aronson Gallery, Atlanta, Georgia
1971 – "Jim Dine," Staatliche Museum, Berlin, Germany
1971 – "Jim Dine: Gemalde, Aquarelle, Objekte," Staatliche Kunsthalle Baden-Baden, Germany
1971 – "Dine at Leavin: Graphics 1960–1971," Margo Leavin Gallery, Los Angeles, California
1971 – "Jim Dine," Kunsthalle Bern, Switzerland
1970 – "Jim Dine," Neue Galerie der Stadt Linz, Wolgang-Gurlitt-Museum, Linz, Austria
1970 – "Jim Dine: Projects de decors et costumes pour, A Midsummer Night's Dream, The Picture of Dorian Gray," Palais des Beaux-Arts, Brussels, Belgium (catalogue)
1970 – "Jim Dine," Kestner-Gesellschaft, Hannover, Germany (catalogue)
1970  – "Jim Dine," Sonnabend Gallery, New York, New York (catalogue)
1970 – "Jim Dine," Whitney Museum of American Art, New York, New York (catalogue)
1967 – "Jim Dine: Designs for A Midsummer Night's Dream," The Museum of Modern Art, New York, New York (catalogue)
1967 – "Jim Dine," Galerie Ricke, Kassel, Germany
1967 – "Jim Dine: Collages, Drawings," Prints, Harcus/Krakow Gallery, Boston, Massachusetts
1966 – "Jim Dine Drawings," Robert Fraser Gallery, London, United Kingdom (catalogue)
1966 – "Jim Dine: Tekeningen," Stedelijk Museum, Amsterdam, The Netherlands (catalogue)
1966 – "New Paintings, Sculpture and Drawings by Jim Dine," Sidney Janis Gallery, New York, New York (catalogue)
1965 – "Jim Dine: 23 Ottobre (exhibition catalogue). Galleria Gian Enzo Sperone, Turin, Italy
1965 – "Jim Dine," Galleria Gian Enzo Sperone, Turin, October 23–November 25, 1965. (Catalogue)
1965 – "Jim Dine: Recent Paintings," Robert Fraser Gallery, London, United Kingdom (catalogue)
1964 – "Jim Dine," Sidney Janis Gallery, New York, New York  (catalogue)
1963 – "Jim Dine," Galerie Rudolf Zwirner, Cologne, Germany
1963 – "Jim Dine," Palais des Beaux-Arts, Brussels, Belgium
1963 – "Jim Dine," Galerie Ileana Sonnabend, Paris, France (catalogue)
1963 – "New Paintings by Jim Dine," Sidney Janis Gallery, New York, New York (catalogue)
1962 – "Jim Dine," Galleria dell'Ariete, Milan, Italy (catalogue)
1962 – "Jim Dine: New Works," Martha Jackson Gallery, New York, New York (catalogue)
1960 – "Jim Dine," Reuben Gallery, New York, New York
1960 – "Jim Dine: The House," Judson Gallery, New York, New York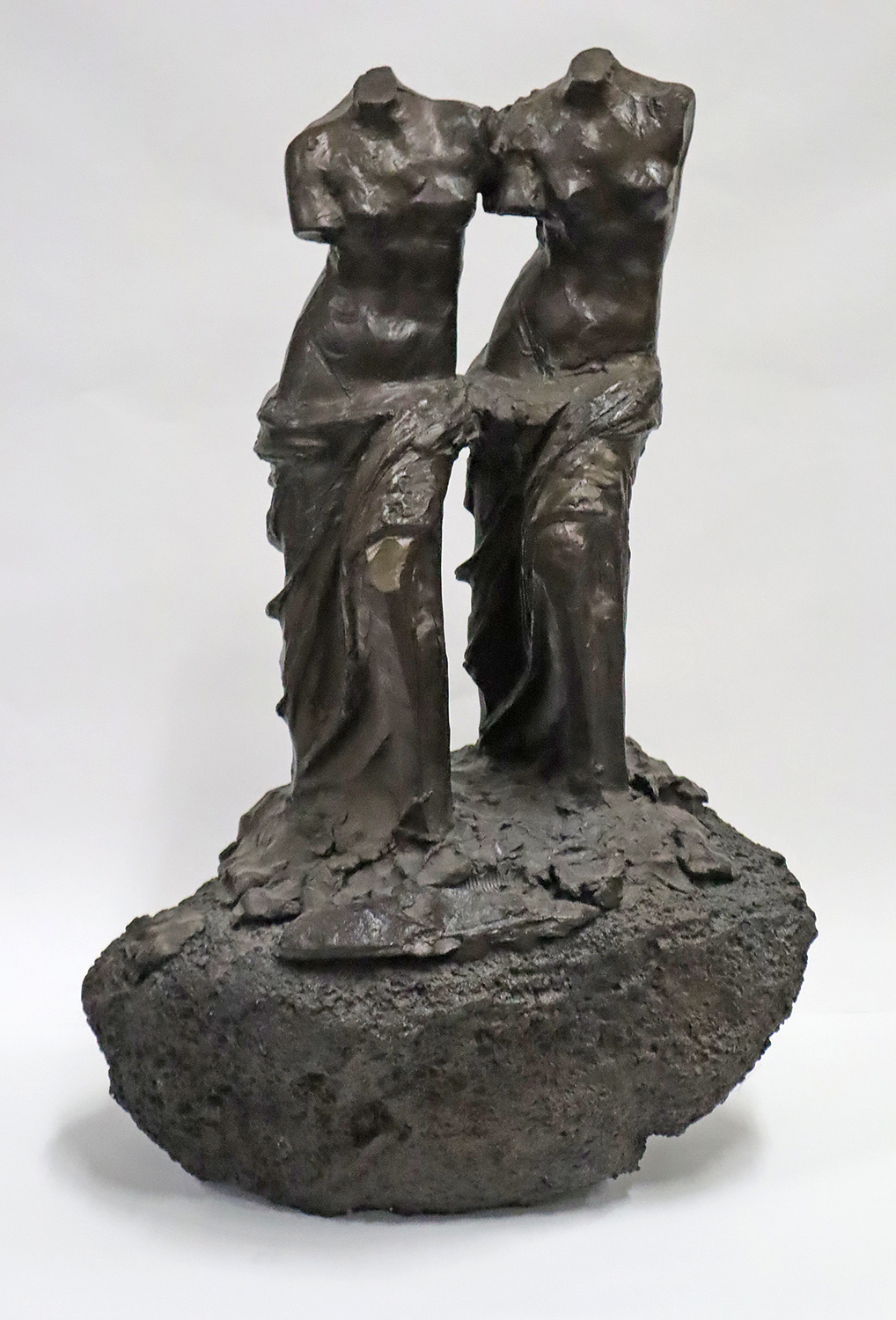 Jim Dine
Study for Two Venuses
1983
Bronze
21-3/4″ x 14″ x 13″ (55.2 x 35.6 x 33 cm)
Edition of 6 (+ 1 AP)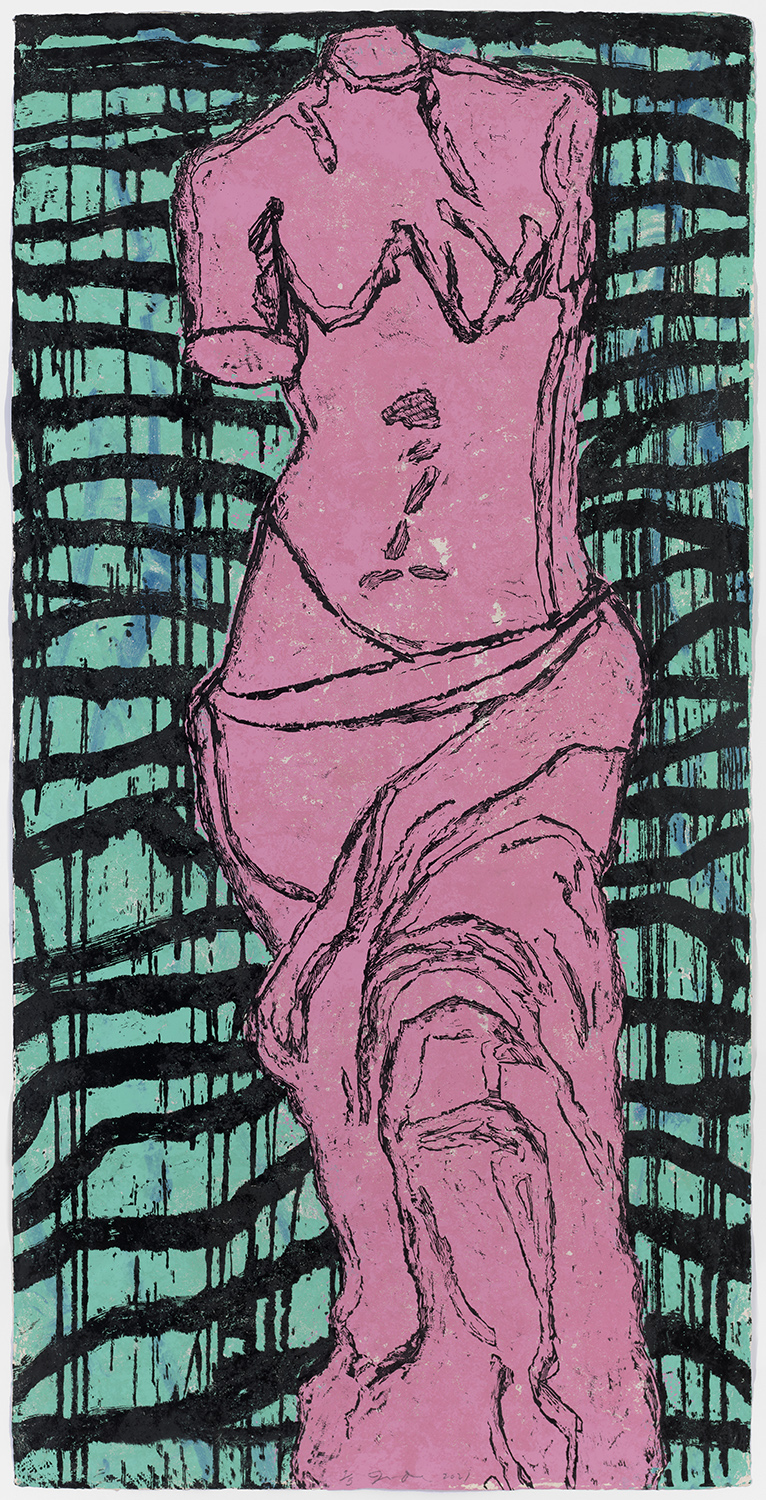 Jim Dine
Pink Venus, Sydney Close
2021
Woodcut on handmade Mexican paper with
hand-painted background
95-1/8″ x 47-1/4″ (241.6 x 120 cm)
Edition of 5 + 1 AP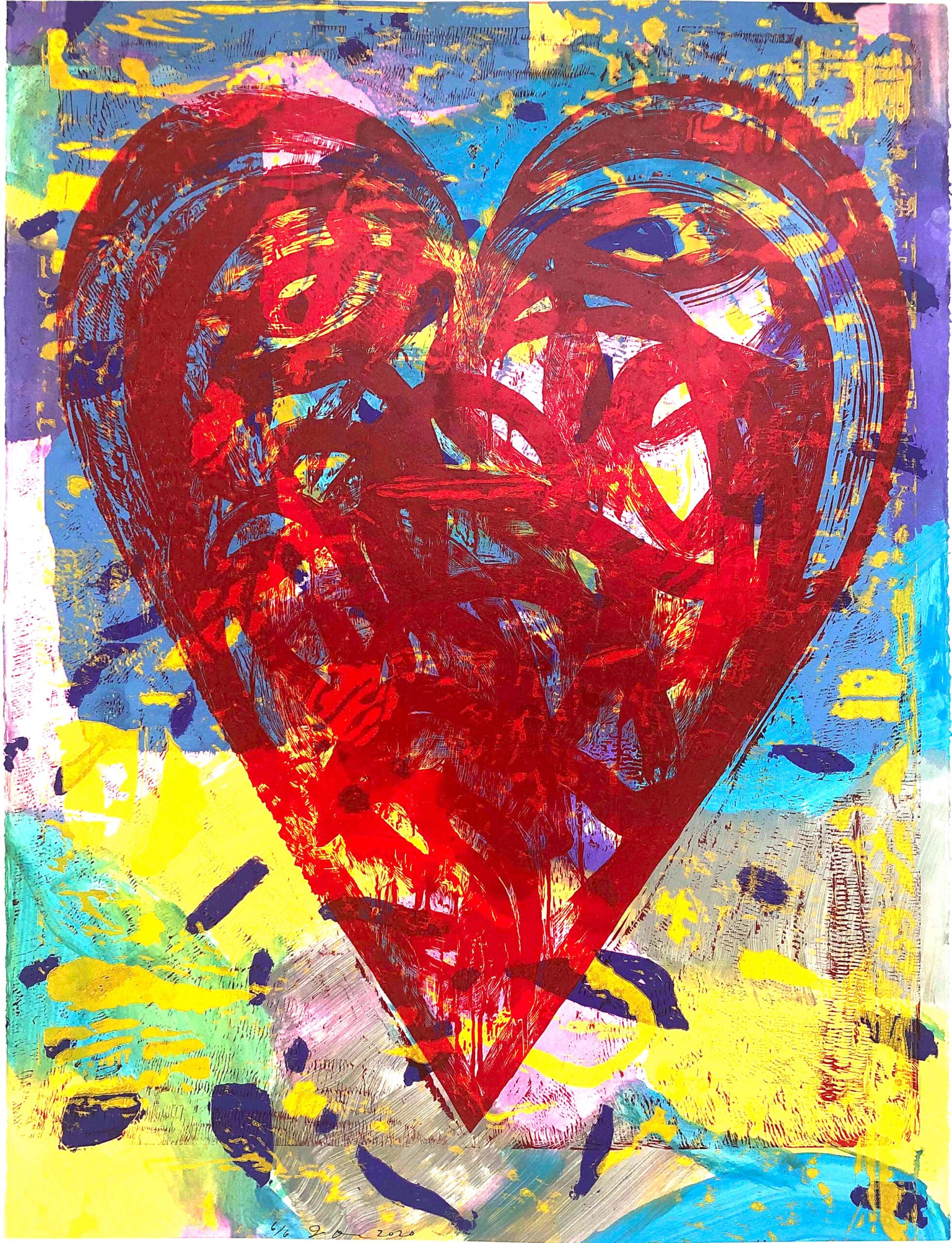 Jim Dine
My Childhood Painter
2020
Woodcut with hand coloring on Hahnemühle 350 gsm paper
65-3/8″ x 49-1/4″ (166 x 125 cm)
Edition of 6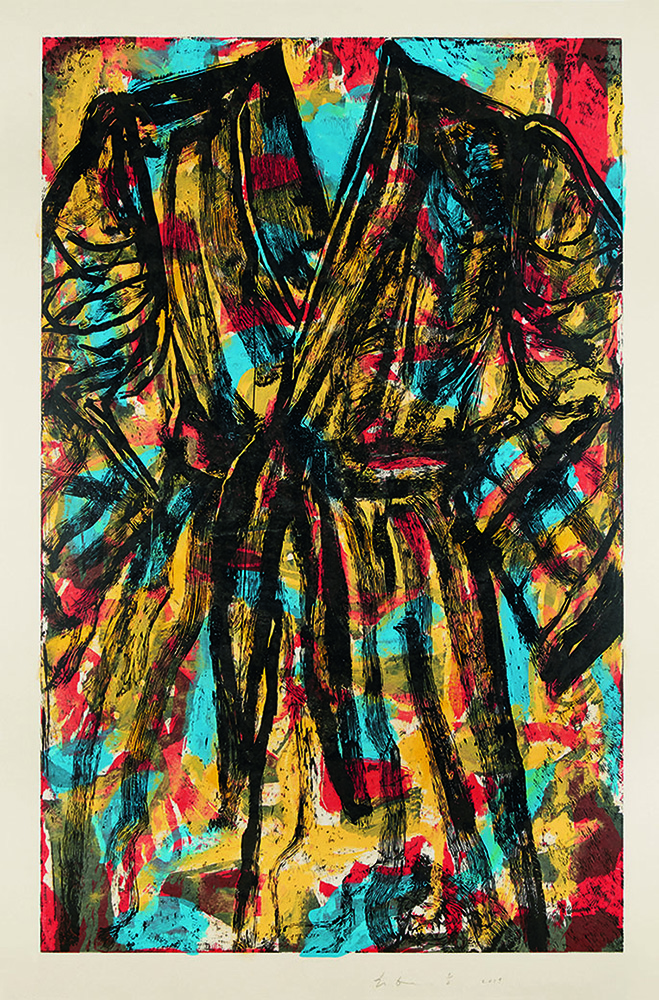 Jim Dine
Madness and Blue
2019
Woodcut with hand coloring on Korean paper
78-3/4″ x 51-1/2″ (200.0 x 131.0 cm)
Edition of 6 (+ 1 AP)
INQUIRE ABOUT WORKS AVAILABLE BY JIM DINE: